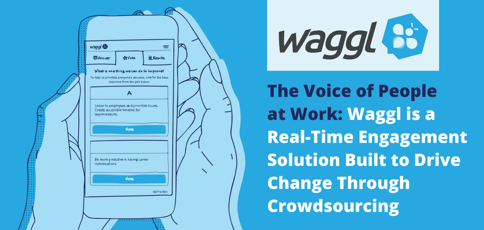 TL; DR: Waggl is a real-time engagement solution built to boost morale, build culture, ease internal transformations, and, ultimately, ensure operational excellence. The platform operates under a human-first approach to crowdsourcing and prioritizing employee feedback, which helps foster trust and organizational alignment. With a passionate, purpose-driven team providing feedback-based improvements, Waggl is furthering its commitment to helping administrators, managers, and employees thrive through active engagement.
We all know how it feels to have a bad day at work. But if that day slowly turns into weeks, months, or even years — and you feel like your frustrations aren't being heard — research shows that your health could be at risk.
In a study of 6,000 British males without coronary heart disease (a leading cause of death in the United States), Finnish researchers found those who reported experiencing high levels of justice at work were 30% less likely to develop the disease than those who said they experienced constant injustice at work. Participants defined bosses who considered their viewpoints, included them in decision-making processes, and treated them in an honest manner as being just.
For Julia Winn, Creative Producer at Waggl, the implications of this study are all too real in today's workplaces. "As our CEO Michael Papay says, it all comes down to humanizing the workplace — people are so unhappy and stressed at work they're dying," she said. "It's a humanitarian crisis."
The good news, Julia said, is that employers can take action to build healthier workplaces through effective communication and insight-based decision-making. Waggl — named after a dance honeybees perform to streamline communication with hive mates — crowdsources feedback through a cycle of inquiry, feedback, and action. This, in turn, helps organizations build trust, boost organizational alignment, and foster a sense of belonging within participating employees.
"Everybody wants to be heard, and Waggl is a way to shine a spotlight on everyone's insights to bring them and their ideas into the conversation," Julia said.
Fostering Trust, Alignment, and a Sense of Belonging
Waggl was co-founded in 2014 by Head of Product Adam Tanner, Chief Technology Officer Drew Batshaw, and CEO Michael Papay, who previously served as CEO of the Fort Hill Company, an industry leader in web-based learning activation solutions.
Our leadership team came out of a storied human resources company focused on trying to determine the age-old secret to employee engagement learning and development," Julia said. "In doing that, they became familiar with a lot of the pain points HR leaders were experiencing, as well as how to foster work environments that were more productive, successful, and human."
Using that insight, the founders developed Waggl, which Julia said has evolved from a more simple way to gather feedback to a platform that fully catalyzes employee voice — a mechanism in which employee participation plays a significant role in an organization's decision-making process.
"We like to think of Waggl as a virtual focus group that allows for conversations at scale," Julia said. "It's all about being able to democratize ideas inside organizations, making sure that everybody's voice is heard and every insight is shared to improve the organization."
The company's efforts aren't going unnoticed. Waggl recently earned spot number 151 on Inc.'s 2019 list of the 5,000 fastest-growing companies in the United States. Julia views the company's rapid success as a reflection of a broader global trend.
"We're feeling the employee voice push in every aspect of society," she said. "There's an overwhelming collective urge we all have in this era of disruption to have our voices be heard."
Boost Engagement and Ease Internal Transformations
Julia told us that Waggl is the perfect solution for small enterprises of 500 employees to up to larger organizations with as many 10,000. Organizations that already have traditional employee engagement tools, such as annual surveys, in place have options when adopting Waggl. The ultimate goal, Julia said, is to be continuously engaging employees' voices to make a difference.
"We're seeing Waggl being plugged in a lot of different ways: as a full replacement to annual engagement surveys, and also as a great tool to augment them and drive action around the topics that truly matter to organizations," she said.
The platform is also useful in maintaining real-time connections with staff to streamline internal transformations. If a company is welcoming a new CEO, for example, Waggl could be used to provide him or her with insight into the state of the company and its desired future direction. In a merger and acquisition, the tool could help align interests and reinforce strategy.
Waggl's ability to crowdsource and prioritize employee feedback could also help employees adapt to changes during digital transformations. "In most cases where there's a huge transition coming down the pike, success or failure rides on the experience of employees," Julia said.
An added benefit, of course, is that happy employees lead to happy customers: Several studies highlight the link between customer satisfaction and employee engagement. Moreover, satisfied employees have been shown to be more productive, boosting the bottom line at their organizations.
"People who are happy at work are more positively engaged and feel a sense of purpose in their work," Julia said. "Engagement also helps employers retain top talent, as employees who feel like their voices are heard are more likely to stay."
A Human-Based Approach Focused on Front-Line Employees
It's easy to be attracted by the allure of artificial intelligence in today's tech-saturated society, but Julia said the real power behind Waggl is in the humanity it brings back to the workforce. While many of its competitors are quick to follow the latest trend, Waggl is focused on real people.
"We're certainly seeing more and more of an AI-based discussion around measuring engagement using that data to power analytics platforms," she said. "We go beyond that to fill a gap in employee voice solutions that even large enterprises are now identifying."
Julia said this approach is especially relevant in the healthcare field, where a lack of employee engagement could mean the difference between a patient's life or death. Many top-tier hospital systems — including University of Utah Health, UCHealth, Rush University Medical Center, and Kaiser Permanente — currently use Waggl to boost engagement and retention, foster communication, enhance productivity, and increase resiliency among staff.
Customer-Centric Development from a Purpose-Driven Team
A good litmus test when it comes to the usefulness of a product is whether a company has enough confidence in its goods to put them to use internally. And Julia told is Waggl has that box very much checked.
"Our team is passionate about this company, its values, and our leadership," she said. "We use Waggl all the time to surface the best ideas and make sure everyone is heard — you can feel it in the air when you're here."
Julia said the company's purpose-driven, actionable nature is the difference between Waggl and more analytical, robotic platforms focused solely on measurement. "Other platforms might collect data, but if they don't provide actionable next steps on how to use it, they come up short."