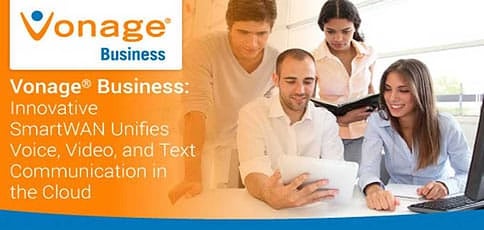 TL; DR: As businesses look to cut costs and move into a future that is reliant on the cloud, sometimes voice solutions get left behind. With Vonage, a retailer can upgrade its communications quality and cut costs at the same time. Leveraging a powerful, dedicated network, Vonage delivers high-quality voice services including the features of a powerful Unified Communications platform — like answering calls on a landline phone and seamlessly handing off to a smartphone or tablet — all hosted in the cloud and checked for quality by its intelligent SmartWAN software. Vonage Business is also looking to the future — and acquired Nexmo to integrate with a client's digital architecture — with the purpose of making communications with associates and customers easier through any channel.
Consumers have the expectation to be able to call a business and talk to an associate. They may call to ask if a product is in stock or what hours the store is open, and then hang up, never giving a second thought as to how that call was made possible.
Retailers rely on those communications every day, whether they be with customers or even between store locations, to keep business moving. But even fulfilling that basic expectation of a seamless phone call can come at a cost.
Because many businesses are still using legacy communications technology, fees and network providers can pile up because each store system needs localized service. At the same time, retailers are moving more of their operations into the cloud, with a study by Right Scale showing that 95% of responding businesses were hosting data.
Vonage leverages the cloud to provide the same features as do legacy phone systems — like caller ID and extension dialing — as well as offer advanced features — like mobile forwarding and visual voicemail — at the highest quality and a lower cost.
"With Vonage, communication is unified. Instead of each location having its own set of features, the same features are there for all locations, unifying not only their feature set but unifying them geographically" Clark Peterson, President, Enterprise for Vonage told us. "Through the cloud, they are all virtually under one roof, geographically, meaning 4 digit extension dialing, Speak2Dial options, included long-distance charges, and no extra cost for video calling between any of these points."
Vonage prides itself on call quality and reliability, so the network it built is not just feature-rich, it is optimized — through SmartWAN — to correct latency in voice and video before they can be noticed.
Vonage began with voice calls, but Vonage Business heralds a new era for the company as it is always looking to help retailers with their communication across as many channels as possible — while also saving costs.
Cloud Capabilities Provide Retailers Flexible Communication
In the past, telephone service was typically installed at individual retailer locations through local communications companies. If a retailer was lucky, it could get a T1 connection, which supported approximately 24 virtual phone lines and could connect multiple locations. But plenty of logistical problems arose from that set-up — not to mention the high price.
"In the past, locations could be connected with a single low-bandwidth T1 connection, but they might have paid $400 to $500 a month for that connection," Clark explained. "And if they were in a rural area, it could be as high as $1,000 a month."
Not included in that price was the purchase of private branch exchanges (PBX) that must be set up at each location to connect them with other branches and corporate offices. PBX is a significant investment that many mid-sized or regional retailers can't afford to implement and support.
But Vonage has created a cost-effective way to use broadband and DSL connections in tandem to provide quality communication service at a more palatable price point. These types of connections also mean that features that once were only available through a PBX or local communications company can now be deployed through the cloud to all branches.
"With the Vonage SmartWAN solution, retailers are getting double the connectivity at nearly half the price of a T1," Clark said. "As cost-sensitive as retail is, if you can cut your communications bill in half, that is big."
And the 40-plus phone features built into Vonage's cloud-based network are just as important. These features are what business owners, managers, associates, and customers deal with directly, and they improve the process. Whether it is a call being routed to multiple locations — including mobile devices — until it is answered or having a fax show up as an email, retailers have more options. And if a mobile device has the Vonage app installed, it can constantly be connected to the network.
The Vonage Business network also has the bandwidth for reliable video conferencing so a business can give meetings an even more personal touch. The company's network supports this kind of reliable performance because of its innovative SmartWAN solution that keeps data moving fast on the most optimal path.
Next Generation SmartWAN Enhances Quality and Reliability
Another retail transformation is the migration of a business' commerce channels to the cloud. That means a lot of bandwidth is used between their store location and data centers, so the importance of network management has gone up.
The only way to manage that kind of bandwidth cost-effectively is to deploy more broadband connections like cable or DSL, but the challenge for VoIP is that call quality over those connections can suffer.
What gives Vonage Business the ability to ensure call and video quality over its single or dual connections is a software-defined wide area network product it developed called SmartWAN. By intelligently prioritizing the best path for voice and video data to travel over available connections, SmartWAN delivers a seamless experience even with a large amount of bandwidth being taken up by other business functions.
"Our SmartWAN solution continuously checks the health of each connection, and there are key performance indicators for VoIP services," said Sanjay Srinivasan, Chief Architect for Vonage Business Services. "It can pick the right path for every information packet, which makes it truly dynamic. While one connection may have issues, SmartWAN bypasses the problem while the support team fixes it. So, if one line goes down, a call continues seamlessly. We have even deployed and demonstrated business grade voice quality on 4G/LTE connections."
Vonage Business can deliver clarity and performance with SmartWAN, enabling a business to prioritize voice and video data while still keeping bandwidth available for other business purposes. The company has also been focused on finding more ways for businesses to connect with customers, which led to the acquisition of Nexmo to integrate communication directly into the current structure of a business.
Nexmo Enables Customer Support Across Multiple Channels
As the world becomes increasingly more mobile and technology becomes automated, future-focused ideas become necessary. With that in mind, Vonage acquired Nexmo to help retailers not only get ahead of consumer demand but also become innovators themselves.
Nexmo, the Vonage API platform enables businesses to embed voice, video, and messaging capabilities into their digital structure to connect with customers in different ways and new channels.
"In the future, we believe most communication won't originate from someone dialing on a keypad," Clark told us. "It will originate from someone on a mobile app, website, or social media profile. Nexmo allows app-to-app and website-to-website communication."
As an example, IBM is pairing Nexmo's communications capabilities with Watson's intelligence for Project Intu to make it easier for consumers and businesses to connect. Even in its early stages, a user can tell Watson to make a dinner reservation or book a hotel, and Watson, through the Nexmo API, can call the hotel or restaurant on behalf of the consumer. And once a reservation is set, the user receives a confirmation text.
Building Nexmo into the fabric of Project Intu was vital to being able to communicate over those different channels, and there are many other applications for the platform. Nexmo integration allows a customer to chat with customer service directly through an app, or make a phone call from a website by clicking a button.
Through Nexmo, Vonage Business can help take retailers into a future where even dialing a phone number is not a necessary part of the communication process.
Vonage Helps Business Cut Costs While Moving into the Future
When a customer dials up a business, and the call goes smoothly, he or she usually doesn't think twice, and retailers would like to keep it that way. Vonage has the power to make that call clear and seamless through SmartWAN, and it can even eliminate the need for dialing the number with Nexmo.
And by using Vonage, a retailer doesn't have to buy the equipment or pay high provider fees to keep all of its stores connected. Phone systems are connected in the cloud, and video calling is available at significant savings. Businesses also have the ability to differentiate with cutting-edge customer engagement.
"Retailers are looking at cost-cutting of infrastructure type services, so the ability to deliver broadband at a lower price point is essential," Sanjay told us.
Legacy phone technology — and its connections like PBX — are on the way out as the retail industry becomes more focused on resource unification. Vonage aligns with that mentality shift by unifying communications in the cloud, enabling retailers to innovate, and, ultimately, save money.
Advertiser Disclosure
HostingAdvice.com is a free online resource that offers valuable content and comparison services to users. To keep this resource 100% free, we receive compensation from many of the offers listed on the site. Along with key review factors, this compensation may impact how and where products appear across the site (including, for example, the order in which they appear). HostingAdvice.com does not include the entire universe of available offers. Editorial opinions expressed on the site are strictly our own and are not provided, endorsed, or approved by advertisers.
Our Editorial Review Policy
Our site is committed to publishing independent, accurate content guided by strict editorial guidelines. Before articles and reviews are published on our site, they undergo a thorough review process performed by a team of independent editors and subject-matter experts to ensure the content's accuracy, timeliness, and impartiality. Our editorial team is separate and independent of our site's advertisers, and the opinions they express on our site are their own. To read more about our team members and their editorial backgrounds, please visit our site's About page.