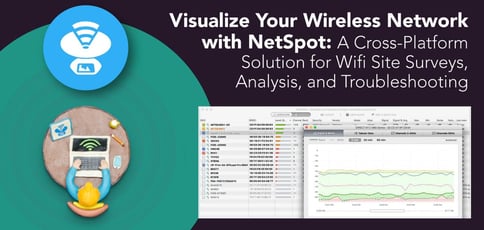 TL; DR: NetSpot, a wifi analyzer app for Mac and PC, empowers more than 500K users with varying degrees of network expertise to improve connectivity. The free solution makes it possible to manage any wifi setup through site surveys, networking management, and troubleshooting tools. Now, eight years after its initial release, NetSpot is eager to introduce users to the latest addition to its software family: NetSpot 3.
As cumbersome as it may seem, we all know that planning is key to achieving desired outcomes. After all, a surgeon wouldn't cut open a body without anatomical knowledge, and a home builder wouldn't pour foundation without a floor plan.
The same applies when you're setting up a wireless network in a new home or office space: To ensure success, the first step is mapping out your signal coverage and strength. If you're not a networking expert, this may seem like an overwhelming task.
However, wifi heatmap software is available to fully automate the process, allowing professional network admins and home users alike to map out their areas in a matter of minutes simply by walking from one place to the next.
It's almost impossible to estimate how many access points will ensure proper coverage without such tools. Unfortunately, those tools can be expensive and hard to navigate. NetSpot was created to fix that problem, putting wireless network optimization within reach for everyone.
"Wifi is everywhere today, and it's truly disappointing when it lags," said Kate Lysevych, Product Manager at NetSpot. "NetSpot is an easy-to-use, affordable tool that helps users fix those issues and enjoy more reliable connections."
In addition to its wireless heatmap capabilities, NetSpot provides wifi analytics and troubleshooting functionalities that allow users to manage network performance on an in-depth level. Now, with plans to unveil the latest edition of the powerful tool — NetSpot 3 — the company is continuing to put capable wifi analytics tools into the hands of Mac and Windows users.
Map and Identify Network Strengths and Weaknesses
When NetSpot launched in 2011, it became the first wifi survey application available for macOS. Prior to that, wireless network visualization software was limited to those on Windows platforms willing to pay a significant charge.
"We clearly saw the demand and an opportunity right there," Kate said. "With the team's background in software development, we were ready to take on the project with a clear vision of the future solution. We started with a completely free suite for everyone with basic wifi visualizations and map creation tools."
NetSpot was released as a free download on the Mac App Store as well as on the company's website. The team then used their SEO and public relations chops to spread the word, an effort that attracted about 1,000 customers almost instantly.
"We were disruptors, in a sense — instead of requiring a pricey specialized wifi card and a multithousand dollar investment in a piece of outdated software that you can't even download for a free trial, we delivered a 'less is more' approach, and it worked," Kate said. "It was (and still is) accessible for users of all levels of income and technical backgrounds."
NetSpot's wifi analyzer is free for all users, but Home, PRO, and Enterprise plans are available through a one-time purchase. Kate said NetSpot is one of the first solutions that provide insight into personal networks through the Home plan, which includes two zones, 50 data points per zone, and three major visualizations.
For more in-depth needs, the PRO plan offers 50 zones, 500 data points per zone, and 12 visualizations; while the Enterprise plan offers unlimited zones and data points, plus 12 or more visualizations.
Providing In-Depth Coverage Analysis to More Than 500K Users
After eight years on the market, the cross-platform app now serves well over 500,000 individuals and businesses. The solution is still extremely simple to use, without the need for networking knowledge, wifi adapters, or drivers.
"We want NetSpot to be the best wifi manager for literally everyone, whether you work for a networking service provider, a large wifi integrator, a small hotel, or just need to survey your home office in the basement," Kate said.
The wifi analytics market hasn't changed much since NetSpot's initial release, Kate said, though many competitors now focus their development efforts on macOS. "We are still the most affordable solution and the easiest to adopt at any business or personal level, and the competitors are still expensive and monstrous," she said.
However, she said a lot has changed in terms of the ways we are digitizing our homes, offices, and buildings. "With all the modern indoor mapping solutions (some even harnessing AI), floor planning on our phones, Project Tango by Google, and 3D cameras, it has become much easier to create maps that we can layer wifi data on," Kate said.
Today, NetSpot splits its resources between Windows and macOS and doesn't limit customers to specific platforms. Any NetSpot license may be activated on a Mac or Windows computer as needed. The company is also investing heavily in the mobile arena, as well as in micro projects within the existing NetSpot platform.
"Even with all the improvements in Wi-Fi CERTIFIED 6, home and business users still love the simplicity of NetSpot and our ever-growing feature list," Kate said.
Troubleshoot and Improve Your Network's Performance
In terms of features, NetSpot offers a number of tools designed to help users create coverage maps, detect neighboring APs, explore the wireless environment, boost network speed, improve connectivity, and increase stability. "If your business or clients rely on your wifi, it's truly hard to overestimate the value NetSpot can bring in," Kate said.
Discover Mode, for example, compiles data about surrounding wifi networks into an interactive table that allows users to flag potential problems. "When speaking of specific features, I usually highlight the troubleshooting mode, which is a set of visualizations that help you immediately detect not only the problematic areas of your wifi coverage but also find the cause and a potential solution thanks to our built-in recommendations," Kate said.
In addition, NetSpot's new One Point Survey feature allows users to plan a wifi network of any size using just one portable router. Simply start a new project, place the router in its designated location, and take samples before moving the router to the next area and repeating the process. Once you've measured the entire space, you can merge the survey snapshots into one, and the resulting snapshot will appear as if you were working with multiple access points.
While improving network parameters is the most popular use case for NetSpot, Kate said it's equally important to run a secure network. "One of the least-known scenarios is using NetSpot to verify the boundaries of corporate wifi networks and ensure they are not spreading too far from your premises," she said.
Continuous Developments, Including the Release of NetSpot 3
The NetSpot team is a remote group of professionals guided by Scrum, an incremental framework for software development known to increase speed and flexibility. The company gains additional inspiration from the success of companies such as Buffer and Basecamp.
"Self-motivation is a big thing among NetSpotters," Kate said.
In addition to adding support for mobile platforms, NetSpot is focused on keeping its existing clients happy while growing its user base. The company's next major release, NetSpot 3, will incorporate changes based on client feedback.
According to Kate, the software will hit virtual shelves later this year — helping even more users gain valuable insight into their networks in a matter of minutes.