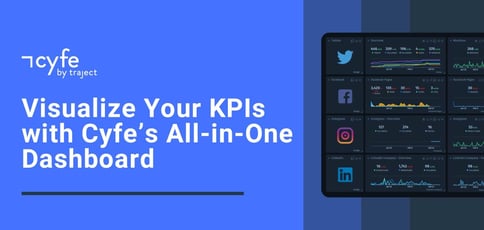 TL; DR: Cyfe, part of the marketing technology suite Traject, provides agencies and marketers with an easy way to monitor, analyze, and present business data — all without a developer on-hand. The cloud-hosted data dashboard helps users combine data sources, visualize trends, and monitor KPIs to drive better business results. Features like custom widgets, embedded analytics, and white labeling make it easier for organizations to make the most out of data.
Excess time is a luxury most web developers can't afford. Faced with a persistent tech talent gap, dev teams are often forced to juggle multiple tasks — or risk being buried alive in ever-growing to-do lists.
Fortunately, many have recognized this problem, and they've gone on to found companies that make the lives of their peers that much easier. One such example is Cyfe, founded in 2012 by software engineer Deven Patel.
The serial entrepreneur built the business dashboard after identifying the need to assemble real-time data from multiple sources into coherent presentations. Today, Cyfe's all-inclusive dashboard software does just that — helping marketers monitor and analyze vital business data from a centralized location.
"For marketing agencies, being able to see live data without having to constantly bug your developer is huge," said Tomonori Igari, Product Manager at Cyfe. "For example, Cyfe allows teams to visualize database information in real-time using an SQL widget. Marketers have what they need instantly, and developers can focus on doing what they love — coding. That way, everybody's happy."
Other tools within the cloud-hosted platform include prebuilt integrations with social media accounts, embedded analytics, data exports, and white-label reporting designed to boost an agency's professionalism. Cyfe also offers a broad selection of modifiable online dashboard templates that help users connect data and monitor key performance indicators (KPIs).
Hundreds of thousands of businesses now trust Cyfe to help them visualize trends, combine data sources, and demonstrate ROI. All of these benefits ultimately empower users to achieve measurable growth.
Founded in 2012 and Featured in the "Silicon Valley" TV Series
Cyfe has expanded to more than 300,000 users in the near-decade since it was founded.
The popular HBO series "Silicon Valley" featured the dashboard in a few episodes during 2016. In the show, employees of an innovative file-compression company used Cyfe to monitor progress on their goals. Cyfe demonstrated how fans could achieve a similar setup in a June 19, 2016, blog.
In 2020, Cyfe became a part of the agency-focused marketing technology suite Traject. The suite represents six additional brands in the marketing technology space: AuthorityLabs, Fanbooster, Grade.us, GatherUp, Traject Data, Traject SKU, and Sendible.
Cyfe's role in the suite is to help agencies design dashboards for their clients that provide real-time performance views. But the company remains true to its roots.
"Cyfe is the easiest way to visualize and tell your story through data," Tomonori told us. "We're always trying to remove barriers to monitoring and analyzing vital business data. The process can easily get convoluted in terms of how you pull and process the data, so we want to make it easy for our end users."
He said the company aims to accelerate actionable insights by enabling customers to go from zero to data in five minutes.
"At the end of the day, these dashboards are largely client-facing, whether that means marketers showing data to their supervisors, or SMBs and digital agencies designing dashboards for clients," Tomonori said. "They need to justify their ad spend or money spent on improving domain authority, and they need to present metrics to do so. The numbers that matter most are our main focus."
Track and Analyze Data in a Centralized, Cloud-Hosted Location
Tomonori told us that, for the most part, Cyfe works with busy clients who want to get to the results, not struggle to unlock data from various sources.
"Teriyaki joint owners, for example, are not going to ask for details about a particular metric," he said. "They just want to know what the marketer has been doing for them and whether or not it's working."
Cyfe also makes it easy for agencies to provide regular, automated reports to keep clients informed. The reports, available in PNG, JPEG, PDF, and CSV formats, allow users to monitor metrics even when they're away from their dashboards. Users can be notified of their arrival via email or SMS.
"If they have questions, then they'll schedule a time to chat. But in many cases, they just get a report that's been sent out and say, 'OK, we're doing better than the last month — great,' and move on."
Marketers who use Cyfe can spend more time focusing on what's important — delivering results for their clients.
"They free up hours each month to spend on more pressing issues, whether it's the nitty-gritty of creating an organic post, designing images in Canva for Instagram, or simply being able to study up on where the market is going. Getting that time back really does allow for them to dig into what's important and gain more business."
While the majority of Cyfe users are digital marketers, the company also serves SMBs and a slowly growing segment of nonprofits undergoing digital transformation processes.
"Some of the older nonprofits are realizing that traditional marketing is no longer the main play; it's important to drive people to their Facebook page and enable people to interact with organic content on their Instagram page," Tomonori said. "That's what's helping them increase donations today."
Custom Widgets and Embedded Analytics
Cyfe recently introduced Embedded Analytics, a feature that allows users to meet shareholders where they are with real-time metrics. The versatile, no-code solution makes it easy to bring together multiple data sources into a single display that uses visual data to elevate web apps, portals, and sites.
"We're seeing an increasing trend of people embedding their data into native platforms, websites, and blogs," Tomonori said. "And so we're doing our due diligence — it becomes a value-add, being able to embed analytics within your portal. You can see other functions that you're providing, but then also have insight into data."
Tomonori said the digital marketing suite was hit fairly hard at the start of the pandemic but is now seeing business pick back up. Some customers are seeing greater success as businesses begin to view growing an online presence as a necessity.
"More people are at home, and the amount of time they're spending on their phones has increased exponentially, so businesses have to get in front of them digitally," he said.
As vaccine distribution creates new hope worldwide, businesses will resume many of the pre-pandemic data-tracking activities they used to boost their success.
"We have customers who use digital wristbands to track people attending places like theme parks and want to know what rides they are hitting," Tomonori said. "They're able to visualize that data live through the SQL widget within Cyfe to see what attractions are getting the most love."
Evolving from Visualizations to Insights
Moving forward, the Cyfe team is exploring ways to strategically combine data and derive valuable insights.
"This is something that's both scary and exciting: By leveraging other products, we intend to go from offering metric visualizations to actionable insights," Tomonori said. "We have to ask our marketers what they consider as insights and go from there."
Uncovering and understanding the narratives around data will help set Cyfe apart from the rest of the market.
"Data for data's sake is one thing," Tomonori said. "We're currently strategizing at a high level on how to tell the data story really well."