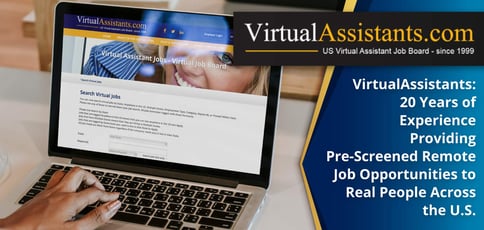 TL; DR: If you're searching for legitimate, high-quality opportunities to work from home, look no further than VirtualAssistants. The time-tested site is a rich source of remote jobs in tech support, customer service, social media, writing, and telemarketing, among other fields. With a simple and affordable registration process and a continuing focus on system improvements, VirtualAssistants is furthering its mission to connect people from across the nation with pre-screened, remote job listings.
As early as 10 years ago, the opportunity to spend your workday in the comfort of your home — laptop, couch, fuzzy slippers and all — seemed little more than a pipe dream.
Today, forward-thinking managers are beginning to embrace the idea of remote work, especially in light of ample research demonstrating its benefits. In a recent study, Stanford Professor Nicholas Bloom found that telecommuters enjoyed increased productivity, took shorter breaks, requested less time off, and had fewer sick days compared with an in-office control group.
Implementing a remote workforce also helps businesses cut costs on office space, technology, and unscheduled absences. It's also good for the environment, considering that a remote U.S. workforce would save two billion gallons of gas per year by wiping out unnecessary driving time.
Still, it's not always easy to hunt down these valuable opportunities.
That's where VirtualAssistants, one of the most established virtual job boards in the U.S., comes in, providing members a safe and legitimate place to apply for pre-screened work from home opportunities.
"More companies are hiring remote workers, but it can take hours and hours for us to find these jobs and have employers post them on our site with comprehensive job descriptions and legitimate contact information," said Belinda Stringer, Founder and Director of VirtualAssistants. "We make it easy for people to find high-quality virtual jobs that allow you to work from home in just a few clicks."
Over the years, the time-tested site has evolved into a rich source of remote jobs in tech support, customer service, social media, writing, and telemarketing, among other areas. Getting started is easy with the site's affordable membership plans and straightforward registration process. Looking ahead, Belinda said VirtualAssistants will continue to focus on system improvements to better connect people from across the nation with remote job opportunities.
Apply for Legitimate, High-Quality Jobs Quickly and Easily
Belinda founded VirtualAssistants after growing tired of her corporate staffing career and deciding to start a job board in 1999.
"Back then, the internet was in its early stages," she said. "I had already purchased a job board site for the Columbus, Ohio, area when I saw someone mention a virtual assistant on a forum. So I went to Network Solutions, typed in VirtualAssistants.com, and, sure enough, it was available for around $39."
Initially, Belinda planned to create a traditional job board for remote opportunities. But she found out the hard way that the environment was fraught with scammers trying to make a quick buck off of unsuspecting job seekers. That's why she has taken the screening process very seriously.
"I had been applying for virtual jobs myself at the time, and I saw so many scams jobs there," she said. "I even got scammed once myself! It was then that I decided to make it a private, members-only directory of jobs that had been pre-screened and approved as legitimate."
When Belinda first dipped her toes in the market, there wasn't much competition. She said the few companies in the space, such as Workaholics4Hire, folded within a couple of years. VirtualAssistants, on the other hand, has been in business for more than two decades, which Belinda credits to the company's ability to adapt in step with the industry's evolution.
"The company's changed several times over the years, and we keep trying to improve the software for job seekers and make the search technology better," she said. "I also upgraded the job board last year to a smarter platform."
VirtualAssistant's notoriously strict screening process doesn't hurt, either. Belinda goes back and forth with nearly every employer who posts a job to ensure they're using legitimate business email accounts, have an established company website or LinkedIn profile, and include a complete job description. "If you're not a legitimate company, you're not getting through to our job board, period," she said.
Find Work in Social Media, Tech Support, Customer Service & More
Belinda told us that initially, the company would reach out to companies and convince them to open their minds to the benefits of hiring remote workers. Now, the work-from-home trend is one she doesn't see slowing any time soon — for small businesses and large enterprises alike. After all, the internet is a powerful thing, allowing them to source talent state and even nationwide.
Belinda told us there's one small caveat: Due to varying regulations, some companies aren't able to hire across state lines, but Belinda said plenty of others can. "That's why I set up the job board with parameters, so jobs are tagged by state, anywhere in the U.S, or in multiple states, to narrow things down," she said.
Users can also search remote jobs in nine categories, including accounting and billing; administrative and clerical; computer and technical; customer service; medical; professional and managerial; sales, telemarketing, and marketing; teaching, tutoring, and translating; and writing, editing, and proofreading.
Recent job posts run the gamut, from a remote lead metabolic nutritionist and recipe developer to part-time accountants in California, New Jersey, New York, and Wisconsin. Belinda said she often comes across postings for tech support — an area of high demand in the hosting industry, especially considering that 44% of consumers will take their business elsewhere after receiving poor customer service.
"We've also seen a big trend in companies looking for people in marketing and SEO-type of roles," Belinda said. "There are many administrative, customer service, writing, transcription, and writing jobs, as well."
Finally, users can search job posts based on employment time, with categories such as full time, part time, seasonal, and flexible hours, among other options. Anyone can search for jobs on the site and receive limited information, including job title and state. To obtain essential company and contact information, however, users must register as a Job Seeker member. The costs are minimal and include the choice of a small monthly fee or a discounted annual charge.
A Continued Focus on Enhancing the User Experience
At the end of the day, Belinda's top concern is maintaining the trust of both new members and loyal customers that have believed in VirtualAssistants for two decades.
"We go through a lot to make sure the jobs we post are high-quality, and we want our customers to feel comfortable knowing that," she said. "That is our top priority."
As for what's coming down the pipeline, Belinda told us that the company will continue its tried-and-true approach of improving the site and adding more features intended to make the lives of job seekers that much easier.
"We're currently working to working on improving search features and things like that and will continue to fine-tune the system as we move along," she said.