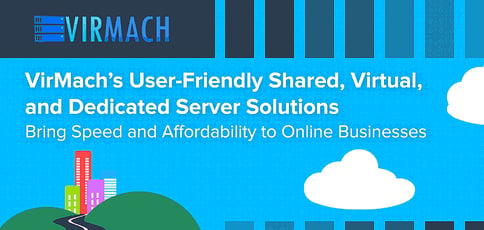 TL; DR: In four short years, VirMach has evolved from a VPS provider focused on high-powered servers to a comprehensive specialist in virtual, dedicated, and remote desktop solutions. The company now delivers high-performance hosting services from nine datacenters in the U.S. and two in Europe. Where VirMach will land in the next four years remains to be seen, but with an ever-growing pool of advanced technologies like KVM virtualization and lightning-fast SSDs in RAID 10 configuration, it certainly won't be content standing still.
In the physics world, supersonic speeds are measured using the Mach number. A fighter pilot traveling at Mach 1, for example, moves at the speed of sound (approximately 761 miles per hour at sea level). The fastest aircraft in the world, NASA's X-43A scramjet, reached a hypersonic speed of Mach 9.6 on Nov. 16, 2004 — a monumental breakthrough that scientists believe could have future implications on spaceflight.
When it comes to site performance, speed is just as important. As a hosting provider that offers 10 Gbps shared port speed on most packages, VirMach knows this well. And while the company chose the name "VirMach" as a shortened version of "Virtual Machine Solutions," we have a hunch it probably doesn't mind being related to speeds so fast they break the sound barrier.
Since 2014, VirMach has been growing at a record pace, making the transition from a virtual server company (focused on high-powered virtual servers suitable for gaming) to a comprehensive provider of virtual, dedicated, and remote desktop solutions.
"Initially, we deployed smaller servers and only offered Linux packages, mainly utilizing OpenVZ virtualization and hard drives," Syed Ahmed, Product Manager at VirMach, said. "As the industry evolved, we moved to larger KVM virtualization servers for more robust features, better performance, higher flexibility, and better scaling."
Today, the company is determined to stay competitive in pricing and the resources it delivers via nine datacenters in the U.S. and two in Europe. With a devotion to customer support and plans for additional infrastructure in the works, VirMach is well on its way toward meeting that goal.
From Gaming Servers to VPS, Dedicated, and Remote Desktop Services
Founded in 2014, VirMach aimed to provide virtual private servers before deciding to expand into multiple companies. Now, VPSGamers serves the gaming niche, as does VPSCraft, the company's Minecraft hosting service. Then there's VPShared, the company's affordable web hosting branch. All four divisions now fall under parent company Virtual Machine Solutions LLC, with VirMach focusing on virtual and dedicated servers as well as remote desktop services.
In the beginning, VirMach was closely following multiple message boards, including LowEndTalk and WebHostingTalk. However, since the host focused initially on larger packages with less flexibility, it became more popular among some high-power usage niche markets such as gaming. Later on, the change to larger servers gave the company the flexibility to offer more standard-use packages that were scalable for every use.
Today, VirMach's most popular VPS plan is the SSD2G Pure SSD, which comes with 2GB RAM, 2TB bandwidth, and two CPU cores. Windows is available on that plan for just $2 a month, or for free on the SSD4G package. Most VPS packages feature 10 Gbps shared port speed. In addition, the company offers both pre-configured unmanaged servers and managed custom dedicated servers.
Finally, VirMach's remote desktop and virtual network computing solutions allow users to access their VPS through a common method of viewing the virtual screen, desktop, and graphics interface remotely through the internet. With some other providers, users have to access the Linux VPS through command line and install the desktop environment themselves.
According to VirMach, Linux solutions are more affordable, use fewer resources, and support a wider range of applications. However, customers typically are more familiar with the Windows line of services.
Datacenters in 9 U.S. Locations Plus Germany and the Netherlands
VirMach has cast a wide net across the globe when it comes to infrastructure, allowing the company to serve SMBs and enterprises in multiple locations.
Pure SSD plans are available throughout the U.S., with locations in Arizona, California, Georgia, Illinois, New Jersey, New York, Texas, and Washington, as well as the Netherlands and Germany. Customers can test their ping to each location through the company's Looking Glass tool to determine which position provides the best performance.
All four SSD Windows and Linux Packages (SSD1G, SSD2G, SSD4G, and SS8G) in the company's Buffalo, New York, location come with 20Gbps of free in-house DDoS protection. The service, housed locally using RioRey hardware, works to protect the customer's main IP instantly.
For those looking for advanced security against DDoS attacks, the company provides 500Gbps of protection for just $2 per month through Voxility in a datacenter close to VirMach's Los Angeles location. Customers who use this service have the option to receive an additional IP address protected through reverse-proxy service.
Syed told us performance is the company's main focus in terms of infrastructure. "We're constantly improving our backup system, and we're constantly improving stability," he said. "We're also working on owning our own infrastructure to make sure that we're not reliant on other datacenters. We want to be in full control."
KVM Virtualization and Lightning-Fast SSDs in RAID 10 Configuration
VirMach is a proud provider of KVM, an open-source Linux kernel hypervisor technology for virtualization solutions. Syed told us customers receive access to a full set of KVM features, as well as the power to run any kernel modules or operating systems.
VirMach also guarantees that it won't oversell disk space on KVM packages, including storage. According to the VirMach website, "The disk is allocated to you by our system, whether you use it or not. We do not use thin LVM to cheat the system, as some competitors may."
The host has also replaced all HDDs with SSDs in RAID 10 Configuration, which leverages multiple disks to provide redundancy and increase overall performance. "Today, we use RAID 10 with battery backup across all virtual servers, even on our storage packages, while competitors may use lower-performing RAID 1 or RAID 60 configurations," Syed said. "For additional data protection, we keep weekly disaster recovery backups, free of charge, and restore them in the case of total disk failure."
The company also monitors all server hardware and performs automated testing to ensure optimal network performance around the clock.
"To further improve network performance, all of our new servers are deployed using 10GE network cards, so even if you select 1Gb port speeds, if you land on a 10Gb server, the network is essentially shared by 10 times fewer customers," Syed said.
Instead of handling "bad neighbors" manually, VirMach's automated system sends warnings to service abusers and ultimately shuts them down if they negatively affect other virtual servers. This means that, for example, 2% of users on a node can't influence the experience of the remaining 98%.
"In the rare event of an outage, we have 24/7 system administrators that handle the issue immediately and provide automated system credits to customers per our generous SLA," Syed said.
Devoted to Providing Upstanding Support and Avoiding Downtime
According to a 2018 Forrester study on customer service, 66 percent of adults said that the most important thing a business can do to ensure a good online experience is value their customers' time. To that end, VirMach takes customer satisfaction seriously, aiming for quick response times and above and beyond support that helps users make the most of their tech investments.
"Even with our basic plans, we believe that a person should be able to buy a VPS and have the assistance they need to use it the way they want to," Syed said. "We focus on making sure everything's running and making sure that if you're stuck, we can help you."
Though the team is fairly small, Syed said it's passionate about helping customers. The company leverages outsourced support for lower-level tickets to speed up response times to under half an hour, but customers always have the option to escalate any ticket to the main team.
VirMach also provides advanced premium support for most of its services at $25 a month. "That's where we get really hands-on," he said. "If you're having issues, we're going to spend your allotted two hours trying to figure it out for you, and if it takes longer and it's one issue, we're probably not even going to consider the time it takes to help you get your service running," he said.
VirMach stands by it services. Customers are guaranteed to receive a credit toward the purchase of future VirMach services if they experience even 10 minutes of continuous downtime. "Say you get 10 minutes downtime," he said. "You'll then get seven days of usage credit that can be applied to your next month of services."
After all, online businesses are looking to VirMach for supersonic speed, not crashes.