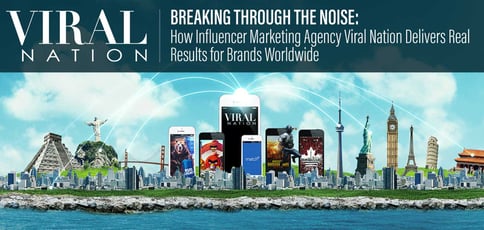 TL; DR: Viral Nation is a full service marketing firm specializing in influencer marketing creating compelling social campaigns for brands around the globe. The company's fully managed services and advanced SaaS solutions flip the traditional marketing model on its head, helping clients achieve rapid and sustained business growth. With ongoing global expansion and a growing focus on the gaming space, Viral Nation is helping even more brands tell their stories through engaging content.
As younger generations become increasingly skeptical of advertising and their trust in corporations continues to wane, many brands are turning to online influencers — bloggers, vloggers, journalists, and celebrities, among others — to offer more authentic engagement experiences.
Unlike businesses themselves, these third-party individuals have the power to sway the purchasing decisions of others due to their perceived authority and expertise. As a whole, the influencer marketing industry is still emerging, but companies like Viral Nation are taking the mystery out of this growing space with hands-on services and cutting-edge technology.
"We like to say that we take a hybrid approach, which means we think managed services are the number one most successful way to run influencer campaigns, but we also have advanced technology via our Software-as-a-Service (SaaS) platform," said Joe Gagliese, Co-Founder of Viral Nation. "Ultimately, everything we do is strategy-led."
Founded in 2014 by Joe Gagliese and Mathew Micheli, Viral Nation is a platform-agnostic digital marketing and talent agency connecting brands to influencers, who tell their stories through engaging and genuine content. In just five years, the company has managed countless campaigns for SMBs, enterprises, B2Cs, and B2Bs around the globe.
The company's all-encompassing strategy allows it to work with brands of all kinds, from Tencent in China to Match.com in California. In addition to influencer marketing, Viral Nation is a one-stop shop for marketing initiatives, including content marketing for a broad range of verticals, from beauty to travel and hospitality. And with ongoing global expansion and a growing focus on the gaming space, the company plans to help even more brands connect with audiences via modern marketing mediums.
Rapid and Sustained Business Growth Via Word-of-Mouth
Joe and Mathew initially started Viral Nation to connect NHL and NFL athletes with sponsorships on their social channels or renegotiate their endorsement contracts to include social media — but failed to attract much interest.
"We figured out quickly that adding an extra $10,000 to a $3 million contract wasn't getting anyone excited," Joe said. "So we took that failure and applied our service to influencers — regular people for which $10,000 would go a long way. We signed exclusive contracts with them, and started building their incomes via social."
Viral Nation's first client made a significant profit, and word of the talent agency spread like wildfire, drawing in droves of influencers. Then came the public relations and marketing firms, spurring a second period of growth. "We started running hundreds of campaigns in the background for all of these startups and all of these existing marketing agencies," Joe said.
Joe credits Viral Nation's timely entrance into the market for propelling the company from zero to 100. Large brands weren't wary of the company's initially smaller size because influencer marketing was still an emerging industry.
The business continued to grow during the next two years, eventually bringing in millions of dollars a year in campaigns. At that point, Joe and Mathew sat down and determined their next move.
"We questioned the sustainability of a company that focuses only on influencer marketing, so we invested in developing an innovative full-service marketing agency based on the premise of social," Joe said. "We opened up pipelines into digital marketing, performance marketing, experiential events; we built a whole content studio powered by influencers, influencer marketing, strategy, and research."
Fully Managed Services and Robust SaaS Solutions
Joe told us that the expansion positioned Viral Nation as a new media agency to contend with. The company continued to grow at a rate of approximately 400% per year and brought on about 50 new employees in the past year alone. "We're hoping to hit the $50 million in revenue mark this year," Joe said. "It's been a whirlwind: an incredible, beautiful adventure."
Today, Viral Nation is an all-in-one influencer talent and marketing agency specializing in social media content creation. By leveraging a strategic combination of managed services and cutting-edge marketing technology, the company is able to tailor solutions to fit just about any customer need or key performance indicator (KPI).
"We develop custom strategies from scratch and handle all the details, from execution to the analytic report," Joe said. "Sometimes this goes beyond influencers posting about your product. It could be licensing influencer content and running paid social ads with it, or retargeting different communities."
It all depends on each client's unique goals, whether they're working to drive sales, boost app installs, or raise awareness. "We create the campaign based on the situational needs of the brand," Joe said. "When appropriate, for example, we put thoughtful, engaging, storytelling content out into the world in hopes that people will recall that brand next time they're out and about or see it online."
On the tech side, Viral Nation has built proprietary software that features API licenses of multiple social media platforms, which allows the company to quickly and easily generate the analytic data behind influencer campaigns. The company also uses software to combat fake followers and engagements.
Flipping the Traditional Marketing Model on its Head
According to Joe, Viral Nation has set out to create innovative influencer marketing experiences that are as far from traditional marketing techniques as you can get. He attributes the company's success — and its whopping 93% client retention rate — to the fact that many of the company's key contributors aren't marketers by trade.
"I think that's what makes us as good as we are, just pulling from the knowledge of rational humans as opposed to a political marketing landscape," he said. "We focus on hiring cool, intellectually smart individuals who have the capabilities we need and just teach them what works, turning them into marketers. That's one of our key competitive advantages."
Joe also describes customer feedback as the Holy Grail of relevancy, especially in our rapidly evolving tech era. Viral Nation's founders, directors, and team are very much in tune with the space in terms of emerging platforms, strategies, and innovative ideas. Influencers themselves serve as an excellent source of such knowledge.
"Influencers are the subject matter experts of social above and beyond anyone in the world — they know the market down to its DNA," Joe said. "We make sure to tap them for ideas and turn to them for the pulse points of the industry."
The team also scours the internet for the latest and greatest in influencing marketing, whether that be new strategies for buying media, new angles for boosting ROI on paid social media posts, or other trends.
"For us, that approach is always on," Joe said. "It's not even a process. It's in our blood."
International Expansion and a Focus on the Gaming Space
As for what the future holds, Joe said Viral Nation currently has offices in New York and Toronto and serves clients in China, Europe, and Latin America with plans for further global expansion.
Viral Nation is also entering the gaming space with the recent acquisition of an esports league and will break into influencer marketing for B2B companies within the next year. Ultimately, Joe said the company will build upon its reputation as a hard-working group with innovative solutions.
"We're an agency founded on work and learning as opposed to going out in the market and making a lot of noise," he said. "We have earned our spot as one of the top companies in the world for what we do."