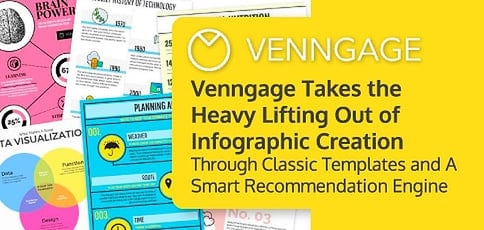 TL; DR: Infographics are phenomenal tools for marketers, but they're frequently underutilized for fear that creating them will be too time-consuming or prohibitively costly. Venngage is an easy-to-use, do-it-yourself infographic creator that makes the process easy for small businesses to create professional infographics in an hour or less. The platform features a recommendation engine that helps users find designs similar to what they envision.
Even though infographics typically perform better than many other types of content — they're 30 times more likely than text to grab a reader's attention — many marketers shy away from using them over concerns about the time and money required to produce them.
Originally, according to Venngage CEO Eugene Woo, those fears were quite valid: "You used to have to hire a designer and go through a long back-and-forth process that would take a couple of weeks to get even one done," he said. "It would cost a minimum of $500 for a very simple graphic."
But with a do-it-yourself tool like Venngage, marketers can easily create their own infographics in less than an hour and for a fraction of the cost.
Eugene recommends that marketers use Venngage templates to repurpose content that's already working well on their website, blog, or Facebook page; finding a template that suits the content is easier than starting from scratch. Making popular content more visual is much easier than starting the information gathering process from scratch, and allows users to share it on different platforms.
"If you can use PowerPoint, you can use Venngage, and you can be done within an hour," he said. "People think infographics are complicated, or that they don't have time to commit to making them, but they don't know that it's easy when you can get it done on the tool."
Expanding Infographics Beyond Visual Résumés
Before founding Venngage, Eugene ran an infographic company called Vizualize.me, which helped users turn LinkedIn profiles into visual résumé. Users began asking for other types of infographics, and Eugene decided to transition to an all-purpose infographic maker.
"With the résumé product, it was mainly people looking for a job who would get a visual résumé or infographic only once, would presumably get a job, and wouldn't need to do it again," he said. "With Venngage, it's a very different tool, in the sense that it's something people use on a more regular basis."
As a small business itself, Eugene said Venngage well understands the visual content needs of small businesses. Based in Toronto, Venngage is roughly four years old and employs 30 people.
"We understand all the challenges and requirements that a small business has," he said. "We are very responsive. If we're manning the live chat, users get a response within 20 seconds. We have the extra touch of a small business."
Beyond the company's initial focus on online infographics, Venngage has since branched out to other publishing formats and are offering poster templates, presentation templates, brochure templates, and other types of designs that a small business might need. This means customer education is a major component of the product, Eugene told us, which is why Venngage has concentrated on making the onboarding process user-friendly.
"Onboarding has been one of the challenges and also one of the opportunities that we've used to educate people, and to help them understand what we're all about," he said.
Design Quality as a Differentiator
Venngage has its fair share of competitors, but the company prides itself on usability and strong design. Eugene said Venngage is the easiest tool to use, and that the platform's professional business templates stand above those of its competitors.
"We focus on quality as opposed to quantity," he said. "Other design tools will have literally 50,000 templates. We don't have that many, we're in the low thousands, but we do have very high-quality, well-designed templates."
Additionally, Venngage features a recommendation engine similar to the one Netflix employs to suggest similar movies by tapping into the user's viewing history. Venngage users can select several images they like, and the service will automatically recommend a template that fits those design standards and content needs, along with complementary designs and products they may be interested in using in the future.
Customer feedback drives Venngage's usability efforts, according to Eugene. First, the company runs qualitative feedback sessions with frequent users, asking for their thoughts on features the team has prototyped. After the conversations, Venngage employees will run an A/B split test to gauge customer perceptions before rolling out the new product or feature sitewide.
Venngage Team Enjoys Working from "Home"
To foster creativity, Venngage strives to create a team-based work environment. When the company first started, the handful of designers, engineers, product managers, and support staff shared part of an office with another startup.
As the team grew, Venngage moved from the office space to a house — an unusual move in Toronto, Eugene said. The company has food catered each day, so employees eat together and work in fairly close proximity with one another. The house has a full kitchen, so it's not uncommon for people to cook or bake. Some people also tend to the tomatoes, basil, and other vegetables in the garden.
This isn't to say that Venngage doesn't have company roles, goals, and ways to granularly measure progress — they just have a lot of fun doing it. Eugene said the casual work environment plays into the company's culture and productivity.
"People really enjoy coming to work, and that's important," he said. "We didn't want a workplace where people just clock in and clock out. People work hard, but also really enjoy working there because of the environment."
The energy and enthusiasm people have for showing up to work translates into the creativity of the product and creates the type of environment where people work well together.
"Venngage is people; we are just a bunch of people working together building software," Eugene said. "It's definitely a very people-centered product. Having a culture that's beyond work is very important because, at the end of the day, software is a teamwork kind of thing. You build it as a team."