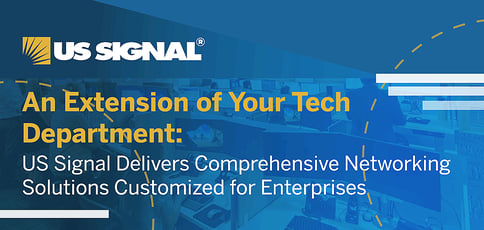 TL; DR: Boasting one of the largest fully deployed fiber optic networks in the Midwest, US Signal delivers end-to-end IT solutions tailored to individual need. The company's colocation, cloud hosting, data protection, and disaster recovery services come backed by a 24/7, white-glove approach to support. With a devotion to enhancing the customer experience through active listening, US Signal continuously aims to exceed client expectations, allowing businesses to focus on their core competencies.
Snaked across Illinois, Indiana, Iowa, Kentucky, Michigan, Minnesota, Missouri, Ohio, Pennsylvania, and Wisconsin is US Signal's vast fiber optic network — one of the largest fully deployed systems in the Midwest.
At 14,000 miles, the lit fiber network is about five times as long as the distance from Los Angeles to New York, three-and-a-half times as long as the Amazon River, and one-fifteenth of the distance from the Earth to the Moon.
With access to more than 225 datacenters, the expansive, wholly owned fiber matrix enables US Signal to power its comprehensive cloud hosting, colocation, data protection, and disaster recovery services.
"Our private network connects it all," said Matt VanderZwaag, Director of Product Development at US Signal. "That's how the business grew, and it's a differentiator in terms of the performance we can provide between datacenters."
Matt said it's what enables the company to develop wide-ranging IT solutions that reduce latency and downtime while providing security, speed, and reliability.
"When we're bringing a customer in to migrate their production workloads into our cloud, a disaster recovery scheme is going to be at play," he said. "We will host production in one datacenter and either replicate or back up things to a geographically diverse datacenter. It's fully resilient, and latency between datacenters is optimal."
The company, founded in 2000, now leverages nearly two decades of experience to build holistic networking solutions that allow customers to solve a range of IT problems. US Signal's white-glove, customer-centric approach helps clients make the transition from legacy IT systems to custom solutions that take strategic advantage of modern technologies. With a commitment to exceeding customer expectations, US Signal strives to serve as an extension of tech departments nationwide.
Geo-Diverse Cloud and Datacenter Solutions from America's Heartland
Based in Grand Rapids, Michigan, US Signal was founded as a telecom business. Around 2011, the company began leveraging its fiber assets to provide enterprise-grade, network-powered cloud services. "We began to offer a multi-tenant public cloud, which is what most think of as AWS, Google Cloud, and Azure, as well as private, dedicated resources," Matt said.
The company also owns eight SSAE 16-certified datacenters across Michigan, Illinois, Indiana, and Wisconsin; each located at least 200 miles apart and on separate power grids to minimize the impact of natural disasters. That said, the Midwest is often considered one of the safest areas geographically. As a bonus, the region's cooler weather aids in energy efficiency within the datacenters.
With customers increasingly adopting cloud-first, off-premises, and hybrid datacenter solutions, US Signal recently began construction on its newest datacenter. The facility, located in the greater Detroit area, will open at the end of 2019 to support the area's booming business and tech sectors.
"The new greater Detroit datacenter will increase US Signal's datacenter availability and enable organizations throughout the region to take advantage of both geographic diversity and lower latency," said Dave Wisz, executive vice president of operations at US Signal, in a November 29, 2018, press release.
Outstanding Customer Service and Flexible, White-Glove Solutions
Matt said the company's vast — and currently growing — infrastructure allows US Signal to shine as a genuinely customer-driven company. "Our focus has been for a long time to try to have the most comprehensive solution as possible," he said. "We want to be an extension of customers' IT teams and meet all those needs that they might have from an information technology perspective."
Some companies provide customers with a menu of pre-designed products, but Matt said US Signal's approach is the polar opposite. "We lead with questions," he said. "We want to know what day-to-day problems the customer needs to solve," he said. "Sometimes, it's a little painful to operate without a cookie-cutter approach, but the result is that we provide flexible solutions that correct existing problems."
For example, despite the popularity of everything cloud-based, not all workloads are suited for cloud technology. Matt said this scenario is common with large enterprises, manufacturing companies, hospital systems, and banks that employ legacy workloads.
"The cloud isn't always the answer, and we often have to come up with alternative solutions," he said. "Sometimes we combine colocation space. Or, if it's a system we truly can't migrate, we could do some creative things with our cloud offering to meet the platform's requirements, like leverage partnerships."
For others, the cloud provides an ideal solution — but Matt said it's not always easy for organizations to get there. That's why US Signal's experienced team and project managers are available at every step to ensure migrations are pain-free.
"Typically, at the C Level of an organization, getting to the cloud is an aspiration of theirs, but it's hard to execute independently," Matt said. "We help them navigate the process, from the planning stage before a project kicks off all the way until final cut over in full production."
A Focus on Resilient, Redundant, and Secure End-to-End Services
US Signal also strives to ensure it's protecting companies from increasingly frequent and complex online attacks. The company's Managed Security options, along with its PCI and HIPAA-compliant network, help customers mitigate risk.
Matt said the company strives to solidify a position in the forefront of the industry by keeping up with the latest technologies and understanding customer needs. In 2018, the company added new services to its data protection suite, including an increased focus on security, cloud-based DDoS protection. The managed service includes unmetered protection against DNS-based volumetric and multi-vector attacks, a 100% uptime service level agreement, and advanced analytics reporting.
It's all part of how US Signal positions itself as an extension of customers' IT teams. For example, Matt said, imagine an insurance company with a primary branch that supports various agents in different office locations.
"The insurance company's internal IT team has the institutional knowledge they need to support its various agents," he said. "But with us, they don't have to manage the connectivity between all their sites because we handle that over a routed network that's highly performant, all while hosting business applications that are fully protected from a security standpoint on the cloud."
Matt told us that the company is highly proficient when it comes to technical competency, but ultimately, its relationship-building skills keep customers on board.
"There's nothing you can do to stop issues from happening; it's how you respond to those issues that matter," he said. "We're accessible, we make things easy, and that's what allows customers to succeed."
Ongoing Product Development Based on Customer Feedback
The same attentive customer approach that helps US Signal keep customers satisfied and retention rates high runs through the company's internal development processes. When updating products or adding new features, Matt told us customer feedback informs all decisions.
"We're not going to be the company that's doing everything first — we're just trying to be the best," he said. "Our goal is to do what's required to meet customer needs and do it exceptionally well."
From the US Signal's sprawling infrastructure to its customer-centric approach to innovation, it's clear the company favors a long-term approach to customer satisfaction over a quick buck — and the first two decades of its history are only the beginning.