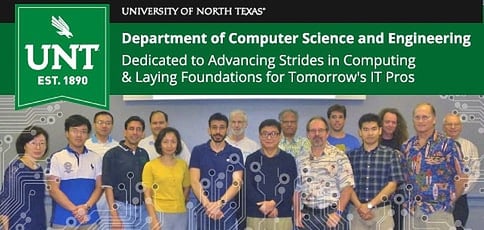 TL; DR: Founded nearly 50 years ago when computing was still in its infancy, the University of North Texas Department of Computer Science and Engineering has been committed to making advancements in STEM fields ever since. The department offers an array of undergraduate and graduate programs with curricula developed around the theoretical and experimental elements of computer science. With a strong emphasis on interdisciplinary approaches to pedagogy and research, the department is giving tomorrow's IT professionals the tools they need to build successful careers in the tech sector and develop cutting-edge solutions that will shape the future of computing.
STEM subjects are among the fastest growing fields of study — and for good reason. Not only do science, technology, engineering, and math offer promising careers, but the innovations wrought from research and experimentation also benefit people and organizations around the globe. As one of the US's major public research institutions, the University of North Texas (UNT) has long been committed to contributing to the world's scientific knowledge base.
Several major breakthroughs have been made by UNT in recent years, such as 2016's breast cancer research project that identified a link between a specific protein and lethal types of breast cancer. Subsequently, the researchers were able to mutate the protein into a form that actually halts tumor growth. This discovery made by a single research project could potentially save — and greatly improve the quality of — many lives.
But making strides in medicine isn't the only area where the university excels. UNT's Department of Computer Science and Engineering (CSE) has been developing tech innovations and the careers of IT professionals since 1971. The department is committed to sitting at the cutting edge of research and building technologies that have real-world impacts, from AI and web security to new materials for use across industries.
"We're one of the largest universities in the United States, and our Computer Science and Engineering department has just over 1,400 students," said Dr. Barrett Bryant, Department Chair.
UNT offers a variety of degrees and certifications — including a prominent web security program — built to help create tomorrow's technology experts.
Bridging the Gap Between Industry & Academia
Considering that software development is a form of engineering, computer science and engineering fit together like hand in glove. Engineers drive the innovation of both software and hardware in a number of ways. Software engineers must constantly come up with new ways to make their apps work securely and efficiently, while more industrial engineers are responsible for crafting safer and more efficient materials for hardware components. In turn, computer science encompasses a broad range of study that includes artificial intelligence, security, bioinformatics, and numerical analytics.
UNT's CSE department seeks to combine academia and industry to get the best of both worlds.
"It would be great if we had more interaction between academia and industry so that we can bridge those gaps," Barrett said.
Computer science gives engineers the ideas and information required to make the world a better place, just as engineering leads to a better understanding of computer science and the adoption of better tools and practices. For example, silicon has been one of the most important materials in computer-related innovation, given its exceptional semiconductor properties.
"Most of the research publications that you find on programming languages are either coming from academia or actual research labs," Barrett said. "On the other hand, there are a lot of cutting-edge things in industry that are more advanced than what we're doing in academia."
Barrett told us bridging those gaps is challenging, as the main motivation in industry is to develop specific products to benefit the company in the more immediate future. On the academic side, however, the drive is more general and future-oriented, with products taking the form of publications, research, and students looking to enter the industry at a later date.
Despite the challenge of getting the conversation started, the potential is promising on both fronts — corporations can help sponsor university programs, while UNT can help these companies improve and promote their products through research. Industries can benefit from UNT's web security and material innovations, as well as an ever-available source of highly educated potential hires, should those companies be STEM-related.
Encouraging Students to Reach Their Full Potential in Tech Fields
Aside from bringing academia and industry together, one of UNT's primary responsibilities is helping students reach their full potential. Considering the rapidly growing nature of IT, students who go on to earn graduate degrees have one of the most promising career outlooks in the world.
Because jobs are plentiful for CSE undergrads, many are content to forego earning a graduate degree with even higher earning potential. While the benefits of holding an undergraduate degree are many, UNT wants students to achieve their best, rather than settling for good enough.
In addition to providing students with higher income potential and job security, reaching the next academic level ensures a more professional future workforce.
"It's hard on universities because we need a certain number of graduate students to be viable," Barrett said. "We need a number of these people to go on to more national security-sensitive places like the NSA, CIA, and the Department of Homeland Security."
The heavy demand for professionals in the web security field means that graduates have the potential to create real-world impacts.
Addressing STEM's Notorious Gender & Diversity Problem
Although the number of US graduate students has declined in recent years, the gap has been partially filled by students from abroad, and UNT is no exception. Barrett said nearly 67% of engineers holding a graduate degree are from overseas. While STEM fields have become much more ethnically diverse in recent years, its notorious gender gap remains, with minority women being the most affected.
According to the National Girls Collaborative Project, minority women make up fewer than 10% of employed scientists and engineers. Furthermore, women are awarded half of the world's bachelor degrees in biological sciences, while only receiving 17.9% in computer sciences and 19.3% in engineering. This could be the result of the stereotypes that wrongly assign labels of feminine and masculine to various professions.
UNT's CSE department seeks to break down these gender roles and encourages women to pursue careers in STEM. To that end, UNT has launched a number of summer camps for K-12 students in an attempt to generate greater interest in STEM among girls.
These camps offer a variety of programs such as robotics, mobile app development, and computer programming.
"We started focusing a bit more on trying to increase the number of women in engineering and creating an interest in the field," said David Keathly, Principle Lecturer and Undergraduate Advisor.
The Goal: To Foster Early Interest in Computer Science & Engineering
Even with this focus, UNT's summer camp programs were co-ed and open to students of all ages and genders.
Not only is STEM education enriching for these students, but fostering an early interest in these subjects also creates the potential for more degree-holding CSE professionals in the future. While college students have already decided on a career path, students at the K-12 level may be unaware of what they wish to pursue — or that what they want to pursue may be something yet to be discovered with exposure to new ideas.
"There are not enough students actually majoring in computer science," Barrett said. "A lot of that is because students don't get enough exposure in high school to know what computer science is about. By the time they go to college, they've already decided on something else."
Not only does STEM research show promise for the future, but it helps create a safer world in the present. By trade, engineers create safer and more efficient ways of doing nearly any activity. For example, the invention of Kevlar by Stephanie Kwolek eventually led to the development of bulletproof vests that keep soldiers and law enforcement officers safe from harm. In the realm of CSE, this translates to developing software that makes our lives easier and the implementation of advanced web security measures to keep systems safe.
Looking to inspire the next generation of tech innovators and professionals, UNT is determined to unite people of all backgrounds at the intersection of academia and industry, a symbiotic relationship that pushes forward all parties involved. By promoting growth at every level — from children in grade school and college students to businesses, governments, and organizations — the University of North Texas is building a brighter tomorrow.
Advertiser Disclosure
HostingAdvice.com is a free online resource that offers valuable content and comparison services to users. To keep this resource 100% free, we receive compensation from many of the offers listed on the site. Along with key review factors, this compensation may impact how and where products appear across the site (including, for example, the order in which they appear). HostingAdvice.com does not include the entire universe of available offers. Editorial opinions expressed on the site are strictly our own and are not provided, endorsed, or approved by advertisers.
Our Editorial Review Policy
Our site is committed to publishing independent, accurate content guided by strict editorial guidelines. Before articles and reviews are published on our site, they undergo a thorough review process performed by a team of independent editors and subject-matter experts to ensure the content's accuracy, timeliness, and impartiality. Our editorial team is separate and independent of our site's advertisers, and the opinions they express on our site are their own. To read more about our team members and their editorial backgrounds, please visit our site's About page.