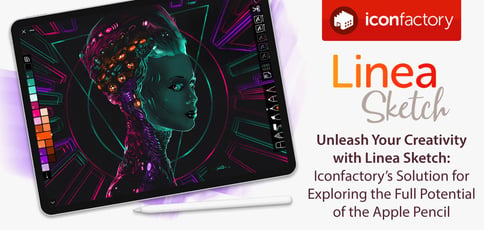 TL; DR: Iconfactory's Linea Sketch app is an intuitive yet robust solution that empowers users to make the most out of the iPad and Apple Pencil. The software provides a complete feature set for tapping into creativity in a tactile way, whether that means sketching, journaling, or jotting down notes. With plans to offer both a subscription-based payment plan and a one-time purchase fee, Iconfactory is putting Linea Sketch within reach for an even greater number of Apple fans.
Whether you're on Team Apple or Team Android, you'll likely agree that there's one thing that makes Apple stand out from the pack: its ability to create easy-to-use products. As Steve Jobs often said, when you pick up an iPad or iPhone, "It just works."
The mantra was certainly relevant when Apple introduced its first-generation iPad Pro and Apple Pencil to the world in 2015. Customers could easily use the tools right out of the box for basic note-taking purposes.
But to make the most out of the technology, especially in an artistic sense, they would have to download complicated and costly third-party apps, such as Procreate.
In other words, the Apple Pencil "just works" — unless you want to get creative.
And let's face it: If you're drawn to the tactility of a digital pencil — which appeals to the senses in the same way as crafting by hand — you've probably got an artsy side.
Iconfactory helped unleash the Apple Pencil's full potential with the 2017 release of Linea Sketch, an affordable app that strikes the right balance between power and control, allowing users to doodle their hearts out without technical barriers.
"We wanted something more flexible than Apple Notes (which at the time was one of the most natural apps for pencil sketching) without the complexity of other third-party apps," said Ged Maheux, Co-Founder at Iconfactory. "So, we set out to create an app in that sweet spot."
With Linea Sketch, Apple fans can tap into their creativity via a complete feature set for everything from sketching to journaling and jotting down notes. Now, as Iconfactory plans to offer flexible payment options, including both a subscription-based payment plan and a one-time purchase fee, the company is poised to put the intuitive yet robust technology within reach for an even larger customer base.
Striking the Right Balance Between Power and Control
Ged told us that the beauty of Linea Sketch is its ability to imitate the traditional pen-to-paper experience.
"If you were to pick up a pad of paper and a pencil, and sketch with it in real life, then grab an iPad and an Apple Pencil, you'd see that the feel of it, the ease of use, is almost identical," he said. "We aimed for world-class software in terms of pencil recreation."
Indeed, the app is designed to ensure an effortless customer experience — so much so that it makes digital sketching seem superior to the old-fashioned method. Selecting colors, for example, is a matter of a single tap — Linea Sketch automatically generates coordinating shades and tints with each color the user chooses.
It's also easier than ever to draw shapes with the app's ZipShape feature, which kicks in when the user holds the Apple Pencil to the screen for a moment after sketching a rough shape. Forget stencils: Like magic, a perfect version of the shape will appear, complete with handles for precise placement.
And, in addition to a traditional digital eraser, Linea Sketch features a Touch Eraser that makes it easy to remove mistakes without selecting a new tool. All that it takes to erase text is a swipe of the screen with a finger.
"People enjoy the fact that Linea Sketch doesn't have an excessive learning curve," Ged said. "It's very attractive to new users in that they can get right into the app and use it without having to master a lot of new skills."
A Complete Feature Set Optimized for the iPad, iPhone, and macOS
Linea Sketch tools include a technical and classic pencil, felt tip pen, wide marker, fill tool, and blending stick— each with preset, pressure-sensitive brush sizes for quick use. And, with a simplified set of five layers, users can merge, rearrange, and adjust portions of their sketches with ease.
Ged told us that, with Linea Sketch's import and export features, there's no limit as to where you can take your work. Linea Link, the company's companion app for macOS, allows users to export their creations to their hard drive, or directly into an image editor such as Acorn, Affinity Designer, Affinity Photo, Photoshop, Pixelmator, or Sketch.
"You can share designs right from the iPad, of course, or you can use Linea Link — the macOS component really makes the software much more flexible," Ged said. "It syncs with iCloud, so all projects are available for use in Mac applications."
With Linea Go, the company's iPhone app, users can jot down some important notes or make a quick finger sketch. Since iPhone doesn't yet support the Apple Pencil, Linea Go makes it easy to sync creations to the iPad (via Linea Link), where they can be completed with the Apple Pencil.
"It's also handy because of the syncing components — you can always show any of your Linea sketches wherever you go using just the iPhone," Ged said.
Linea Go also makes it easy to live-stream your creations in real time, or just share the finished product on social media.
Enabling Simple, Tactile Design in a Complex Digital World
Ged told us that Linea Sketch is the perfect app for brainstorming. "We like to say that Linea is where your ideas begin — not necessarily where your ideas end," he said. "It's the easiest way to get your ideas down and expand upon them later in another application like Photoshop if desired."
The company serves a broad user base, from students who use the app to take notes in class to software developers using the app as a wireframing tool. Kids are even getting in on the action.
"We get emails from parents saying their children love the app — and the parents love it because kids can't draw on the wall with an Apple Pencil," Ged said. "The interface is so easy to understand that they can start sketching, doodling, and coloring almost instantly."
The wide range of testimonials for Linea Sketch on the company's website illustrates how multifunctional it really is.
"Linea Sketch 2.5 is all sorts of my jam," user Martyn Pysanczyn stated. "If you are an engineer doing hand calcs on your iPad, you ought to be using this. It's just the best."
Linea 3: Subscription-Based or a One-Time Purchase
As for the future, the Linea team has planned several exciting offerings.
The company is currently working on Linea 3, which will bring forth new features and improvements that customers have been asking for over the past year.
Moving forward, Linea Sketch, Linea Go, and Linea Link will be available in one bundled package with both subscription-based and one-time fee models.
"With the subscription, you can download it and use it for free," Ged said. "We're also going to offer a larger single purchase option so you can pay once and be done. Hopefully, that will help encourage more people to support it."