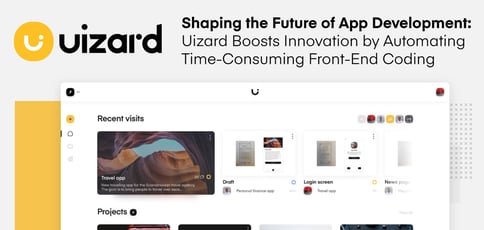 TL; DR: Uizard is improving collaboration between designers and developers with an artificial intelligence-powered platform that transforms hand-drawn wireframes into code. By reducing time spent on manual work, the technology will make it easier to move from conception to prototype, speeding innovation. After successfully raising $2.8 million in seed funding, Uizard is making the leap from beta testing to market implementation with the ultimate end goal of revolutionizing the coding process as we know it.
Approximately eight years ago, Google created the Design Sprint, a five-day process for quickly answering critical business questions.
Each day in this time-restricted exercise represents a stage in which problem solvers seek to understand business opportunities, explore creative solutions to problems, review and vote for the best options, design and prepare prototypes, and, finally, test and validate them.
As its name implies, the Design Sprint is intended to help solve problems quickly and efficiently by optimizing the development process.
But, as it turns out, it's possible to outpace a sprint. The engineers, designers, and entrepreneurs at Uizard have found a way to help exercises such as the Design Sprint achieve faster turnarounds than ever before — and they're putting forth the technology to prove it.
"The Design Sprint is a great example of how Uizard can truly shine," said Florian van Schreven, Founder and COO of the company. "Our technology allows users to condense that five-day process into just one afternoon."
The Uizard platform leverages artificial intelligence and machine learning to automate time-consuming user interface building and front-end coding by instantly transforming a photo of hand-drawn wireframes into working prototypes.
"With Uizard, designers brainstorming and drawing on a whiteboard do not have to take a step back, redraw everything digitally on the computer, and lose their creative flow," Florian said. "Instead, they can keep on drawing, testing, and iterating with the entire team until they finalize their prototype."
When released, the technology will potentially save time and money, ease collaboration efforts, and reduce time to market. All of this may happen sooner rather than later: After successfully raising $2.8 million in seed funding, Uizard is preparing to make the leap from beta testing to market implementation.
Instantly Transform Hand-Drawn Wireframes to Native Code
Uizard was founded in April 2017 by Florian and his friends Tony Beltramelli, Henrik Haugbølle, and Ioannis Sintos, who — after spending years in the web industry frustrated by inefficient workflows when building apps and websites — decided to tackle the problem from a new angle.
The approach involved teaching machines to visually process user interfaces in the same way as humans, allowing users to take a picture of a hand-drawn wireframe, upload it to Uizard, and almost instantly download working front-end code.
In June 2017, the company received significant attention after releasing the project as pix2code via a white paper that began trending on Github. Uizard's development of technologies that convert images to code also inspired Airbnb and Microsoft to develop a similar product.
"They called it Sketch2Code but had to disregard the project as it was too far from Airbnb's main product offering," Florian said. "Later that summer, Benjamin Wilkins, who was the lead on the Airbnb project, joined Uizard as a product advisor to push the vision forward."
Today, Uizard's talented team of designers and engineers includes academics from renowned international universities, including the IT University of Copenhagen, ETH Zurich, the Technical University of Denmark, Télécom ParisTech, and the University of California, Berkeley.
Kai Haley, Co-Inventor of the Design Sprint at Google, recently signed on as Uizard's Product Advisor, as did Julianna Slocum, currently a Senior UX Designer at LinkedIn.
"Last but not least, Rizwan Khan, formerly a sales executive and the first international business hire at InVision, recently joined Uizard as Chief Commercial Officer to help bring the product to market," Florian said.
The company's overarching goal is to leverage the power of artificial intelligence to bridge the accessibility gap between humans and technology, allowing more people to help solve society's most pressing challenges. Uizard serves as the first step in this effort by empowering people to create software-based solutions more easily.
Streamline Collaboration Between Designers and Developers
Florian told us that the most apparent benefit Uizard delivers is its seemingly magical ability to transform the physical (hand-drawn wireframes) into the digital. But underlying that benefit is the technology's power to streamline collaboration between groups of people who work closely together but do not always understand the intricacies of each others' work.
Designers, for instance, are passionate about solving visual problems through sketches, always keeping the end user in mind. But they often get pulled out of their creative flow when working with developers on iteration processes.
Developers, on the other hand, find themselves spending the majority of their time coding repetitive and time-consuming user interfaces instead of focusing on what they really care about: implementing logic, animations, and core functionality. Uizard removes barriers for both parties, creating a smoother dynamic — especially within larger companies, where these pain points are felt with even greater intensity.
"The designer likes to create something completely freehand, which is not always translated into the developer's code correctly — because code has a lot more restrictions," Florian said. "Uizard has the ability to bring these different teams together, reducing barriers to communication so they can see concrete digital results right away."
Leveraging Advanced Machine Learning and Computer Vision
In a nutshell, the technology behind Uizard teaches computers to comprehend graphical user interfaces in the same way humans do so the machines can then process the most efficient workflows for app and web development.
This technology is advancing rapidly and producing some interesting results. While in private beta, one user who was enjoying a beach vacation drew a wireframe in the sand, snapped a picture, and uploaded it to Uizard.
"It converted pretty well, picking up around 85% of the elements," Florian said. "We were pleasantly surprised by it. Of course, that's not the intention of the product, but it's fun to watch the artificial intelligence begin to recognize the different elements in wireframe regardless of the background or how well-refined the design is."
When it comes to ongoing development efforts, Florian said the Uizard team built its underlying technology using the latest advancements in the market. From then onward, they've used the private beta to determine the path forward.
"We opened up the beta to a few thousand people and have been listening closely to their feedback," he said. "Through that process, we realized that a lot of the things we thought would be nice to have were really must-haves, and evolved the product road map accordingly."
For example, Uizard currently supports output HTML, CSS, Android, React, and Sketch. But the company is currently circulating a questionnaire gauging the desire for output via additional platforms.
"The platform that receives the most votes will be the next one we include for the community," Florian said. "For the last six to eight months, almost all of our development efforts have been driven this way, through feedback from the community."
From Beta to Market with $2.8 Million in Seed Funding
In September, Uizard announced that it raised an impressive $2.8 million during its latest seed funding round, which will provide the financial backing the company needs to introduce the product to the public.
"We now have more than 65,000 signups on our waiting list," Florian said. "The idea is to onboard all these users and also bring the product to the market."
The company has not set a strict deadline for this milestone but plans for a release within this funding round. "Within the next 12 months, for sure, we will make Uizard available to everyone," he said.