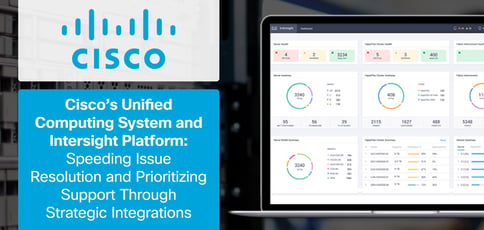 TL; DR: Cisco's Unified Computing System (UCS), introduced 10 years ago, is a self-aware, self-integrating system used by customers worldwide to solve computing challenges. Today, the Cisco Intersight platform brings improved support, streamlined troubleshooting, and faster issue resolution to UCS through the power of AI. The company's current focus on providing proactive remediation opportunities and a smooth onboarding process underscores its commitment to continual improvement.
Since first introduced in 1999, Cisco's Unified Computing System (UCS) has combined servers, networking, and storage access into a single infrastructure, allowing for scalability, increasing productivity, and reducing total cost of ownership.
According to the company, UCS currently serves more than 56,000 customers, including 85% of the Fortune 500. But Cisco isn't only focused on the present. In addition to meeting current demands, the company proactively seeks opportunities to accommodate future innovation.
One example of this forward-thinking approach is Cisco Intersight, an IT operations management (ITOM) platform that brings expedited troubleshooting and advanced support to UCS. The Software-as-a-Service (SaaS) solution, announced in late 2017 and released after a three-month beta program in January 2018, relied heavily on feedback from a core group of customers.
"Customers were looking for greater efficiencies, wanted to reduce their operational costs, and liked the benefits of a SaaS system where you don't have to interrupt your operations with outdated update techniques," said Ken Spear, Hybrid Cloud Solutions Marketing at Cisco. "Intersight is a product of those requests."
Intersight has been on the market a little over a year and a half, and Cisco updates it every two to three weeks through a continuous delivery process that incorporates customer feedback. Today, the platform has evolved into a secure, cloud-based systems management tool offering proactive remediation opportunities and other AI-powered solutions. With a future focus on minimizing disruption to customer operations, Cisco is determined to build upon its reputation for innovative ideas and solutions.
Improving Support Through AI and Intersight's Integration with TAC
Intersight is deeply integrated with Cisco's Technical Assistance Center (TAC), an award-winning support organization providing 24/7 assistance both online and over the phone. Ken told us that users have connected more than 500,000 devices to Intersight, including 350,000 servers. Those devices are then linked to TAC.
"If a problem occurs, typically the operator would get an alert and ask the TAC person for help," he said. "The TAC person would say, 'Great, run some diagnostics against that device and then send those diagnostics over and we'll start looking into it.'"
This traditional approach, involving opening a support case and creating and sending log files, takes up valuable time. The beauty of Intersight, however, is that once that alert is generated, Cisco can use a tool known as Smart Call Home to automatically open a TAC case, confirm activation status, and start log collection.
Next, Intersight will run the data through an AI-powered recommendation engine that scans for similar incidents worldwide and provides guidance accordingly.
"It may be the first time a particular customer is experiencing an issue, but we could have experienced the same problem with a customer in Germany last week and already have a fix," he said. "So by the time the operator gets an alert, we have a patch because we've encountered that issue before. That's the power of this technology."
Overall, the method improves the customer support experience by reducing the time spent on each case, streamlining the resolution process, and — as a result — improving system uptime.
Eliminate Hassle with Proactive Remediation Opportunities
Moving forward, as Cisco's installation base expands, the company plans on diving deeper into issue fingerprinting to offer proactive alerts.
"Let's say, with the customer in Germany, that initially, it appears he has an isolated problem," Ken said. "Then, we have a second person who has experienced the same problem. If both problems occurred due to a bad drive, and we identify that those were the same drives shipped two and a half years ago, we can send messages to customers with that drive notifying them that we've found a pattern."
Rather than reacting to potential problems from additional customers, Cisco intends to alert clients in advance and provide appropriate remediation options. "That's where we're going next — being proactive and identifying how to make your life easier and avoid hassles so that you're not dealing with whatever fire comes up unexpectedly."
No matter the issue, Ken said UCS and Intersight are all about convenience. Although AI powers some of the company's most innovative solutions and insights, human beings are available to ensure updates are made when the customer sees fit, rather than the instant a solution is in hand.
"If it is a severe issue, the customer may want to repair it right away," he said. "Or, a company may only have a window to repair it at midnight on a Saturday night, when they do a restart of a particular system. The customer can schedule the firmware update, so the process is as seamless as possible."
A Continuous Development Process Centered on Customer Feedback
When updating Intersight, adding new features, or contemplating new ideas, Cisco depends heavily on feedback from actual users. For example, Ken said UCS has been popular from the start for its ability to automate things — to streamline routine tasks like configuring systems or deploying a new hypervisor by turning them into code.
"During the course of this year, we're going to be rolling out new automation capabilities that will be able to support our entire install base," he said. "We're in beta already with some of those capabilities, and we'll roll them out and refine them as we go along."
The company has also partnered with Pure Storage to further innovations in automation. In August, during VMworld 2019, Cisco demonstrated a new orchestration product using VMware vSphere and Pure Storage's FlashArray.
"This is the ability not only to provision our server but also their storage and all the fabric behind it — and do it all automatically," he said. "The solution is in beta right now, but it will allow us to provide Infrastructure-as-a-Service (IaaS) directly from Intersight."
This new technology is based on UCS Director, Cisco's platform for private cloud IaaS, which supports a number of storage partners. Pure Storage is the first of the converged infrastructure partners that will enjoy a rollout of a similar product.
"There's a whole slew of other partners that we've developed over the course of the past 10 years, and we're going to work with each of them to make this happen during the next 12 to 14 months," Ken said.
A Focus on Minimizing Disruption to Customer Operations
Cisco takes the same approach to licensing as it does to software updates — ultimately, it all comes down to offering a streamlined and convenient service. Many customers have enjoyed UCS for 10 years, and when change comes their way, they want to minimize disruption as much as possible.
Recognizing this, Ken said Cisco is working on new features that allow customers to keep track of license terms and ease the transition from one agreement to the next — making a typically tedious process less so.
"Our goal is always to offer as much goodness as possible, listening to our customers as we go along to provide the most gain without creating any pain," Ken said.