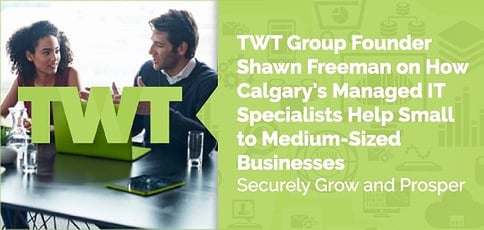 TL; DR: Since its inception in 2011, TWT Group has operated with a focus on ingenuity, integrity, freedom, relationships, and a whole lot of happiness. Today, the company is known for its innovative culture, outstanding customer service, and rapid growth across western Canada, where it helps small- and medium-sized organizations achieve long-term business goals through managed IT services. We recently sat down with TWT Founder and CEO Shawn Freeman to learn how the company's smart tech solutions improve security, increase reliability, and position businesses for growth.
Like many SMBs working with IT giants, Bow Valley Club felt like a small fish in a big pond. The Club, which provides nearly 1,400 members in downtown Calgary with a place to exercise, dine, and entertain, routinely experienced major outages and service interruptions with its international IT service provider. The company struggled to receive adequate solutions to these technology challenges — and, when a solution was delivered, the Club was frequently dissatisfied with the level of customer service it received.
Bow Valley Club needed a provider they could rely on, so it looked a little closer to home; and, after its first consultation with Calgary-based TWT Group, the Club never looked back. TWT quickly worked to resolve the organization's day-to-day issues, which meant replacing its network with a new Cisco Meraki system, reworking the wiring, and providing a new server.
"We've completely redone our IT business," Steve Cropper, Bow Valley Club President, said in an interview. "It's seamless. As we look ahead, we know TWT will continue to guide us."
Alleviating the kind of IT headaches Bow Valley Club experienced is exactly what Shawn Freeman set out to do when he founded TWT Group in 2011.
"Our motto is we worry about your IT, you focus on what you do," Shawn said. "Our tenets include improving security, increasing reliability, and then, if they're a growing company, managing that growth and helping them scale, so they're not outgrowing the technology."
The company's rapid growth speaks to the effectiveness of this approach. In just seven years, TWT has built a strong relationship with its local community; was ranked as one of Canada's fastest-growing companies; and was recognized for its outstanding performance, business growth, and profitability. Perhaps most significantly, TWT has become a trusted source for reliable, innovative IT solutions that empower Calgary's rising businesses while keeping them secure.
A Layered Approach to Keeping Business Running and Data Secure
As hackers with malicious intent become an increasing threat, TWT is committed to educating small and medium-sized businesses on the ways data breaches occur, as well as how to prevent them. As part of this effort, the company has developed a free eBook, "Preventing IT Catastrophes: Keeping Your Business Data Secure," which guides readers through six in-depth strategies to protect their data and businesses.
But education is just the first step. Keeping with the company's focus on innovation — trying new things, challenging the status quo, and finding ways to work smarter and faster — TWT has developed a multi-faceted security system.
The solution covers all bases and includes DNS protection for devices, consistent backups, and a firewall solution through Cisco's cloud-based Meraki and Umbrella. The system also comes with anti-malware, anti-ransomware, and anti-virus software, and anti-exploit tools.
"There are lots of managed service companies out there, but we try to operate a little bit differently from a proactive standpoint," Shawn said. "Security's become a big thing for us, and having lots of layers of security has helped us keep our clients safe."
Reliable IT Services Built Around Long-Term Business Goals
TWT's managed IT services also boost growth by increasing network reliability.
"There's been a shift from break-fix IT services to all-you-can-eat kind of proactive services, and that's where we lay," Shawn said. "There still are some providers out there that do break-fix, but we find they're not as successful and obviously have more issues on their client side."
As part of TWT's emphasis on integrity, the goal is to make sure IT solutions are carefully chosen and implemented to prevent problems from occurring in the first place. Of course, no network is foolproof, so if something does go awry, TWT clients are guaranteed a response time of 15 minutes or less, day and night. The primary aim, Shawn told us, is to make clients a priority and do the job the right way.
Beyond reduced downtime, TWT's solutions extend to comprehensive growth plans that support a businesses' long-term goals through technology.
"Our role is changing from just fixing computers to more of an advisory role," Shawn said.
In this capacity, TWT assesses a company's needs to make recommendations on delivery schedules, maintenance and upgrade costs, scalability, and infrastructure, among other topics.
Expert IT Professionals Empowered by a Results-Only Work Environment
TWT's innovative culture is built around a results-only work environment (ROWE) in which employees are compensated based on the results they deliver, rather than set hours in a strict office environment. Employees can work wherever they want, whenever they want — as long as they produce results.
Proponents of the management strategy argue that it increases employee happiness, boosts drive, and promotes a more flexible workplace.
The methodology is very much in line with the company's core values of freedom.
"We work best when we have the freedom to choose where and how we work," Shawn said.
The result is an autonomous team of professionals who really care about what they do. And, as other successful companies have learned, happy, engaged employees provide the best customer service.
"Our employees certainly love that freedom, but that's also what we provide our clients — the freedom to use technology to make their lives better," Shawn said.
Nurturing Client Relationships and Giving Back to the Local Community
Shawn told us TWT has always focused on the human side of technology.
"One of our values is relationships, and I think we understand that it's not about the tech, it's about the people — just making sure that they can do what they need to do," he said.
This philosophy includes giving back to the local community. The company offers financial, professional, and volunteer support to Calgary-based charities, including the Boys & Girls Clubs of Canada, Youth Central, CHAS Calgary, Calgary Meals on Wheels, Nickle Family Foundation, and KidSport, among others.
In the spirit of the Calgary Stampede — a 10-day rodeo, exhibition, and festival held in the city every July — TWT even hosts its own stampede charity event. In 2016, the event raised more than $5,000 to support an organization TWT admires.
"It's a big thing in Calgary here, and we raise some money every year for our Boys and Girls Clubs of Calgary," Shawn said.