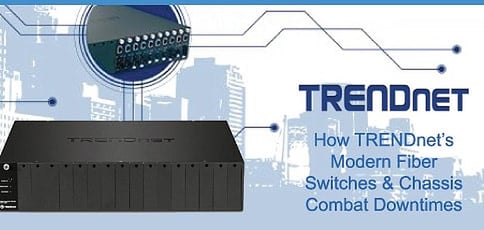 TL; DR: With a vision of building innovative and reliable Networks People Trust™, TRENDnet supplies dozens of devices that securely deliver a connected lifestyle and workplace. As fiber networks grow, the company's 16-bay chassis system is equipped for zero outages, real-time converter speeds, and simple management options. In addition to adapting to fiber's increasing speeds and evolving connectors, TRENDnet recently updated its fiber switches and small form-factor pluggable slots and modules.
Looking to replace slow dial-up internet connections for residents in a remote rural region, the Province of Quebec, Canada, sponsored a project to build a zero-downtime gigabit network.
The large area covered 75 school districts and more than 5,000 schools, which meant the undertaking required 11,185 miles of networked fiber cables, according to a case study.
Canadian distribution partner InfoLogic EBM coordinated the implementation of a hub-and-spoke server design that saw four central servers in different cities cross-connected and extended with TRENDnet gigabit fiber converters to six satellite towns. From there, fiber stretched from the smaller towns to designated educational and healthcare facilities in remote areas.
"TRENDnet fiber converters were well-suited for this project, as they demonstrated exceptional reliability and yielded hardware cost savings in excess of 65% as compared to other tested brands," InfoLogic EBM Managing Director Louis Belmont said. "Our clients and the large number of value-added resellers that performed the actual product installations are very satisfied with the reliability and performance of TRENDnet fiber solutions."
Whether customers need to connect networks across floors, buildings, or far-reaching regions, TRENDnet fiber switches, chassis systems, and small form-factor pluggable (SFP) modules provide a reliable and cost-effective option.
Keeping Up With 10G Fiber and Changing Connectors
Fiber-optic networks transmit information by sending pulses of light through an optical fiber. Replacing copper-wire communications, fiber is preferred for high-bandwidth and long-distance networks. Additionally, fiber is impervious to electromagnetic and radio-frequency interference, ensuring minimal signal loss in heavily industrial areas.
While the fiber cabling materials and practices have remained constant, TRENDnet has adapted to shrinking connectors and devices. Instead of full-size gigabit interface converters (GBIC) that use SC connectors, according to Senior Manager Evan Davis, TRENDnet produces SFPs and mini-GBIC modules that use LC connectors, which are about half the size of SCs.
"This reduction in size allows you to fit more SFP slots on a switch than you could with a full-size GBIC module," said Evan, who leads the company's solutions engineering department.
TRENDnet has also witnessed the addition of 10G connections, which is 10 times faster than previous gigabit technology.
"More throughput is necessary when transferring large amounts of data around the network for switches," he said. In addition to recently released 10G switches and SFP modules, Evan added the company will be concentrating efforts on adding more 10G options for fiber networks.
Installing Fiber Networks With TRENDnet's Chassis System
Businesses looking to upgrade their networks can deploy media converters, which allow for simple conversions from copper networks. With many networks relying on both fiber and copper, converters enable companies to continue using existing hardware.
Multiple converters can be housed in a rack-mount chassis system designed to deliver power to the converters. TRENDnet's solution, the TFC-1600, includes slots for 16 converters.
3 Key Advantages Focus on Network Uptime and Management
Designed for continuous operation, the TFC-1600 boasts dual cooling fans, and hot-swap functionality that allows for installing or removing converters without turning off the chassis. The zero-downtime benefit, however, is the feature that resonates the most with customers, according to Evan, who gave us his top three main advantages to the TRENDnet chassis system:
Centralized power
Redundant power (optional)
Simple Network Management Protocol (SNMP) administration
The optional management module enables users to see the status of connection speeds, cooling fans, power supplies, and more. The included SNMP agent gathers information and helps configure converters, while customers can also connect to a web-based management portal or a command line interface management system.
The combination of centralized and redundant power is how TRENDnet delivers around-the-clock connectivity, according to Evan.
"Without redundant power, if the chassis power supply is damaged by a surge, the network will be down until you can install a replacement," he said. "With a redundant power supply installed, if the main power supply fails, the chassis automatically fails over to the redundant power. If you don't have redundant power, you could be looking at a long-term outage because you'll need to order and install the part, which can take a few days."
Scalable Fiber Networks Connect Rooms or Regions
Because fiber exceeds the 100-meter limitation of Category 5 and 6 cables, Evan said fiber applications can come in all sizes. According to him, network integrators and installers are typically TRENDnet's biggest fiber customers.
"Bigger applications are usually for building network infrastructure on a new college campus," he said. "In this example, they could be interconnecting satellite classrooms together throughout the campus with fiber. On the smaller side, you can have a customer using it to interconnect switches on each floor in a multi-story building."
Updating Fiber Switches Along With SFP Slots and Modules
TRENDnet doesn't have plans to update the fiber chassis system, Evan said, but the company is working on new fiber switches, fiber-to-copper SFPs, industrial fiber switches, and other products.
"TRENDnet recently released new industrial switches with SFP slots and new industrial SFP modules," he said. "We've also recently released 10G switches and SFP+ modules, and we'll be adding more options to the 10G fiber category in the next year or two."
The 10G product family is the newest addition to the TRENDnet catalog after debuting in late 2015. The company launched a new line of 10G switches roughly six months later. The switches include smart fans, which automatically adjust for efficiency and reducing energy consumption.
TRENDnet Looks to Customer Needs Before Adopting New Technologies
Fiber technology has enjoyed a stable, steady growth in both adoption and new innovations. According to Evan, TRENDnet takes a measured approach when determining if or when to create products that take advantage of the newer technologies.
"Our approach is to evaluate customer demand and analyze the rise of the technology to see if we want to compete with other companies in the same space," he said.
For example, the company hasn't yet released any products that support 40G connections.
"Mainly, that's because our customer base hasn't had the need for those products," Evan said. "With 40G fiber, it goes beyond the demand of our customers' requirements because 1G and 10G fiber applications are currently still more common. We'll likely have 40G fiber products eventually, but it won't be until it's as commonplace as 1G and 10G are today."