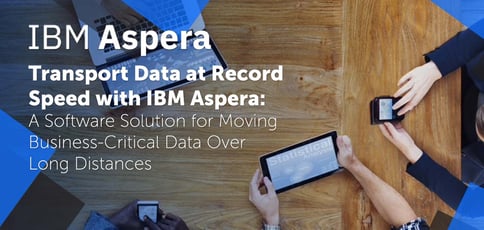 TL; DR: IBM Aspera® spurs business transformation by dramatically boosting the speed at which files and datasets move over existing infrastructure and global IP networks, regardless of size, distance, or network conditions. The robust cloud-agnostic protocol eliminates the pitfalls of traditional data transfer methods via FASP® technology, which leverages available bandwidth to ensure high performance without impacting other traffic. Overall, Aspera makes data transfer dramatically faster, highly reliable, and more secure.
Data transfer is a fundamental internet activity, but it's also one that businesses have yet to fully master. Many of us have firsthand experience with the frustrations inherent in file transfer protocol (FTP), an unsophisticated solution known for its lack of security, high failure rates, and inability to scale.
FTP and other transfer services are typically powered by the Transmission Control Protocol (TCP), which works well under ideal circumstances but performs poorly in the face of increased transfer distance or poor network conditions.
But all hope is not lost. IBM has recently come to the rescue with Aspera, a next-generation transport solution it acquired in 2014 to move the world's data at maximum speed, regardless of file size, network condition, or distance.
"Aspera's patented protocol is fast, secure, and adaptive to changing network conditions and environments," said Sachin Agarwal, Product Lead at IBM Aspera. "We make it as efficient as it can be, limited only by the laws of physics. You almost wouldn't believe it if we didn't have customers backing up our claims."
Aspera software fully leverages existing WAN infrastructure and commodity hardware to provide a predictable file-transfer experience with exceptional bandwidth control, end-to-end security, high reliability, and speeds that are hundreds of times faster than FTP solutions.
For these reasons and more, organizations that span a variety of industries across the globe now turn to Aspera to facilitate the efficient transfer of their most important digital assets.
A Proprietary Protocol for Moving the World's Data
In June 2014, IBM officially acquired Aspera in an effort to help customers increase the movement of massive data files around the world, whether on-premises or through the cloud.
"IBM acquired Aspera because they saw something magical and amazing that they knew would be helpful in terms of providing robust solutions across different areas of focus," Sachin said. "As you know, IBM has a large portfolio with a number of products, but also offers both technical and business services to help very large enterprises make the most of their operations."
Sachin said Aspera solves critical challenges, helping IBM customers seamlessly transfer files to and from the cloud, as well as within the enterprise — which is especially useful when attempting to derive business insights from big data.
Behind Aspera's speed, reliability, and comprehensive built-in security are several cutting-edge technologies. Central to the transfer platform is its FASP transport software protocol. Rather than focusing on acceleration, the technology eliminates underlying bottlenecks. It then enables the automatic discovery of available bandwidth to fully leverage capacity without impacting other traffic.
The Aspera solution set also features automatic scaling capabilities powered by multisession transfer technology. Features include available idle instances, the ability to start and stop transfer server instances automatically, and control of transfer loads per instance through the automatic balancing of client requests and configurable service levels.
Finally, the transport platform employs open-standard cryptography to authenticate users, encrypt data, and verify data integrity, ensuring customers' digital assets are protected by top-notch security.
Easing the Digital and Business Transformation Process
There's been a lot of buzz over the past decade about digital transformation — or the integration of new technical capabilities into the foundation of a business — and its ability to improve speed, efficiency, and innovation across a variety of processes.
The process typically involves significant data transfers from on-prem solutions to the cloud. In these cases and more, Aspera provides clear benefits.
"When you're talking about large infrastructure with lots of history and just massive amounts of data, that's where speed really matters," Sachin said. "With traditional methods, it could take months and months to move data from place A to place B — all while you're generating new data. Anything you can do to make that process faster makes your digital transformation story a lot less scary."
Sachin told us Aspera has users in every industry — automotive, finance, telecommunications, engineering, retail, broadcasting, etc. — and they each have their own use case for the product, from transport to synchronization and streaming. But, at the end of the day, Aspera's biggest value comes from its ability to drive real business transformation.
Fast data transfer, for example, can change the way we work when it comes to remote jobs and roles that are enabled by internet-connected technology.
"When you think about what Aspera can do in terms of empowering people to work on projects from around the world, that's fundamentally transformational," Sachin said. "You have people who don't have to travel halfway across the world to work — instead, they get to sleep in their own beds."
A Holistic Approach: High Performing, Robust, and Cloud Agnostic
Sachin told us that Aspera's fast core protocol — and the fact that it has remained robust for as long as it has — is a great source of pride for him. He's also pleased that his team has not rested on its laurels when it comes to ongoing development.
"We've taken advantage of building a number of solutions on top of that protocol to suit a variety of needs," he said. "We have on-premises options, hybrid cloud options, and a cloud-native option called IBM Aspera on Cloud. "It's scrupulously cloud-agnostic; it works just as well on Amazon, Azure, or Google Cloud."
With Aspera on Cloud, organizations can quickly exchange datasets of all sizes and types across a hybrid cloud environment, collaborate using shared workspaces, and seamlessly access data stored across multiple locations.
"Interacting through Aspera on Cloud, organizations access and share data stored between multiple clouds and on-premises data centers," said Colin Carter, Founder and CEO of CineSend, in a review on the IBM site. "Internal and external users can then collaborate over the data in a secure environment that controls access."
Aside from its cloud-agnostic services, Aspera also shines in its ability to meet customers where they are with Aspera Orchestrator, an automation tool that enables organizations to build file processing pipelines with easy-to-define rules based on existing workflows and infrastructure.
The tool also features integrations through web services, commodity wire protocols, and open APIs. "We have over 230 integrations with our Aspera Orchestrator product," Sachin said. "We're really good internet citizens in that way."
A Focus on Enhancing the Developer Experience
As for what the future holds, Sachin told us IBM will continue to make it easier for developers to get started with Aspera, with a focus on the embedded use case going into 2020.
"Making Aspera available everywhere is the general way that I think about it," he said, "We're already on all the major public clouds, on-premises, we support hybrid clouds, and we want to branch out from there."
For example, IBM recently integrated Aspera as a native capability in its IBM Cloud Paks, which run on Red Hat OpenShift (IBM acquired Red Hat in July 2019).
"We want to bring Aspera to everyone, everywhere, regardless of how you want to interact or use the technology," Sachin said. "We want to use the platform's core protocol to help people satisfy their unique needs."