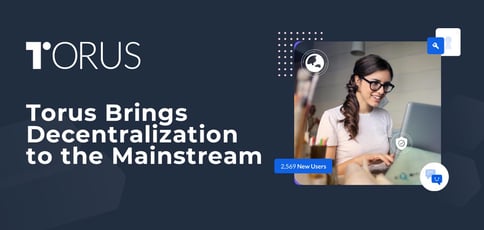 TL; DR: Torus is a secure and open-source key management system designed to enable app adoption in a decentralized ecosystem. The solution allows developers to quickly implement noncustodial key management while optimizing their applications based on user needs. Now, building on the Torus Wallet, DirectAuth is extending its integration capabilities, making frictionless transactions and immutable identities an in-app reality.
The decentralized web is far more than novel technology. It's a movement — one with the potential to redistribute power from corporate giants to the hands of the people.
With no intermediaries or central authority, peer-to-peer (P2P) networks centered on blockchain technology are censorship-proof, resistant to regulation, and generally harder to corrupt.
Sounds revolutionary, right? Unfortunately, little will change until distributed applications (Apps) and the decentralized web, in general, become easier to use, spurring widespread adoption.
"It's been a struggle to get dApps to the mainstream because the technology can be difficult to navigate," said Elisha John Koh, Developer Relations at Torus. "For example, MetaMask has been the de facto standard for Ethereum wallets, but for users who are new to the crypto scene, it's too complicated, making the drop off rate pretty high."
Torus is working to address this problem through an open-source key management system that makes web 3.0 applications as accessible as their web 2.0 counterparts via Google, Facebook, and other OAuth logins.
"We launched Torus Wallet, a gateway to the decentralized ecosystem for mainstream users, in April of last year," said Zhen Yu Yong, Co-Founder and CEO. "Since then, developers have integrated more than 200 dApps within the Torus platform, providing a better onboarding experience and an improved user experience overall."
Ultimately, the Torus team aims to improve dApp adoption rates and enable better accessibility to the decentralized web at large. Now, building on the Torus Wallet, the company is extending its integration capabilities via DirectAuth, a new product that makes frictionless transactions and immutable identities an in-app reality.
Establishing a Public Key Infrastructure via Torus Wallet
Zhen told us he and Co-Founder Leonard Tan started Torus in 2017 after working together as researchers at the Ethereum Foundation, a nonprofit organization dedicated to supporting Ethereum-related technologies.
"I used to work on interoperability research and Leonard used to work on Ethereum Name Service (ENS), an information marketplace," Zhen said. "We soon realized that there wasn't a public key infrastructure that would allow for these cryptographic primitives to be used."
So Zhen and Leonard set out to develop an infrastructure that would facilitate P2P encryption and payments, direct communication between parties, and multiple other cryptographic use cases. The result was a system that provides frictionless logins for dApps by linking current existing user accounts to public-private key pairs.
"What started off as a side product eventually caught the eyes of financers, and the rest is more or less history," Zhen told us.
With a novel idea and $2 million in funding to date, the Torus team has been able to push the project forward by leaps and bounds in just a few years, attracting a range of dApp developers, including the Co-Founder of Reddit. Zhen said these developers are creating everything from distributed social media networks to a Dropbox competitor in the blockchain space.
"It's really exciting to see all these applications coming on board with such a wide variety of use cases," Zhen said.
A Developer-First Approach that Boosts dApp Adoption
Elisha told us that Torus Wallet essentially extracts the complexities of the blockchain layer so that dApp users can log in with a single step. With fewer hassles, users are more likely to adopt dApps.
"With our native wallet, you can log in with Google, Facebook, Reddit, Twitch, or Discord (a free digital distribution platform and VoIP application) with one click," he said. "The process is typically the same for first-time and returning users — just log in, and you will have access to your digital wallets."
Torus' key system, generated in a distributed manner on a multi-party computing (MPC) network of nodes, is governed on Ethereum smart contracts. Keys are only reconstructed once authenticated on the end-user side.
"What's really interesting is that ‍our public key name resolver allows you to transfer tokens straight to any Google, Reddit, or Discord account, even if the receiver hasn't logged into Torus," Elisha said. "It's much easier than entering your public key."
Torus also makes it easy for end users to purchase affordable cryptocurrencies with credit cards and wire transfers from the company's partners.
Introducing The Next Chapter in Torus History: DirectAuth
Torus also designed its newest product, DirectAuth, to lower barriers to entry into the dApp space. Zhen said the technology is catered to a new breed of less vulnerable apps that have begun to emerge during the past few years.
Unlike early crypto wallets, such as MetaMask, DirectAuth allows users to set their permission levels based on use case.
"Crypto wallets must have very restrictive permission when you're dealing with monetary value, similar to a credit card payment," Zhen said. "However, not all blockchain use cases deal with a high monetary value. There are many low-value transactions that can be as simple as listening to music under a subscription model or even playing games without monetary value."
In these use cases, dApp developers need to ease restrictions without exposing users to security — and DirectAuth allows them to do just that.
"DirectAuth is an integration that allows any application developer to implement their own permission structure that suits their users," Zhen told us. "It basically abstracts out all of the core modules from Torus Wallet, reducing the API scope to something composable, flexible, and easy to build upon."
Developers that integrate their blockchain apps with DirectAuth have full control over their users' experience and can customize interfaces without the need for extra steps or pop-ups. The result is a customized permission structure that allows for a better, more seamless user experience.
OpenSea x Torus: The Latest dApp Integration
Torus recently announced an integration with OpenSea, a massive marketplace for non-fungible tokens (NFTs), which are essentially digital items with blockchain-managed ownership. NFTs can include collectibles, digital art, domain names, game items, event tickets, and ownership records for physical assets, among other items.
On OpenSea, for instance, users can browse through more than 200 categories of digital collectibles, from plots of land on the blockchain-based virtual reality platform Decentraland to cards from the digital card trading game Gods Unchained.
Torus makes it easy for users to login in and bid on or buy such items. To promote the use of Torus on OpenSea, the company has offered multiple incentives.
"Our goal is to expand the user base within the decentralized ecosystem, and one way of doing that is through the campaigns we run with our partners," Elisha said. "With OpenSea, for instance, we had a referral system that users could invite their friends with to win digital collectibles."
We run quite a lot of campaigns with our partners to reach beyond our community — and we are able to garner traction as new users are able to quickly grasp our onboarding process," Elisha said.