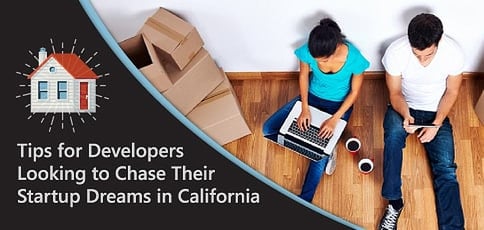 TL; DR: Much like the settlers who took to the Oregon Trail in hopes of striking it rich out west, developers looking to bootstrap their idea into a startup business commonly head to the bustling tech hubs in California. Exorbitant housing costs, however, can crush entrepreneurial dreams before the first line of code hits the screen. Helpful programs from California Housing Finance Agency, or CalHFA, can give first-time homebuyers a break with loan options that loosen the down payment requirements. Read on for our tech-minded buyers' guide for advice on financial assistance and where to look for your California dream home.
We all know how Apple started in a garage before evolving into one of the world's most valuable brands. Amazon, Microsoft, Google, and Hewlett-Packard took similar paths from humble beginnings to global domination.
The thing many successful tech companies have? That tiny garage, bedroom, or corner of unused space where aspiring entrepreneurs can plug in a computer.
"From the world's largest companies like Google and Facebook, to the tiniest new startups, Silicon Valley is the undeniable destination for enterprising business people, both young and old, to bring their dreams to reality." — John Rampton, tech entrepreneur (Huffington Post)
Those looking to make it big in Silicon Valley, however, will face a formidable early challenge. California is home to 77 of the country's 100 most expensive ZIP codes, and Bankrate recently deemed the state the toughest for first-time homebuyers.
Median home prices in San Francisco and Silicon Valley run $1 million or more, frequently leaving tech nerds with the next big idea and no money out in the cold.
However, organizations like the California Housing Finance Agency help first-time homebuyers break into the competitive housing market with affordable loans and down payment assistance geared toward those with a solid job and not much in savings.
"The whole point of our program is for low- and moderate-budget first-time homebuyers," CalHFA Marketing Specialist Eric Johnson said. "We don't need to work with people who are making $500,000 a year; they don't need our help."
CalHFA Connects Aspiring Homeowners With Financial Assistance
For more than 40 years, CalHFA has worked in what Eric calls "co-opetition" with the private lending industry. Preferred and approved lenders will recommend CalHFA loans to eligible buyers and originate the loan before sending it to the organization for final approval.
"We exist, basically, to fill a hole in the marketplace," Eric said. There are lots of consumers who have good credit and a solid job, but they haven't been able to save up the down payment that the traditional market needs to get you into a home. We help people with that through a down payment assistance program, so they can get that extra little pot of money they might not necessarily have sitting around in their bank after all their other expenses have been paid."
To qualify, buyers must meet certain credit score requirements and income limits. The property has to be a single-family residence that costs less than CalHFA's sales price limits. In 2017, the organization supplied about 7,500 loans to first-time buyers, covering more than $1 billion worth of real estate.
"We're just humming along," Eric said. "California's economy is doing well, and there's still lots of room for first-time homebuyers in this market."
Consider Expanding Your Search Into Tech Hubs Beyond Silicon Valley
For those looking to strike it rich in Silicon Valley, Eric recommended starting the housing search elsewhere. Wildly expensive home prices in San Francisco, Menlo Park, Mountain View, and Palo Alto make it tough for aspiring entrepreneurs to break into the home market.
"The lack of affordable housing and the cost-of-living crisis in Silicon Valley makes it prohibitively expensive for anyone except the most affluent to own a home." — Tom Hadfield, tech entrepreneur (CNBC)
"You have to remember, though, that one of the whole points of the tech world is that it can be dispersed," he said. "You can work remotely. There's still a lot of tech in some of the suburbs or smaller cities. There's not the million-dollar auctions or Teslas on every block, but there can still be a thriving technology culture in places that don't necessarily have the technology names."
Particularly, Eric recommended Sacramento and Chico, about 100 to 150 miles north of San Francisco. He shared the story of a friend who graduated from Chico State University and began working for a local startup. He went to Oakland for a few years but left when living expenses got too high. Back in Chico, the startup was eventually acquired by Alibaba.
"People don't think about it, starting up a tech company in a place that maybe doesn't have the big name of Sand Hill Road or Page Mill Road," he said. "There are still lots of opportunities, especially in California."
5 Tips for First-Time Homebuyers in Competitive Markets
Buying a home can be overwhelming and daunting, particularly in the red-hot markets in California. Sumi Kim gave Quora and the Huffington Post an inside look at confronting the Silicon Valley housing market. From choosing the right Realtor to crafting the most impressive offer, here is some advice for rookie homebuyers:
Get the timing right. The market typically heats up in the spring and summer, Eric said, when people are outside more often. Conversely, prices might be a little lower in the winter.
Work on your credit score. "Your credit score is the single biggest indicator, from a bank's perspective, on whether you're going to repay the loan," Eric said. Be sure to pay off debts and make payments on time.
Be patient. You likely won't buy the first house you see. Be ready to look at several homes to determine what you want and what you can really afford. Do your research and ask around.
Build a good team. A strong real estate agent and loan officer or broker understand the challenges first-time buyers face. They will patiently help you navigate the process and give you time to not only find the right place but make the best offer and secure the best financing, as well.
Open your mind. Be flexible in terms of the cities and neighborhoods you're willing to look at. Your money will go farther outside of Silicon Valley and San Francisco.
Although tech-minded buyers might be more likely to use websites like Zillow and Rocket Mortgage to research homes and submit offers, Eric strongly recommended taking a personal approach.
"It's a lot of going to open houses, a lot of legwork, and a lot of talking to the right people," he said. "Real estate is one of the areas where having a person on your side who knows the business can make such a huge difference. The importance of having a team of good real estate professionals is something that can't be overstated."
Leveraging Limited Resources Into Home Improvements and Growth
Already in 2018, CalHFA has increased the income limits for eligible borrowers to better reflect the rising home prices. Santa Clara and San Mateo counties, which cover much of Silicon Valley, require buyers to make less than $224,300 and $228,300 per year, respectively.
"Especially given that real estate in California is so hot these days, our income limits were starting to not make sense," he said. "Even if you made the maximum income limit, you couldn't qualify for the median-level home in several counties."
The cash-strapped founding story of enterprises that got their start in major metropolitan areas is nothing new among several established companies we've highlighted at HostingAdvice: SingleHop transported hardware to datacenters in the back of Chicago taxis, while hosting providers the likes of DreamHost, InterServer, Atlantic.Net, and ServInt built their businesses from bedrooms and dorm rooms.
"We built and sold computers the first year because we didn't have any money," Atlantic.Net President and CEO Marty Puranik told us, saying he would post fliers on bulletin boards around the University of Florida campus to drum up business. Less than a year later, the company had eight employees and more than 2,000 customers.
"I lucked out — Silicon Valley is one of the best places in the world for entrepreneurs, engineers, and anyone bold enough to try and change the world through technology." — Preethi Kasireddy, blockchain engineer (Medium)
Although Y Combinator Co-Founder Paul Graham considers Silicon Valley as the best place to start a company, the move cannot be taken lightly. John Rampton, Founder and CEO of Due, shared horror stories of aspiring entrepreneurs leaving families behind and living out of a car in a column for Startup Grind. After suggesting aspiring Silicon Valley residents move with about six months' worth of cash to support living expenses, he estimated the average cost of renting a small house in a less-than-prime Palo Alto neighborhood to be around $3,000 per month.
"Keep in mind, that is to rent, and it's not even a nice house," he wrote. "If you don't have enough money in the bank, you're going to fail before you can even start."