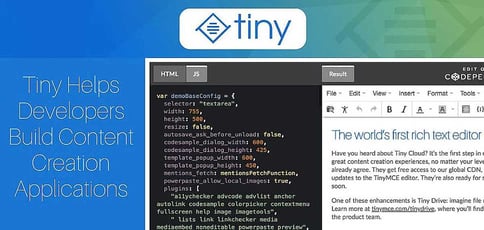 TL; DR: After gaining recognition for TinyMCE, a popular open-source WYSIWYG editor, Tiny has extended its portfolio to include flexible deployment options, premium plugins, and cloud services. In doing so, the company empowers developers to build the applications end users need to create content quickly and easily. Between the release of TinyMCE 5.0 Beta and the recent unveiling of Tiny Drive, the company is continuing to improve the way both paying customers and open-source communities build robust content applications.
Behind every successful business is an anthill-like support system: a network of workers and service providers grinding day in and day out to pull off extraordinary feats that keep operations running smoothly.
In the eyes of many software development companies, Tiny is one of those providers — and it's capable of carrying more weight than its name may suggest.
Consider this: The company's open-source text editing solution, TinyMCE, helped boutique software developer Action Factory build an email marketing service to rival MailChimp. It's also enabled graphic design firm El Roboto to offer a cost-effective, feature-rich CMS complete with a versatile text editor. And it's been a contributing force behind well-known platforms such as WordPress, Medium, Marketo, and Zendesk.
Although Tiny supports major industry players, it's not exactly hungry for attention. "The goal is to fit well within other peoples' corporate applications," said Andrew Roberts, CEO at Tiny. "Our software needs to look good and be responsive, scalable, and customizable so it matches the rest of what our developers are building. We want to be a good partner."
TinyMCE itself has been on the market for more than a decade. Andrew, who had been CEO of Ephox since 1999, partnered with Moxiecode, the team behind TinyMCE, to sell enterprise offerings for about five years. In 2015, the two groups joined forces to better serve developers as one company with a shared vision.
"TinyMCE had a lot of traction as an open-source project, and we felt there was a possibility of building some value-added features and services around what was already successful," Andrew said.
The company, rebranded as Tiny, gradually extended its portfolio to include flexible deployment options, premium plugins, and cloud services. Today, Tiny empowers developers to build the applications end users need to create content quickly and easily. With TinyMCE 5.0 in beta and the recent release of Tiny Drive, the company is continuing to improve the way developers across the globe build content-intensive applications.
TinyMCE: An Open-Source Text Editor With Flexible Deployment Options
TinyMCE is an open-source text editor (licensed under LGPL) that makes it easy — regardless of technical expertise — to create rich content. And there's a minimal learning curve: Andrew told us that, with Tiny Quick Start, many users can install a basic local editor in less than 5 minutes.
The text editor is also incredibly flexible. Andrew said the core editor itself has nearly 100 customization options, from simple modifications to more obscure use cases. Users can further extend capabilities with more than 50 easy-to-configure open-source plugins.
"The open-source community has helped us by building extensions and add-ons, and we spend quite a bit of time engaging with them in that area," Andrew said. "This is helpful because it means that it's not just us building the editor: Other people can build things on top of it as well."
In December, Tiny rolled out the next major release of its platform, TinyMCE 5.0, in beta. Version 5.0 introduces a new set of APIs that make it easier for developers to build custom plugins as well as a CSS framework to integrate the user interface into custom design systems.
The new release reimagines several interface components, including toolbars, menus, buttons, and tab panels, to increase ease-of-use and modernize design defaults. Beginning with Version 5.0, TinyMCE will support mobile theme capabilities, eliminating the need to specify or load a separate theme; and updated browser technologies, including Internet Explorer 11, Chrome, Firefox, Safari, Edge, and Opera.
"It's very skinnable, themeable, and modern — a huge investment for us over the last six months," Andrew said.
Introducing Tiny Drive, A Cloud Solution for Asset Management
Developers can choose between self-hosting and TinyMCE Cloud, which includes free access to Amazon's CloudFront CDN, image proxy services, and automatic updates to the TinyMCE editor.
TinyMCE Cloud also includes access to Tiny Drive, a cloud-based file and image management service for TinyMCE that hit the market in October. The tool is available with the company's free cloud starter package, which includes 100MB of storage and 1GB bandwidth per month. With simple, transparent pricing, those looking for additional resources can easily upgrade to their choice of the company's developer, pro, and custom plans.
With mind-boggling amounts of information created on the internet each day and increasing concern about the security of cloud storage, Andrew told us Tiny keeps data protection top-of-mind. To that end, Tiny Drive securely stores assets in the cloud using Amazon S3 — the same solution trusted by Netflix, Reuters, and Zillow.
"As your assets are passed back and forth between your TinyMCE editor instance and the S3 bucket, Tiny Drive uses both your API key and a JSON Web Token (JWT) for authentication," Director of Product Marketing Blake McCallister stated in a blog post on the company site. "Each developer using Drive will need to create their own JWT, and we will walk you through the whole process."
In addition to the option to upload and manage assets using Tiny Drive, the company has provided a new plugin, Tiny Comments. The plugin, which enables users to start or join a conversation by adding comments to the content within the TinyMCE editor, is available only through Tiny's Pro and Custom packages.
An Obvious Solution to the Build-Versus-Buy Conundrum
Andrew told us Tiny makes it easy for developers to decide between using existing software and developing their own.
"The breadth of features you can get from Tiny, even in the open-source version, is undeniable," he said. "Most of the competing solutions are too basic, and if you build your own, you're likely to have to invest hundreds of thousands of dollars in add-ons alone."
In general, Andrew said developers depend on Tiny to get their products to market more quickly while saving money and ensuring a satisfactory user experience. "If you deploy a content management system that leads to a poor user experience, you'll have frustrated users who won't adopt your system," he said. "They'll just continue to do what they were doing before."
TinyMCE, on the other hand, is a trusted solution ready for immediate use. For example, when Sam Gedert, Founder of the aforementioned Action Factory, set out to find an HTML editor he could use for his email marketing module, he was shocked by how robust Tiny's free version was while still having the plug-and-play functionality he needed to get it running. At the end of the day, the editor met customer expectations and helped Action Factory outshine competitors.
"TinyMCE dramatically enhanced the overall value of our software," Sam said in a case study provided by Tiny. "Thanks to Tiny, we were able to provide a new email marketing campaign feature that we previously wouldn't have been able to."
The Goal: To Create a Seamless, Scalable Solution
As ongoing trends reshape the online content management landscape, Andrew's goal is to ensure Tiny remains a user-friendly service.
"We're often deployed in situations where training is difficult or nonexistent, so people need to be able to pick up the tool intuitively," Andrew said. "They should only need the skills they've developed elsewhere using a computer or WordPress."
The team examines ways people prefer to create lists, edit tables, and apply headings, among other common tasks. "Thousands of interactions can occur during an editing session, all of which require coding," Andrew said. "We really try to smooth that pathway for users who want to create content, but are more familiar with Microsoft Word than online content editing tools."
Usability aside, Andrew has noticed a rise in API-driven, known as headless, content management. "This has impacted our developers, who are now building React and Angular applications," Andrew said. "In response, we built integrations of Tiny that work seamlessly in those new front-end frameworks. They're very popular, and we get over 100,000 downloads a month."
As future trends lead to changing needs, Tiny's mission will remain the same: to be the support system developers need when building beautiful online content applications.