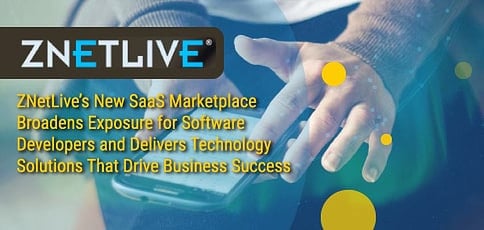 TL; DR: Arriving on the scene in the early 2000s, ZNetLive has been a major player in India's hosting market for nearly two decades. Today, the company continues to deliver hosting and IT infrastructure solutions to businesses worldwide and has recently launched a new SaaS Marketplace. The platform offers a one-stop shop where software developers can turn to showcase their latest cloud-based solutions and where businesses can find the tools needed to streamline operations. We recently sat down with CMO Barkha Singh, who told us how ZNetLive is helping organizations achieve greater productivity and returns on investment through hosting services and SaaS solutions.
SaaS has become a buzzword in the IT community for good reason. This cloud model of delivering software has proven to be cost-efficient, flexible, and easily integrated into existing business assets.
In fact, SaaS is so effective that nearly 75% of organizations say their applications will be delivered through the cloud by 2020. And this growth will see the SaaS market scale to a whopping $521 billion by 2026.
A long-standing player in India's hosting and IT infrastructure sector, ZNetLive noticed that its customers were increasingly seeking SaaS solutions. And, as a result, recently launched its new SaaS Marketplace as a way for software developers to showcase their cloud products and as a central location for organizations to find the tools necessary to optimize operations.
"It was our founder's dream to have software developers be able to showcase their work on a common platform," said ZNetLive CMO Barkha Singh. "That way, customers don't have to waste their important time and energy doing marketing and scaling with multiple vendors."
ZNetLive's marketplace offers a one-stop SaaS shop where businesses can find an array of products, including web conferencing, business intelligence, CMS, and accounting solutions, among many others.
On a Mission to Serve as an End-to-End IT Solutions Provider
In 2001, ZNetLive was established in Jaipur, India, by Munesh Jadoun. Then known simply as ZNet, the company started out as a reseller host.
A short year later, it was rebranded as ZNetIndia and set up its first physical office before expanding into other services, including dedicated hosting and VPS. ZNetLive was officially launched in 2005 to cater to the new cloud customers and eventually grew into the sizeable marketplace it is today.
Following its renaming ZNet moved to a larger office and expanded its team, including the support team. ZNet's technically apt support staff is capable of assisting customers 24/7/365 with company-specific expertise.
In the years that followed, ZNetLive would continue to flourish as it created its own ERP (Enterprise Resource Planning) solution and more partnerships were finalized. By building relationships with a wide range of other tech companies, ZNetLive soon became a hosting heavyweight, earning recognition from Microsoft on several occasions.
"There are just a handful of Microsoft CSPs in India," Barkha said. "We are the first one."
A SaaS Marketplace Powered By Big-Name Partners
ZNetLive's impressive stronghold in the market has been made possible through its partnerships with many globally significant brands, including Microsoft, Google, Amazon, and IBM. Not only have these business ties resulted in global success for ZNetLive, but they also contribute to the success of its client base.
ZNetLive's early growth began in 2006 with SoftLayer, the managed cloud hosting provider that would eventually become part of IBM Cloud. After several years, bonds would be formed with the likes of GlobalSign, SmarterTool, Rackspace, and others to offer customers SSL certificates and analytics alongside helpdesk software and professional WordPress themes. Expanding on its site building software, ZNetLive closed a deal in 2012 with Softaculous, developer of an automated installation script similar to 1-click WordPress installers.
The most influential of ZNetLive's partnerships was forged when the provider became SPLA approved, allowing it to license and customize Microsoft products. The popularity of Microsoft products was the perfect complement to ZNetLive's mostly open-source offerings of the time.
Later, ZNetLive became a certified SMB Specialist in 2012, followed by a certified Cloud Solutions Provider in 2015 — one of few certified businesses globally and the first one among CSPs in India. ZNetLive has also been designated an official DUNS Certified business member, as well as has gained the approval of several review sites such as Shopper Approved.
Cloud-Based Software to Optimize Operations Across Industries
With the backing of such prominent companies as Microsoft and Amazon, among others, ZNetLive has taken a giant leap to where it's today with its extensive product portfolio.
Dedicated, VPS, and Hybrid servers are currently offered alongside public, private, and hybrid cloud servers — all available across multiple platforms such as Microsoft Azure and AWS. Meanwhile, ZNetLive's Complete Online Bundle is a popular choice among SMBs and includes a domain name, hosting, website builder, and business email.
In addition to hosting and infrastructure services, ZNetLive's marketplace features software for streamlining productivity, increasing profits, and ensuring customer satisfaction.
"The most popular software on the marketplace includes email services like G-Suite, Office 365, RackNap for selling subscription services with automation, WordPress, and more," Barkha said.
Categories range from backup and data management to video editors and accounting software.
Because the marketplace encompasses such a wide variety of products, ZNetLive offers solutions suitable for practically any industry. For example, many online businesses sell products and require a comprehensive eCommerce platform along with CRM software and support tools such as live chat.
In addition, large enterprises may need company intranet and software for application development, management, and deployment. Using a unified platform for all of these services means that businesses can more easily budget and maintain their online presence — a benefit no matter the niche.
Embracing Innovation to Provide Cutting-Edge Business-Focused Tech
Since its founding, ZNet has been on the lookout for growth opportunities that not only expand its client base, but also introduce innovative technology to a wider audience. With the ZNetLive marketplace, software developers gain exposure and credibility while users benefit from the latest productivity and management apps.
"All the vendors we partner with are getting free management and technical support along with their place in a larger market," Barkha said.
In addition to an impressive number of partnerships with large companies, ZNetLive's 16-plus year history is punctuated with the adoption of software made by smaller developers, even the open-source community. As a result, its diverse offerings include next-gen technology like AI and IoT that help businesses prepare for the future through automation and smarter operation.
ZNetLive's future-oriented focus is further demonstrated by its involvement in a number of conferences in recent years. In June 2015, the Nationwide Cloud Connect conference was conducted by both ZNetLive and Microsoft and centered on the booming cloud market. A year later, World Cloud Summit was held in Mumbai and Delhi and drew multiple cloud industry leaders together to discuss future growth strategies. ZNetLive's endeavors to anticipate and accommodate future trends and business needs highlights its "The Hosting Architects" tagline. Running a business is difficult enough, and ZNetLive believes maintaining an online presence should make it easier rather than further complicating it.
While operating primarily in the Indian hosting market, ZNetLive works with some of the most prominent names in the tech world to bring quality hosting and innovative technology to clients all over the world. This is made possible with the help of passionate software developers and several datacenters in India and the US, including its datacenter located in Mumbai. As a result, ZNetLive facilitates the best possible experience for everyone involved — from the software developer and online business client right down to the end user.