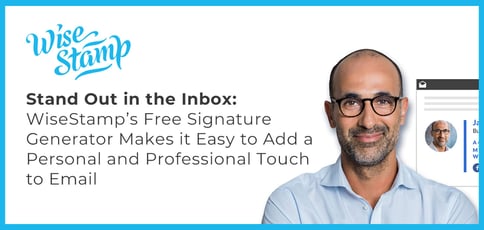 TL; DR: WiseStamp's signature generator empowers entrepreneurs and businesses to transform plain email signatures into useful tools for generating leads, driving traffic, and establishing brands. More than 700,000 users leverage the software to build a professional, credible email presence with a personal touch. Now, as part of the vCita product portfolio, WiseStamp is in an ideal position to help an even greater group of small businesses grow and thrive via business management and engagement tools.
A decade ago, handing out your first business cards felt like a rite of passage into the professional world. After years of education, you had made it — and a glossy, pocket-sized card bearing your information served as physical proof.
Today, what once served as a source of pride now is a waste of paper, often exiled to junk drawers in home offices. And that's because making digital connections is easier than ever before.
"I consider the email address the new business card," said Daniel Zweig, Head of Marketing at WiseStamp. "Even in the past, when I was providing consulting services, I didn't print cards out — it felt wrong in an environmentally-conscious world."
As with business cards, it's important that the emails entrepreneurs and small businesses send to prospects and existing customers look professional. That's where WiseStamp comes in.
The signature generator empowers entrepreneurs and businesses to transform amateur email signatures into personal branding pieces that help generate leads, drive traffic, and establish familiarity. More than 700,000 users leverage the tool to build a professional, credible email presence with a personal touch.
WiseStamp understands that in today's economy, entrepreneurs and SMBs need simple and affordable solutions to help them build and grow their businesses. That's why the company operates under a freemium model with the option to remove WiseStamp branding for a monthly subscription that costs less than a cup of coffee.
Now, as part of the vCita product portfolio, WiseStamp is in an ideal position to help an even greater group of small businesses grow and thrive via business management and engagement tools.
Wow Customers in Their Preferred Communication Channel
The vast majority of U.S. adults (72%) in a recent study said they prefer to communicate with companies through email compared with snail mail, phone, text, social media sites, mobile apps, and other outlets.
Daniel told us his clients' preferences are very close to that of the general population. "In one survey, we found that 75% of customers prefer to get information from brands through email," he said. "So when you present yourself as a business to your customer, you want to have a nice, professionally designed email signature."
WiseStamp designed its signature generator for individuals to be as user-friendly as possible. I gave it a whirl, and within seconds, I had a professional-looking signature. With the WiseStamp PRO option, I could change design elements like fonts, colors, and the shapes of my photo, logo, and social icons. Two free templates are available, with numerous PRO templates that take the design to another level.
The free plan is great for someone who's just getting started, but the WiseStamp PRO plan has several perks. Users can remove the WiseStamp branding, add effects to images, design an unlimited number of signatures, access premium templates and customization options, and export the design to a mobile device.
In addition to the email signature generator intended for individuals, WiseStamp offers an option for teams using Office 365 and G Suite.
"Let's say your company has 100 employees, and every month, you send out 50 emails per employee," Daniel said. "That's 5,000 emails a month — so it's important to unify your brand."
As companies get larger, it can be a hassle to make sure all employees have the same signature. That's why WiseStamp created a user-friendly dashboard that lets users easily control and change signatures.
Boost Your Business Credibility in Minutes
Credibility is crucial for any entrepreneur or small business trying to make a living because it gives customers the confidence to do business with you. It doesn't happen overnight, but simple actions, like including a picture and other personal information in an email signature, can go a long way.
"Email signatures look more professional when customers can see your face, logo, or both," Daniel said. "It's also important to include links to your social media accounts so they can see you are engaged and connect with you on whichever channel they prefer."
With the WiseStamp PRO plan, users can also choose from a menu of add-ons that can help increase credibility, make calls to action, or convey important information — all without a lick of code.
Users can enhance their signatures with stylized sign offs, legal disclaimers, inspiring quotes, messages encouraging readers not to print emails to save trees, personal videos, and even an Instagram gallery.
Options for calls to action include predesigned banners, custom buttons, custom banners, sales event information, and buttons to enter video conferences.
"For example, if you're going to be at a conference, you can add a banner with a link to that conference — obviously not in our current coronavirus era, but after," Daniel said. "If you are hiring, you can put a banner with a link to your site. Or, if you have an Esty shop, you can have a banner that directs customers to your online store."
Helping More than 700K Users Promote their Brands
Daniel told us WiseStamp serves three primary audiences: entrepreneurs, small businesses, and enterprises. As of publication, 850,000 professionals in 194 countries have used the solution, and they've sent more than a billion emails using WiseStamp.
"For our entrepreneurs and small business owners — yoga teachers, marketing consultants, lawyers, real estate professionals, etc. — we provide the tools they need to look professional," Daniel said. "Many times, email is the first type of communication channel you use when reaching out to a potential client."
Small- to medium-sized companies might use the solution to create custom, unified signatures identifying its various departments. And at the enterprise level, leaders can use the tool to control and manage signatures companywide.
When it comes to internal development, WiseStamp always takes customer feedback and emerging design trends into account to make the software as useful as possible.
"Our goal is always to understand what will bring the most value to our users — otherwise, what's the use?" Daniel said. "We invest a lot in making things simple. For example, everyone's using Zoom for video conferencing now, so we made a Zoom button for the signatures."
Evolving as Part of the vCita Product Portfolio
In August, vCita, a leading business management solution for small service providers, officially acquired WiseStamp. Daniel told us that the companies will combine their solutions to help entrepreneurs manage their businesses and deliver excellent customer experiences at an affordable cost.
"Over the years, WiseStamp created advanced solutions that enable hundreds of thousands of small enterprises to grow their business online," noted Orly Izhaki, WiseStamp's CEO & Co-Founder, said in a press release at the time. "We are excited about the merger, which will establish us as one of the most dominant players in the SMB market."
With an increasing number of people choosing self-employment and starting their own businesses, Cita and WiseStamp made the strategic decision to join forces.
"Together, we can enhance our services to better serve customers, many of whom are entrepreneurs and small business owners," Daniel told us.