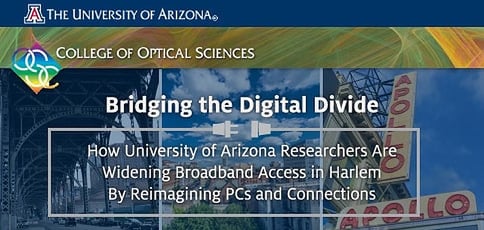 TL; DR: A new research project spearheaded by the University of Arizona aims to make Manhattan a smart city for all residents, regardless of socioeconomic status. By moving the computing of user devices like laptops, tablets, and smart appliances into an edge cloud within the borough, researchers expect the edge computing architecture will lower broadband costs, enhance security, and improve energy efficiency for the Harlem community. We recently caught up with College of Optical Sciences Principal Investigator Dan Kilper to learn more about the project and its potential to pave the way for streamlined broadband access in other urban areas.
The internet is a powerful force, but there are limits to its reach. The digital divide, a persistent state of inequality between those with and those without broadband access, is one of the starkest examples of such boundaries.
In fact, approximately 30% of those with annual household incomes below $30,000 don't own a smartphone, and almost half lack home broadband services, according to data from the Pew Research Center. Closing this gap would provide low-income communities access to online resources that allow both adults and children to complete vital tasks — from job searches to nightly homework assignments.
Though a lack of broadband access is often caused by infrastructure limitations in rural areas, it's also a problem in population-dense Manhattan, where access is closely aligned with income inequality. And Harlem offers a perfect example.
"A large segment of the population doesn't have access to broadband," said Dan Kilper, a Research Professor at the University of Arizona College of Optical Sciences.
Dan is Principal Investigator of a UA research team working to bring fast, secure computing to the underserved Harlem community. Tearing down the barriers to access, however, will require a comprehensive strategy.
"It's not just a question of getting high-speed into a building — it's also creating a capability throughout the community that is accessible in a way that people can easily use it and afford it on an ongoing basis," Dan said. "That's been the target of our approach."
National Science Foundation Awards $1M Grant to Support Edge Computing
The project, backed by a three-year, $1 million grant from the National Science Foundation, will allow data from Internet of Things (IoT) devices to be processed locally instead of traveling long distances. The concept, known as edge cloud computing, will involve the use of smaller datacenters located in Manhattan rather than hyperscale datacenters throughout the US.
"We're deploying nodes in a dark fiber testbed, which will be connected to edge cloud resources," Dan said. "It's an exciting environment."
The edge cloud computing architecture will be designed to lower costs, enhance security, and improve energy efficiency based on the needs of Harlem residents, paving the way for its use in other urban areas. It will be in part community-owned and rely on stakeholder relationships to identify and overcome key technical, governmental, and social challenges.
"We've been developing relationships in the Harlem community for years now, and also talking with the folks in the Mayor's Office in New York," Dan said. "That sort of germinated this idea of building a testbed in Harlem. There are some real entrepreneurs there who are excited about technology and see the potential of it in a community like that."
Distributing Low-Cost KVM Systems Throughout the Borough
In addition, Dan and Malathi Veeraraghavan, professor of electrical and computer engineering at the University of Virginia, are working together to reconfigure PCs to be cheaper, faster, and more secure. To do so, they will move processors to the edge cloud and build approximately 100 low-cost keyboard, video, and mouse (KVM) systems that simply connect to local networks and display data.
The KVMs will be distributed throughout Harlem for use by community members at no cost. Since they lack processors, KVMs are much more affordable, and users will experience faster connections because the edge cloud will have greater computing power than a typical PC.
The system will also be more secure because KVMs are less vulnerable to attacks.
"One of the biggest vulnerabilities we have with our machines today is that if you don't update your software and make sure you have a firewall installed, your machine becomes vulnerable," Dan said in a press release. "You might click on a phishing email with a Trojan, but if we've taken the processor out of your machine, it's not going to affect anything."
Working With Silicon Harlem to Turn the Community Into a Tech Hub
The researchers will decide precisely where to place the KVMs with the help of Silicon Harlem, a group working to transform the community into a hub for technology and innovation.
"They really bring together all the people in the community; all the key stakeholders, from community leaders and people on the streets who are working with technology to politicians and academics like me coming in," Dan said. "It's really exciting."
Dan was recently featured as a speaker at Silicon Harlem's Next Gen Tech Conference, where he discussed how smart cities work and ramped up excitement over the research project.
"During this past Silicon Harlem conference, we had found out about our grant," Dan said. "So we announced it there, and people were really excited and wanting to learn more. We're just at the beginning, starting to work with this and roll it out."
UA's College of Optical Sciences: Connecting Academia and Industry
If you're wondering why New York is collaborating with the University of Arizona in the first place, Dan says it's because of the school's strength in building successful partnerships between academia and industry.
"It's been part of the culture here at the University of Arizona and the College of Optical Sciences; one of the premier optics degree-granting institutes in the U.S.," said Dan, who came to the university with more than a decade of industry experience at Bell Labs.
Dan is also involved with the Center for Integrated Access Networks, a multi-university research center headquartered out of the College of Optical Sciences.
"The center is deeply connected with industry," he said.
Having played an integral role on both the academic and industrial sides of the spectrum, Dan has no qualms advising students who have an interest in optical communications, fiber optics, and datacenters to consider UA.
"They not only get a solid basic curriculum for the fundamentals, but we have research projects here that are dealing with software-defined networking, coherent 100GB transmission, and all of the latest technologies that are so important for industry today," he said. "Students here can get involved in a project involving those type of technologies, and then they're getting snatched up right away once they get their degree."
When it comes to the Harlem endeavor, Dan advises those interested to stay tuned.
"There will be some announcements, and we're getting tremendous support from the city, from the mayor's office, the CTO of New York, as well as folks like Silicon Harlem and the community," Dan said. "We're going to complete the roll out of our initial test bed, and we're focusing now on the next stage of that, which is going to be significantly larger."