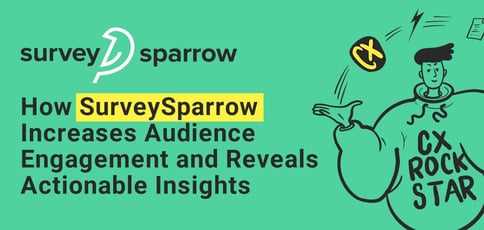 TL; DR: SurveySparrow is an omnichannel experience management platform that lets users create conversational surveys and make impactful decisions based on the responses received. Through built-in automation features, the application optimizes surveys of all types, from customer experience and market pulse questionnaires to employee feedback polls. To top off its menu of mobile-first experiences, the company recently added tools for rating and improving meetings in a highly engaging and relevant manner.
Nearly every grocery or hardware store shopping experience ends with the same routine. After I've checked out, the cashier takes out a chunky yellow highlighter, circles a website at the bottom of my receipt, and requests that I complete a survey for a chance to win $5,000.
Every once in a while, I'll entertain the suggestion — until I realize I'm entering a tiresome 20-minute commitment and quickly click away. It's a lose-lose situation: I miss out on the incentive, and the company is denied valuable feedback.
That's where SurveySparrow comes in. The experience management platform, founded in 2017, empowers users to create highly engaging, mobile-first surveys via an enjoyable, chat-like approach that won't send respondents packing.
"We've learned from our customers that SurveySparrow's conversational user interface increases survey completion rates by 40%," said Vipin Thomas, Director of Revenue Operations at SurveySparrow.
The platform leverages built-in automation, making it easy for organizations to solicit and retrieve feedback on everything from customer experience to employee satisfaction. Based on the data received, SurveySparrow users can make meaningful business decisions and drive continuous improvement, providing customers with the best experience possible.
SurveySparrow also includes access to helpful Net Promoter Score (NPS) software, offline feedback collection services, website chatbots, an online audience panel of prescreened and profiled individuals, and secure payment gateway solutions.
Now, to further expand its catalog of mobile-first experiences, the company is adding tools for rating and improving meetings in a highly engaging and relevant manner.
Helping Marketers Create More Engaging Survey Content Since 2017
Founder Shihab Muhammed started SurveySparrow after a eureka moment he had in 2016 while working at Freshworks, a software company focused on customer support (Vipin worked there as well).
"We used to receive constant email reminders from HR asking us to take monthly employee satisfaction surveys that weren't engaging and people would rarely fill in," Vipin said. "It was after receiving one of those emails that it occurred to Shihab that he could come up with a better, more interesting survey platform."
SurveySparrow, headquartered in Palo Alto, was officially founded in October 2017 with the help of $1.4 million in seed funding from Prime Venture Partners. Since then, it has evolved from an individual survey product to a complete experience management platform focused on both increasing audience engagement and revealing actionable insights.
"The platform features built-in executive dashboards, custom reports, text analysis, sentiment analysis, 360 leadership assessments, and reports," Vipin said. "It also supports an omnichannel experience, which means it can be distributed over email, QR codes, mappings, SMS — any digital outlet."
But the platform doesn't stop there — it even includes a robust offline survey tool. "You can convert your smartphone or tablet into a kiosk for data collection like you typically see in stores or airports," Vipin said.
SurveySparrow users focus primarily on four main functions: customer, employee, product, and brand experience.
"We see product fit in users measuring their customer satisfaction index, customer effort scores, customer exit surveys — all of these variables to enhance the customer experience and improve retention," Vipin said. "Then there's employee experience, which consists of employee pulse surveys, employee check-ins, and exit interviews; and the product experience side, which involves conjoined analyses and market research analyses."
Vipin said SurveySparrow can also be used to manage a brand's online reputation: "Using the automation engine built in the product, you can automatically target customers to ask for a review, maybe on TripAdvisor or Google Review, to maintain your social reputation."
A Conversational Interface and Options for White-Labeling
Vipin said his favorite aspect of SurveySparrow, hands down, is the end-user survey interface, which can be customized to keep branding intact. The company allows users to host and share surveys on their own URL, alter the design with custom CSS, and add logos and customized fonts to email surveys.
"We offer white-label surveys that allow brands to maintain their identities and ensure customers trust that their data is being collected and stored safely," Vipin said. "Third-party services usually come with third-party branding, which can put users off and prevent them from filling out a survey."
SurveySparrow also has data privacy covered. The platform is GDPR-compliant, features IP address tracking to prevent spammers, and includes a password protection option to limit access to surveys as needed.
Of the company's many survey themes, Vipin said conversational forms are most popular. Users can add background images, videos, and gradients; customize colors fonts, and color palettes, and buttons, as well as choose from various question formats.
SurveySparrow's intuitive platform also makes it easy to gather actionable feedback and make sense of data via a powerful reporting module. Users can apply filters based on variables such as respondent details or time period, compare two questions using cross-tabulation, and export scheduled reports as PDFs.
Solutions for Easy Management of Remote Workflows
SurveySparrow's resources for managing workflows at home have recently helped customers ease the transition to a remote workforce in response to COVID-19.
"Some of our most popular features have been our APIs, webhooks, and integrations, which allow our customers to connect and extend their business workflows," Vipin told us. "Once you connect Slack and Microsoft Teams with SurveySparrow, for example, you can configure the workflow so that every Friday at 4:59 p.m. there is a weekly check-in with your employees.'"
Vipin said another trend he's noticed is that many companies are using SurveySparrow's 360-degree feedback software to conduct performance evaluations. The tool allows users to highlight an employee's strengths, weaknesses, and blind spots to foster personal growth.
As for SurveySparrow's internal development, the company follows a road map of product features that fit into three buckets.
"The majority of it is driven by customer feedback," Vipin said. "Secondly, we ensure that we are keeping up with our competition. The third bucket is focused on differentiation from the competition via innovation — and that's where you see all of the creative styles of end-user forms we offer."
New at SurveySparrow: Tools for Rating and Improving Meetings
SurveySparrow is proud of its most recent release, Rate The Meeting. In a recent Forbes article, University of North Carolina at Charlotte Management Professor Steven Rogelberg said that, of the approximately 55 million meetings held each business day, about half are meaningful and engaging.
Rate The Meeting aims to help improve meeting quality through attendee feedback software.
"This new service came into being as part of our innovation bucket," Vipin said. "It connects with your calendar and will automatically send a survey after each meeting asking for input. Was it productive? Was it to the point? This free product will help you find out."