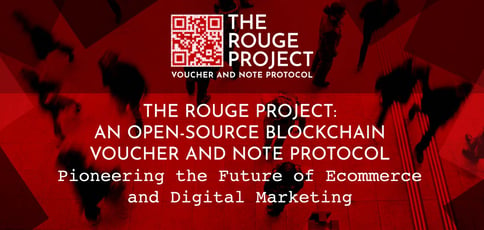 TL; DR: The team behind the Rouge Project is creating an open-source blockchain platform focused on ushering in a new age of non-falsifiable, non-repudiable digital coupons and offers. The trackable, verifiable, monetizable, and secure protocol will help foster an ecosystem of decentralized applications (dApps), bringing forth new opportunities for digital vouchers. The company is currently exploring partnerships with brick-and-mortar shops on cash-back deals, demonstrating its commitment to accelerating the adoption of the new technology.
Put down your scissors: Gone are the days of meticulously clipping coupons from weekly inserts in the Sunday paper. Like newspapers themselves, today's coupons are digital.
According to Juniper Research, digital coupon redemptions totaled $47 billion in 2017 and are predicted to reach $91 billion by 2022. By that same year, mobile coupons are expected to account for almost 80% of redemptions, underscoring the relevance of this new channel.
But with digital coupons also comes the potential for fraud. Double redemptions and counterfeit tickets, for example, are a significant problem. At the same time, errors occur, leading trusted customers to be told their coupons aren't valid.
The Rouge Project is looking to tackle these problems, among others, by disrupting the digital coupon industry as we know it with the Rouge Network — a voucher protocol and suite of smart contracts. "The network will use the Rouge token (RGE) on the Ethereum blockchain," said Christophe Le Bars, Chief Architect at Rouge. "It will also foster decentralized applications (dApps), bringing forth new possibilities in discount coupons and tickets."
The open-source solution will arm marketers with fraud-resistant and non-falsifiable vouchers while eliminating the need for extensive recordkeeping resources. Embracing blockchain in this way empowers marketers to control and verify their campaigns, building a value-based ecosystem in the digital world. The tangible, verifiable, and trustless system will allow them to provide rewards where and when they see fit.
In addition to discount coupons and vouchers, Rouge unleashes possibilities for concert ticketing, vacation vouchers, and sports events — virtually any situation where a user would need to securely transfer certificates containing financial value between market participants. Rouge plans to drive the adoption of the new technology in record time through partnerships with brick-and-mortar shops that are developing innovative cash-back deals.
A New Age of Coupons, Offers, and Relationships
Rouge was founded in October 2017 by Naira d'Arcollières, who has a vast background in both marketing and law. "This was at the beginning of the blockchain craze, where you began to see decentralized projects popping up everywhere," Christophe said.
Naira and Christophe started the project to demonstrate a real-life use case for applications on the Ethereum blockchain that could streamline the future of digital marketing by making it easier to manage digital coupons.
In May 2018, Rouge onboarded a panel of experts from the tech, finance, and marketing industries to join the cause, including internet marketing expert Mark Attwood, venture capital lawyer Padraig Walsh, mobile coupon leader Min Jang, and fintech and security expert Bob Seeman. In July, corporate finance expert Edward Cotler, who had previously worked as Vice President at Goldman Sachs, joined the team. Prior to Goldman Sachs, Ed held positions at both Deutsche Bank and Merrill Lynch.
In August, Rouge announced a partnership with POA Network, an Ethereum-based platform launched in 2017 that offers an open-source framework for smart contracts. The partnership enabled Rouge to provide fast and efficient blockchain voucher solutions. As of August 1, 2018, Rouge has been live on the POA Network, enabling market participants to issue and secure the transfer of certificates.
"The migration of our smart contracts, tools, and applications to use the POA Network was done in one week without major difficulties, thanks to the full compatibility of POA Network with Ethereum, and the responsive POA team and community," Christophe said in an August 30, 2018 press release.
Fostering an Ecosystem of Decentralized Applications
There are a number of use cases for Rouge, from ecommerce and digital marketing to the development of open-source dApps, valued for their resilience and transparency, among other strengths.
Because dApps are built on the immutable Ethereum blockchain, developers can lock in the value of each coupon via smart contract technology. Unlike traditional digital coupons, those on a public ledger are fully trackable, verifiable, and secure. They cannot be forged, and users can only redeem their value once. Conveniently, Rouge can be used both online or offline with a secure QR code that represents transactions on the protocol.
The Rouge Network benefits three main parties: Issuers, who distribute vouchers directly or indirectly; Bearers, who receive and carry the voucher from the Issuer; and Distributors, who are paid a commission to distribute vouchers to Bearers.
Each enjoys unique perks. Bearers, including the general public, benefit by eliminating the sales commission typically earned by a middleman, which results in more competitive discounts. Issuers (brands and merchants) enjoy complete visibility into each coupon that is issued and redeemed. Distributors, including content creators or publishers, benefit from the opportunity to charge a premium to Issuers looking to reach targeted audiences.
Rouge's documentation page already features numerous dApps, tools, guides, and libraries that demonstrate how to get started with the protocol. The Coupon Demo, for example, demonstrates the fundamental coupon workflow and concepts and workflow described in the company's white paper. The Mini POS, on the other hand, is a prototype of Rouge's redemption procedure from the viewpoint of the coupon Issuer.
Partnerships with Brick-and-Mortar Shops on Cash-Back Deals
Christophe told us that the biggest hurdle faced by the Rouge Project moving forward will be encouraging the protocol's adoption. To overcome this challenge, the company is actively engaging potential retail partners and traditional coupon solution providers to help demonstrate Rouge's capabilities and build excitement.
"We are thrilled to be working with more than 50 active boutiques brick-and-mortar boutiques, and more in the onboarding pipe," Founder Naira d'Arcollières said. "They are already testing the possibility to use Rouge to provide cash-back deals to customers who are part of a special club."
The offer — in which Rouge users will simply present their phones to staff to receive a cash-back deal — is nearing the end of its Beta testing phase and will soon be introduced to the public.
"We are truly excited about this new possibility and for future opportunities such as this," Christophe said.