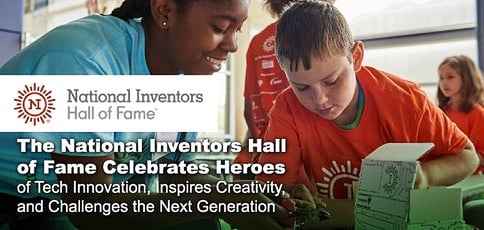 TL; DR: How many inventors can you name? Unless you're a trivia nerd, probably not that many. The US Patent and Trademark Office is close to issuing its 10 millionth patent, yet innovators don't always get the fame they deserve. To give them their due recognition, the National Inventors Hall of Fame showcases recent and past inventions and provides educational programs to inspire and challenge those with big ideas. Executive Vice President for Selection and Recognition Rini Paiva, spoke with us about the Hall of Fame's mission, its selection process, and what it takes to be a true innovator.
Even though we use technology on a daily basis, we don't always think about who created it. The National Inventors Hall of Fame is on a mission to change that.
The organization's website, Invent.org, draws attention to the most creative and impactful inventions in the US — and the people who made them.
"The whole idea was to honor the patented inventors who have really done something to change the way we live our lives," said Rini Paiva, Executive Vice President for Selection and Recognition. "People may not know their names, but they've certainly been impacted by the work that they've done."
Since the first inductee, Thomas Edison, was recognized, the Hall of Fame has added dozens of geniuses to its hall. They may not be household names, but you've likely at least heard of some of their inventions — if you're not currently using one. The idea is to elevate inventors to the celebrity-like status the Hall of Fame thinks they deserve.
"It's funny, when we think about it from today's perspective," Rini said. "There are lots of people who get attention, lots of celebrities and athletes, and they're very good at what they do. Then, there are these people who have enabled us to do things in our day to day lives, and we just feel like they are deserving of that same kind of recognition and credit."
Invent.org curates information about people in the Hall of Fame and educates the public, children, and college students on their inventions. The hall's educational programs grew out of a desire to inspire younger generations to become inventors themselves.
"We work very hard to make sure that the stories of the inventors and what they do — how they came up with their inventions, how they overcame obstacles, and how they approach problem solving — gets integrated into the education programs," Rini said. "There's something really powerful and valuable in having those real-life role models."
They Never Gave Up: The Incredible Determination of Inventors
Rini calls inventors an unsung group because they were able to tackle something difficult and keep moving forward even when things weren't going as planned. No matter how long it took to get to the solution, they never gave up.
"They are the geniuses of our society, who, when they were faced with a problem, they persisted," Rini said. "They don't just say, 'Ugh, I'm not going to be able to figure that out.' They keep at it. For some of them, it's persisting after something for years and really having that drive to figure something out."
In May, the 46th annual induction ceremony will honor 15 creators of innovations such as Spandex, the yellow line that marks first downs on football broadcasts, and RSA cryptography, a method for securing web communications used in nearly all sensitive online transactions.
"We have come to the point in this day and age when we take eCommerce for granted," Rini said. "eCommerce would not be where it is if it were not for safe and secure internet transactions that RSA cryptography can give to us."
With the long history of inventions in the US, inductees through the years often share distinct connections. More recent inductees sometimes build on past inventions that were recognized in earlier years.
"With the RSA team, in particular, it's kind of neat for us to see how they're a great example of progressing the useful arts," Rini said. "There were three past inductees who worked on public-key cryptography, and their work inspired the RSA team to take it further. It's great to see how one innovation can lead to another."
One in 10 Million: How Hall of Fame Nominees are Selected
Millions of patents have been requested and issued through the US Patent and Trademark Office since it was founded in 1975; later this year, the office will issue its 10 millionth patent. Holding a patent is one of two criteria needed to be considered for inclusion in the Hall of Fame, as candidates must also be nominated. According to Rini, the organizations typically receives between 100 and 150 nominations each year.
"We ask that it be someone whose work has had a societal or economic impact," she said.
"That it has done something to further our society in some way or progress the useful arts."
Once someone is nominated, staff at the Hall of Fame research the candidate in a rigorous process to confirm and review their intellectual property. After the candidates are vetted, a list of prospective inductees is brought before a selection committee made up of representatives from national science, technical, engineering, and intellectual property organizations.
Once that group gains consensus of which inventors to recommend for inclusion into the Hall of Fame, the short list then goes to the Hall of Fame selection board, which makes the final decisions.
Of the nearly 10 million patents issued by the US Patent and Trademark Office, the Hall of Fame has inducted only 547 — 562 after this year's ceremony.
"It's indicative that this work has to be something major and significant to warrant recognition," Rini said. "There are certainly many more inventors out there who are worthy of recognition. That's one of the reasons that we're always telling people that they're welcome to submit nominations."
Induction Ceremony Honors Past, Present, and Future
The induction ceremony takes place at the National Building Museum in Washington, D.C. It's a celebration of not only the current inductees but also those who came before them and those who will follow in their footsteps, Rini said.
"Almost all of the living inductees will be in attendance," she said. "There's also a group of five inventors who we'll be honoring posthumously."
The evening will be a tribute to the work of the current inductees, as well as what previous inventors did to pave the way.
"What you're going to end up with is 40 of the world's foremost innovators in the same room," Rini said. "That's pretty incredible to realize that you're sitting there in the same room with the inventor of the digital camera, the inventor of Post-It notes, or the inventor of a life-saving medication."
Encouraging Students to Think Like Innovators
Each year's induction ceremony is a launching point for the Hall of Fame's education programs. Inductees participate in the hall's Collegiate Inventors Competition, where college student-inventors have the opportunity to showcase their research and discoveries. Students submit their entries to the Hall of Fame, and, if selected, they present them to a panel of inductees who provide feedback and encouragement.
"It's a lot of fun, and it gives a chance for these collegiate students to interact with the inductees, which is a very rewarding thing to see," Rini said.
Inductees also participate in Camp Invention, an opportunity for children to learn about innovation through hands-on problem solving, which is held at various sites around the country.
"We study the inventors' stories very carefully and figure out ways to incorporate the lessons learned into activities," Rini said.
Many inductees speak at local Camp Inventions to inspire the children, offer advice and strategies, share their experiences, and give them a challenge to work on that they have to solve creatively.
"You've got someone like that prompting you to think outside the box, and that's a pretty special thing," Rini said. "You should see how the kids are. It's like a rock star has walked into the room."