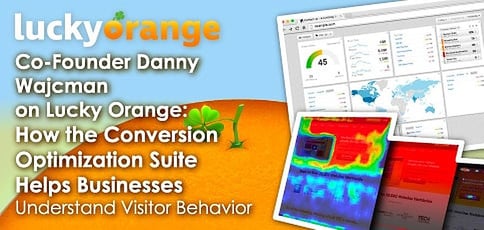 TL; DR: Intended to complement — not replace — Google Analytics, Lucky Orange's Conversion Optimization Suite equips businesses of all sizes with the tools they need to understand visitor behavior on a deeper level. The GDPR-compliant, user-friendly platform increases transparency through visitor recordings, dynamic heatmaps, and conversion funnels, among other features. We caught up with Lucky Orange Co-Founder and COO Danny Wajcman, who told us how these tools help users turn data into insights — and ultimately increase sales.
Between 30 and 50 million website owners turn to Google Analytics, the world's most popular tool of its kind, to monitor visitor traffic and collect site data. Of course, that's just step one. Turning data into meaningful insights is a matter of finding the story behind the numbers.
The problem, according to Lucky Orange Co-Founder and COO Danny Wajcman, is that the narrative Google Analytics provides around the visitor experience is incomplete.
"Google Analytics will tell you the first part of the story and the end of the story — the first part being the number of visitors, where they came from; the end being how many sales, how many leads," Danny said.
That's where Lucky Orange's Conversion Optimization Suite comes in.
"We complement it with the middle part of the story, which is what the visitor was really doing," he said. "Did they leave the browser open, go make a sandwich, come back, and then exit the site — or are they actually reading the content the entire time?"
And those details provide key insight into conversion trends. Only about 1% of traffic converts, according to Danny, and traffic converting at more than 2% is rare.
"There's a story to be told about why those 1% convert," he said. "But there are greater lessons to be learned from those other 99%. What roadblocks or obstacles did they run into? Was it bad traffic, or did a browser update disable one of your buttons?"
Through visitor recordings, interactive heat maps, conversion funnels, form analytics, and other tools, the Lucky Orange suite allows users to quickly identify and fix such problems.
"Now you're effectively doubling or tripling your conversion rates, in a lot of the cases, all without spending more money on traffic," Danny said.
Beyond the Fortune 500: Web Analytics for the Rest of Us
Kansas-based Lucky Orange was founded in 2010 by Danny and his brother-in-law, Brian Gruber. At the time, Danny was serving as sales director for digital marketing technology company Adknowledge, where he helped clients increase site traffic through search, email, and display ads. Meanwhile, Brian — a web developer who was also working as a canine rehabilitation therapist — was brainstorming ways to capture visitor engagement.
The two were keeping a close eye on the web analytics market.
"There weren't a lot of players in the space offering visitor engagement and tracking aside from Clicktale, but they predominantly served enterprises," Danny said. "There was such a tremendous opportunity to provide a solution to everyone else in the world — the WordPress owners, Shopify owners, SMBs, and even enterprise businesses that weren't quite that big."
Thus, Lucky Orange was born with the mission to give site owners and SMBs better transparency into their traffic.
"The goal was to pull back the digital curtain to help users truly see how people are interacting with their sites," Danny said.
For smaller clients in particular, Danny and Brian realized a simple onboarding process was key.
"Many of those people have zero development experience, so even installing our Lucky Orange code to get going is a major hurdle," Danny said.
To ease such pain points, the company introduced plugins to automatically add tracking code to sites. Alternatively, for $50, a developer will install the tracking code as part of Lucky Orange's Expert Install Service.
"We say you don't need a PhD in analytics to visually recognize why people aren't converting," Danny said.
Record Visitor Experiences to Reveal Insights on Bounces & Conversions
Danny told us Lucky Orange's visitor recordings put the "color in traditional black-and-white metrics" by enabling users to record each visitor's activity.
"It's like having a DVR for your website," he said.
User can play, stop, pause, rewind, and even skip idle activity during a visitor sessions, which can be particularly helpful when trying to identify conversion roadblocks. In many cases, a lack of form optimization is to blame.
"You might see the visitor clicking the button to add an item to the cart and then struggling with your form because you asked for a phone number but didn't specify a form validation rule," Danny said. "So a visitor types in a number, and the site says it's invalid. What they don't know is whoever coded that form said the phone number had to have its first three digits in parentheses with a hyphen after the next three."
This insight pays dividends, as the frustration caused by such an experience can send website visitors packing.
"They hit the back button and go to the nearest result on Google, which is likely a competitor of yours," Danny said.
And, in the face of concerns over data protections and privacy, users can rest assured all actions are GDPR-compliant.
"We're very happy to say that just about every activity we're doing has been in compliance with GDPR," Danny said. "We have always taken the collection of data seriously — above and beyond what's required. Now we can put the stamp on it."
Dynamic, Fully Interactive Heat Maps Delivered in Real Time
Lucky Orange's Conversion Optimization Suite also includes the world's first truly interactive heat maps, which can be viewed in real time as visitors interact with a site.
"We redeveloped heat maps to be what we call dynamic — and we're really the first in the industry to do this — which allows you to interact with the website itself, expand menus, open forms, and then see the clicks and interactions behind them," Danny said.
With the click of a button, users can gauge the popularity of a link.
"So if you look at our dynamic heat maps and you click on, say, your add-to-cart button, it would tell you how popular that button is on the page versus other elements," he said.
The heat maps are equipped with segmentation options based on numerous micro-level metrics. Users can even compare device types to see how sites appear on various screens, view historical snapshots, and save heat maps for later use and distribution among team members.
Identify Problems with Conversion Funnels and Form Analytics
For further insight on drop-off points in the conversion process, Lucky Orange users can leverage the benefits of Conversion Funnels and Form Analytics. Conversion Funnels make it easy to identify where people abandon a process such as during account creation or checkout. Clicking on a funnel will instantly filter recordings to show only those in which visitors abandoned a site at a particular step.
"You can say, 'Show me everyone who started at my home homepage, viewed a product, and added it to the cart but did not convert,'" Danny said. "That's really a great segment of people to analyze — all those people who showed such great intent on purchasing, but did not convert. You have to figure why, and conversion funnels are a big part of that."
Form Analytics, on the other hand, help identify specific fields on a form that cause abandonment, take the longest to fill out, and are most frequently amended, among other metrics.
"Once you identify that they're dropping off at the form stage, you need to have better transparency as far as what part of the form is causing them to drop off," Danny said. "Is there a certain field that people are abandoning a lot, or is there a certain field that is repeated?"
Danny noted that tools like this are developed based on customer feedback and close collaboration between staff members.
"Whether you've been at Lucky Orange for a month or a couple of years, the biggest takeaway is that your voice matters," he said. "Everybody in every role has a different perspective of users' needs, and that's allowed us to stay very nimble in development."