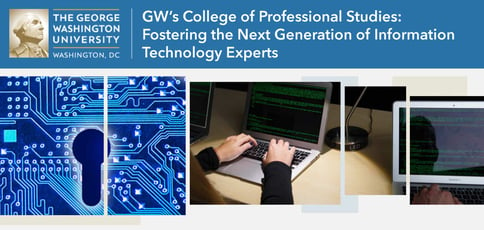 TL; DR: George Washington University's Cybersecurity Bachelor's Degree program, offered by the College of Professional Studies (CPS), was created to address the rapidly growing need for security experts in the job market. The school is on a mission to prepare tomorrow's leaders with the tools they need to succeed, from technical skills to real-life learning opportunities. With degree completion programs designed to serve a diverse student body, CPS is charting a path forward for our next generation of information technology professionals.
At a time when internet-related crimes have escalated to cyber warfare, terrorism, and espionage, preparing the next generation of leaders to fill the tech talent gap isn't just good business. According to Scott White, Associate Professor and Director of Cybersecurity Programs at George Washington University (GW), the future of our democracy depends on it.
"Western Europe and North America are the last beacons of democracy," Scott told us. "The Chinese, for example, have openly stated that cyber warfare is part of their mission. If we don't meet them on these new battlefields, if we allow our industries, research, development to be stolen and corrupted, we're not going to have a strong economy or defense strategy."
For Scott, who leads the cybersecurity department within the university's College of Professional Studies (CPS), arming students with the tech skills they need to combat modern threats is a social responsibility.
"What concerns me the most is a scenario where our adversary launches a cyberattack, takes out critical elements of our infrastructure, leaves us blind, and then comes through with some type of conventional attack," he said. "That's what we have to remain cognizant of."
In addition to technical skills, CPS emphasizes learning opportunities beyond the textbook through real-world learning experiences and a robust career center. Ultimately, the school is on a mission to prepare a diverse group of cybersecurity leaders for high-level careers in the vast and lucrative IT job market.
Degree Completion Programs with an Emphasis on Responsible Growth
Scott, who has a rich history of experience consulting law enforcement agencies in the United States, United Kingdom, and Canada on cybersecurity matters, left his position at Philadelphia's Drexel University in 2016 to build and run the cybersecurity program within CPS.
"The program, which is three years old now, is cybersecurity on top of an information technology (IT) background," he said. "Universities tend to do work in computer science and engineering, and often IT is relegated to the community college, but I don't believe that to be appropriate."
After all, he said, the mission of any information technologist is to apply and adapt current technologies to the workforce to solve problems and make systems run more efficiently. "That's one of the most productive skill sets — everyone needs IT," he said. "Not everyone needs a scientist or an engineer."
The cybersecurity program is classified as a degree completion program, meaning students from traditional community colleges with a background in IT, cybersecurity, or management information systems (MIS) may transfer to GW after earning 60 credit hours. The arrangement is typically more affordable than four-year tracks.
"We have great relationships with community colleges in this area that see the value in an institution like GW," Scott said. "For instance, we have partnership agreements that ensure that students who follow a certain track (in terms of the degrees we've identified at their college) will be able to transfer their credits directly to our program."
The cybersecurity program within CPS started with 32 students in its first year, 56 in the second, and 60 in the third. While the school has enjoyed continual growth, Scott has been careful to ensure it's the responsible kind.
"I want to make sure our resources, in terms of our technology and classrooms, etc., are above adequate when it comes to meeting the needs of the growing program," he said.
A Robust Career Center to Support a Diverse Student Body
Students enrolled in the program have access to the career center within the College of Professional Studies, which Scott said adds additional value to the program. "They help with resumés and CVs, perform mock interviews, and keep students abreast of job fairs, among other services," he said.
Because the student body is so diverse, Scott said those who graduate from the program have varied goals. Some students pursue further education after hitting the ceiling in their current workplace, some are looking for a career change, and others are fresh out of community college.
"It's not uncommon to have a 45-year-old and 20-year-old in the same class coming from different perspectives," Scott said. The school is also diverse in that more than 20% of the student population is made up of women.
Scott said he focuses on recruiting women faculty members as well as students. "I want my male students to see that there are women in positions of authority, and I want the women in my class to know that there's a place for them once they graduate," he said. "We're seeing an increase in women in STEM education, and it's very rewarding."
Students at GW also benefit from the school's setting in that it is located in Washington, D.C., but classified as a university within the Commonwealth of Virginia. This is because students in Virginia have access to grants that Scott said provide approximately $5,000 a year.
"All they have to do is apply, and it's an extra $5,000 that comes right into their lap," he said. "At our price point, that pays for an entire class and a portion of a second class. It works out quite well."
Learning Opportunities Beyond the Textbook
Because part-time adjunct professors teach the majority of courses within the program, Scott said he has ample opportunity to bring real-world experience to the classroom.
"I have an ex-FBI agent who handles my compliance classes, and a former Lieutenant Colonel from the army who oversees risk management," he said. "One of the benefits of hiring adjunct professors is you can handpick experts from your field, which is incredibly beneficial for students."
And, because there is a real need for online security professionals in the D.C. marketplace, adjunct professors benefit from the ability to hire student talent.
"Everybody is vying for the few resources that are here," Scott said. "I've had one especially brilliant faculty member who is great at his job who handpicks students from his class and hires them."
As a custodian of the GW brand, it's Scott's job to make sure his program changes lives by fostering a career path for future professionals.
"The thing about a professional college is it's always student-focused in relation to employment," he said. "Our program is designed to give students the critical thinking skills they need to succeed in the workplace."
On a Mission to Educate Tomorrow's Leaders
Scott said career paths shouldn't end at the cubicle, but that's often the fate of students who receive an education based only on technical skills and certifications. His goal is to equip students with the ability to adapt in the face of quickly changing technology.
That's not to say the school's curriculum doesn't include technical knowledge — it does. "Our mission is to educate future tech industry leaders, and that's an absolute for GW," he said. "Throughout the curriculum, you're going to find all those technical elements — it's inevitable. But I'm not teaching to certifications."
As he continues to grow the program, Scott will look for dynamic ways to engage students, update the curriculum, and expand its degree offerings in step with GW's notoriously high standards.
"You only have to look at GW's alumni over the years to see who we've graduated — judges, senators, vice presidents, media leaders, engineering professionals, and corporate executives. We're doing the same thing in my program."