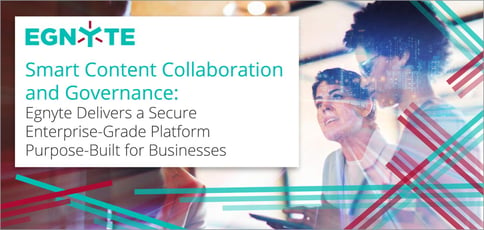 TL; DR: Egnyte's secure SaaS platform is built specifically to help deliver infrastructure modernization, compliant data protection, and content collaboration to businesses worldwide. Since 2007, the company has enabled smart content governance both in the cloud and on-premises. With an intuitive onboarding experience and customer-led development, Egnyte is taking a user-focused approach to managing digital assets.
The term "legacy platform" may bring to mind images of cobweb-covered servers in old closets, especially when compared to the shiny promise of digital transformation. But it's understandable why businesses are often hesitant to let them pass on. In many cases, developers have spent years building these systems up in accordance with unique organizational specifications, and the prospect of losing that precisely defined structure is nothing short of nightmarish.
At the same time, an organization that is stuck in the past from a technological standpoint stands little chance for growth. To stay ahead of the competition and continually improve the customer experience, it's essential that businesses remain up to date with current innovations.
That's why Egnyte designed its secure content platform specifically to help IT administrators upgrade legacy infrastructure at a comfortable speed while preserving historical IT investments. "It's a unified platform for all things content, but we don't box customers in by requiring them to do everything on day one," said Priyank Desai, VP of Product Marketing at Egnyte. "They can adopt the cloud, but at their own pace."
The company's enterprise-grade SaaS solution, designed to be a file server in the cloud, satisfies a number of objectives within the digital transformation realm, including secure file sharing, regulatory compliance, and content governance. The freedom to choose how to personalize digital workplaces and evolve them over time is part of the customer journey, and a self-service onboarding experience ensures that the process is intuitive.
A Unified Content Platform in the Cloud or On-Premises
Headquartered in Mountain View, California, Egnyte supports thousands of businesses worldwide and benefits from investors, including Google Ventures, Kleiner Perkins, Caufield & Byers, CenturyLink, and Seagate Technology.
The company was founded in 2007, the same year as Dropbox. Priyank said many startups at the time were in a race to develop the most efficient ways to share content. Egnyte was on a similar mission, but it tackled the task strictly from a unique business angle, knowing that businesses would soon be looking to reduce or eliminate legacy infrastructure.
"Migrating the 30- to 40-year-old legacy technology of any reasonable-sized business is a lot more complex when it comes to content management than an individual throwing some files in cloud storage," Priyank said. "To help these customers adopt the cloud at a rapid pace without massive change management or training, we had to pick an architecture that allowed us to leverage the same fundamental benefits as an on-prem file server."
Beyond content, Egnyte had to consider folder structures and permissions across hundreds of thousands of users in different global settings. With that in mind, the company created the Egnyte Cloud File Server, which allows users to translate their existing setup — years worth of work — from on-prem to the cloud.
And file sharing is just one element of Egnyte's secure, enterprise-grade content platform. The technology also allows users to access files remotely; eliminate VPNs, FTP servers, and tape backups; collaborate between distributed offices; protect business content; centrally administer access permissions; and reduce overhead, among other benefits.
"These services are all powered by our enterprise-grade secure content platform, and all the possible use cases contribute to what we collectively call infrastructure modernization," Priyank said.
Infrastructure Modernization as Part of the Customer Journey
Priyank said businesses can start their journey on the platform in any way they choose. For example, a business that is facing an upcoming audit may first decide to leverage the company's regulatory compliance solutions, which cover regulations including GDPR, FINRA, HIPAA, and CCPA.
"If you want to ensure that handling procedures meet regulatory compliance, you can start a journey on the same platform with that use case, and then, later on, add secure file sharing, external collaboration, and elimination of file servers," he said.
The platform also helps facilitate data retention systems for companies that are required to store information for periods of several years. For files that are not needed regularly, Egnyte offers archiving services. In some industries, like construction, companies are required to keep records for several years but then must promptly delete them.
"Let's say you are on a construction project, and you're supposed to retain files on a building for seven years," Priyank said. "When it's seven years and one day, you need to physically remove the files because they're a liability. You may have a warranty, and if something happens to the building on the first day after seven years, you want not to be associated with it."
Egnyte provides solutions for a wide range of industries, including communications, financial services, healthcare, manufacturing, and retail. The company also serves businesses of all sizes, from small teams of five to 20 people to large enterprises. The company's sweet spot, however, is midsized businesses from 750 to 7,500 employees.
An Intuitive Self-Service Onboarding Experience
Egnyte's seamless and intuitive onboarding process significantly boosts time to value. "The moment they buy our solution, they should see the value — within a matter of minutes, not hours, not weeks," Priyank said. "You don't have to buy servers or have three IT people working on it at once."
From a user experience perspective, Egnyte offers a desktop app, a web-based UI, and a mobile app that were carefully designed to fit within users' existing workflows.
"In some cases, our customers have been able to swap out their old servers with the Egnyte Content Platform, and when the users come in, they just see the content in their Z drive, P drive, desktop app, Mac Finder, or Windows Explorer," Priyank said. "They do not even know that Egnyte was deployed in their organization."
The idea was to eliminate the need for training and massive change management. "Even the IT administrators are treated like an end user, which is important because in many cases, IT doesn't know who should have access to which file. That's a line-of-business aspect," he said.
Egnyte's partnership with Microsoft also helps streamline the process. The company's tight integrations with cloud solutions like Azure Storage, Azure Active Directory, Azure Key Vault, and Office 365 allows users to augment the technology they already have with Egnyte's powerful platform.
In the same vein, Egnyte for G Suite allows Google users to enhance collaboration and productivity through integration with Egnyte. "You can use Google Docs as an application, but the content behind it actually resides in Egnyte, so all of your security controls, permissions, and unique content goals are applied to the Google Docs," Priyank said.
Customer-Led Development and Industry-Focused Approach
Priyank said Egnyte is exceptionally agile, releasing new features and functionalities every two weeks. These developments are largely informed by customer requests, as the company places a massive emphasis on building what their customers want, rather than what developers think they want.
"All of our midsize and larger enterprise clients are assigned a customer success manager, and they call into the accounts all the time," he said. "All requests that come in go straight to our engineering development tool so that they can be tracked, and the road map is developed on top of it."
Moving forward, Egnyte will focus on ensuring its hybrid architecture provides value for use cases in various industries. The biotech industry, for example, generates massive amounts of data in genome sequencing and other practices.
"Our unique hybrid architecture allows them to have LAN-like access, no matter how large the file is," Priyank said. "We strive to enhance features like that regularly."