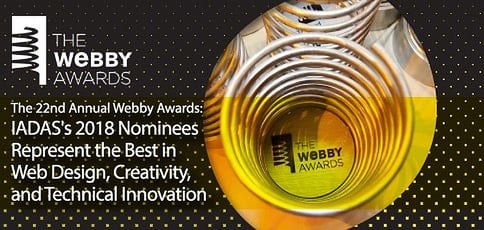 TL; DR: It's that time again — nominees for the The 22nd Annual Webby Awards have been announced, and voting for the Webby People's Voice Awards is open, giving tech enthusiasts worldwide an opportunity to learn from and weigh in on top talent. Known as the internet's most respected mark of achievement, the annual awards show has attracted an incredible lineup of past hosts, including Seth Meyers, Lisa Kudrow, Patton Oswalt, and Hannibal Buress. This year, comedian Amber Ruffin will bring her candid humor to the stage for the May 14 celebration of web culture. Here's why you should tune in.
"It's pronounced 'JIF' not 'GIF.'"
Believe it or not, these five words served as Steve Wilhite's entire acceptance speech at the 2013 Webby Awards, where he was honored with a Lifetime Achievement Award for invention of the GIF. The brief speech is a trademark of the International Academy of Digital Arts and Sciences (IADAS) award show — and a testament to its fresh, creative spirit.
But trading in the long-winded acceptance speech of eras past in favor of a punchy, five-word phrase is just one way The Webby Awards has established itself as the leading international awards organization honoring internet excellence. The team behind the awards also uses its unique perspective to inform its Webby Insights division, which helps clients innovate and gain an edge on competition through industry intelligence. In addition, its brand marketing arm — the Webby Brand Studio — creates and distributes custom content and campaigns to help partners connect with key digital influencers.
Acclaimed comedian and Late Night with Seth Meyers writer/performer Amber Ruffin will host this year's 22nd Annual Webby Awards, which will be held at Cipriani Wall Street, New York City, on Monday, May 14, 2018. Nominees include Amazon Music, Headspace, S-Town, Cuphead, and Google Earth VR.
"We witnessed Webby nominees use the internet in extraordinary ways this year to break down walls, amplify muted voices, discover untold stories, and capture our attention through new innovations that engaged, surprised, and inspired us," said Claire Graves, Executive Director of The Webby Awards, in a recent press release. "The Webby Awards is honored to recognize the hard work and efforts of our nominees this year who took creativity, passion, and wonder to new heights and have truly brought out the best in the internet."
The 'Oscars of the Internet' Breaks Records with 13K+ Entries
The Webby Awards, which was established during the web's infancy, received more than 13,000 entries from all 50 states and 70 countries worldwide this year.
It's grown in stride with the web, now honoring countless categories within seven entry types: websites; film and video; advertising, media and PR; mobile sites and apps; social; podcasts and digital audio; and games. In contrast, the inaugural 1996 event honored only 15 categories.
In that time, The Webbys team has reached many milestones, including the launch of Internet Week New York (IWNY) alongside Mayor Bloomberg in 2008 — which quickly became a hotspot for $50K+ internet leaders and enthusiasts.
Today, it's the world's top internet awards show, complete with a 2,000-plus member judging academy of web experts, visionaries, former Webby Winners and nominees, and other industry leaders. The academy, which was formed using the Oscars as a model, is intended to identify excellence, facilitate growth and development, and provide education in the digital arts and sciences.
Judging: How 2K+ Academy Experts Recognize Tech Excellence
Academy members include Lyft CEO Logan Green, Girls Who Code Founder Reshma Saujani, Gimlet Media CEO Alex Blumberg, Instagram's Eva Chen, Social Entrepreneur Van Jones, Internet Inventor Vint Cerf, and Playmatics CEO Margaret Wallace.
While the team behind The Webby Awards selects these academy members, the voting process is independent and monitored to avoid conflicts of interest.
"We have two very different sides of the world here at The Webby Awards: We have the world of sponsorship and the world of judging, and never those two shall meet," said David-Michel Davies, CEO of The Webby Awards, in a recent podcast about the nominees.
The team has even hired outside accounting firm Ernst & Young to audit the judges' votes and ensure sponsors don't have undue influence.
Winners are chosen based on overall experience and excellence in areas ranging from functionality and interactivity to visual design. Each nominee receives an official framed certificate, and winners receive unique spiral trophies that mimic the event logo. Winners will be announced on Tuesday, April 24, 2018, ahead of the May 14 celebration.
Be Heard: Cast Your Vote for The Webby People's Voice Award
The Webby Awards is also known for granting power to the people through The Webby People's Voice Award, which is open to the public during the annual voting period. All nominees for The Webby Awards are eligible to win The Webby People's Voice Award.
Each year, The Webby Awards receives millions of votes for this honor. This year, it's being sponsored by HBO's "Silicon Valley," a comedy about launching a startup in San Francisco's technological hub.
Voting is open until Thursday, April 19, 2018, at 11:59 p.m. PST. To cast your vote, visit vote.webbyawards.com.
Honoring Top-Notch Talent in Design, Marketing, and Programming
Tech nerds need to look no further than The Webby Awards for inspiration from the industry's best and brightest.
"These are games, these are sites, these are videos, social experiences, marketing, that have literally been vetted by 2,000 of the world's foremost experts on the internet to really get us down to the very, very best in each category," said David-Michel during a recent podcast. "So it's a great way of getting more new awesome stuff into your internet diet, and it's a great way of engaging with the internet at large."
His favorite nominees?
"This year, we added a new category for machine learning — that's really the way the developers are using artificial intelligence," David-Michel said. "One thing done by 360i is called Bravo Tango Brain Training, which is an app for voice devices, like Google Home, for veterans when they come home to help them deal with PTSD and other issues they're going through."
For the best mobile apps and best mobile websites category, Claire's top choice is a little more light-hearted.
"My application is actually something that we here at The Webby Awards have loved for a very long time — an app by our friends at Silicon Valley called Not Hotdog," she said. "It was on an episode on the show. All it does is tell you if the food you're eating is a hot dog or isn't a hot dog."