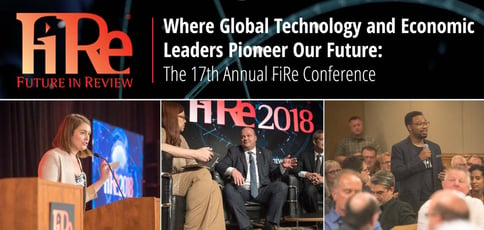 TL; DR: The 17th annual Future in Review (FiRe) conference, presented by the Strategic News Service (SNS), is a global event in which an exclusive group of industry leaders converge to shape the future of technology, economics, and science. Born out of a family business, the meeting is designed to offer an accurate view of the emerging tech industry while igniting positive change. This year's focus is Anticipating the Unexpected, a wide-ranging theme that will encompass advances in everything from autonomous vehicles to AI-powered facial recognition.
If you've ever been to a conference, you know the drill: You travel to an exotic location that you'll only see within the confines of a massive convention center. Upon entering, the registration staff will christen you with a lanyard and name badge.
From there, you'll race from one PowerPoint-heavy educational session to the next in an attempt to get your money's worth, even if the subject matter is not particularly relevant to your career or interests. Ultimately, you will exchange a few business cards, engage in small talk over a catered lunch or dinner, and head home with nothing more than a bag of cheap promotional swag.
The Future in Review (FiRe) conference, launched 17 years ago, was formed to flip this traditional conference model on its head. The intimate gathering — capped at 200 attendees — is an intellectually engaging venue for thought leaders looking for focused conversations centered on emerging technology and its economic implications.
"There was not a place at the time for executives to have meaningful conversations about the future of technology and the global economy," said Berit Anderson, Program Director at FiRe. "A lot of tech conferences out there have a ton of attendees, but no one's talking to each other and you don't get to meet any of the speakers. We deliberately designed FiRe to be the opposite of that."
Today, the event continues to serve as a forum where world leaders can discuss a tested forecast of the future and form action-based partnerships and projects to make a positive impact on the world. This year's event will be held on October 8-11, 2019, at the Lodge at Torrey Pines in La Jolla, California. The theme, Anticipating the Unexpected, will focus on a range of emerging technologies, from autonomous vehicles to artificial intelligence and facial recognition.
A Forward-Thinking Conference Born Out of a Family Business
FiRe's history is rooted in the Strategic News Service (SNS), a trusted source for advanced information in the areas of technology and the global economy headed by Mark Anderson, CEO. Mark publishes the weekly SNS Global Report on Technology and the Global Economy, a subscription newsletter first launched in 1995 to deliver SNS members insight into global trends and predictions within a 3-5 year time frame.
Its readership includes Bill Gates, Elon Musk, Vint Cerf, Michael Dell, Craig Venter, Jeff Bezos, Bill Janeway, Paul Jacobs, and Leroy Hood, among additional tech executives and investors worldwide.
"We are a family business — Mark Anderson is the CEO, and he's also my father," Berit said. "Essentially, he has made a career of reading a lot of content, collecting a ton of information, and finding patterns in that information. He's been able to predict a huge number of economically and technologically important events before they happen, including the global financial collapse of 2008 and the oil price collapse of 2014-2015."
The SNS Global Report circulated for around eight years until it became apparent that readers wanted a place to discuss similar topics in person. "The FiRe conference started in 2003 as a result of that," Berit said.
Over the years, Berit said the FiRe community has evolved into a close-knit group. "It's a brilliant, high-powered group of people who tend to come back year over year," she said. "That, combined with the size of the group, has created a family-like environment."
Uniting the Brightest Minds To Enact Positive Change
In addition to formulating highly accurate predictions, FiRe is focused on solving problems through the collective power of its community. For example, the conference features an annual event known as the CTO Design Challenge in which chief technology officers are tasked with finding a technology-based solution to significant global concerns, such as climate change.
"We've created solution sets for everything from water scarcity to scaling alternative energy," Berit said. "Our solutions for fighting urban wildfires are currently being deployed in San Diego, Austin, and Australia."
A few years ago, the challenge focused on creating a new computing infrastructure to identify patterns in massive datasets without human input. The result was Pattern Computer Inc., a pattern discovery company headed by Mark Anderson that delivers a proprietary, end-to-end system for forming original hypotheses and insights from data.
Attendees also receive the opportunity for hands-on involvement through programs such as FiReFilms, formed in 2012 to help increase awareness of critically important global issues via documentary films. FiReFilms highlights a select film each year with a special screening night with the film's director for conference participants.
"We believe that films are one of the most powerful tools that you can use to foster widespread understanding of specific problems or issues," Berit said. "We work with filmmakers throughout the year to connect them with opportunities for funding and strategic partnerships."
Another program, FiReStarters, showcases up to 12 startups or businesses with emerging technology for promotion based on nominations from strategic investment members. "These are companies that we believe are using technology to change the world for the better," Berit said. "We feature them before, during, and after the show and push them out to our entire network."
An Actionable Forecast from an Interdisciplinary and Global Perspective
When selecting speakers for each year's FiRe event, Berit said it's more about finding the right people who are interested in making a positive impact than it is about attracting big industry names.
"The underlying tenet is a focus on smart individuals and high-level technological and economic strategies," Berit said. "We are also very much a conference with a heart — we look for people who want to work as a community to meet global challenges."
Ultimately, the benefits attendees receive from the FiRe experience are twofold. First, businesses receive advance knowledge on the future of our global economic systems and technology, allowing them to make better business decisions and identify future challenges. For example, Berit said Microsoft Co-Founder Paul Allen read SNS religiously to capture a global perspective that is difficult to come by on one's own.
Second, attendees receive the opportunity to interact with C-level executives and researchers who have the power to do something about those future challenges.
"We see things develop over the years where people form relationships that lead to two companies that didn't know each other working together," Berit said. "It's very formative. I don't know of any other tech conference where that is the case."
The 2019 Agenda: Anticipating the Unexpected
The overarching theme of FiRe 2019 is Anticipating the Unexpected, which Berit said includes a unique lineup of speakers and global topics. For example, H.E. Ambassador Abraham Wen-Shang Chu will discuss Taiwan's role as a beacon of democracy in the shadow of Xi Jinping's China.
The agenda will also include a session exploring society's march toward absolute transparency featuring a member of the Uyghur American Association who was forced to flee China in the face of systemic and widespread human rights violations.
"He's going to be on a panel with science-fiction author David Brin, who wrote a book called 'The Transparent Society' focused on why total transparency is inevitable," Berit said. "We are anticipating very interesting conversations."