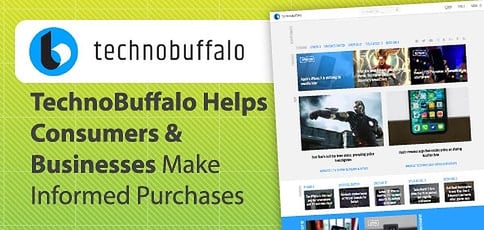 TL; DR: Founded in 2009 by entrepreneur and tech enthusiast Jon Rettinger, TechnoBuffalo has been keeping consumers and businesses informed of the latest technology and tools for nearly a decade. The website broadcasts honest, unbiased product reviews, tips, and tech industry news through an array of resources, including videos, in-depth articles, and its social media channels. Whether you're a consumer looking for the latest smart appliance to add to your home's IoT ecosystem or an IT pro seeking software to streamline your company's operations, TechnoBuffalo's team of experts is there to deliver the info needed to make an educated purchase. We recently caught up with Jon, who told us how TechnoBuffalo evolved over the years and continues to pump out useful educational information to its global audience.
Roughly 10 years ago, Jon Rettinger was living in a one-bedroom apartment in SoCal and eking out a living running marketing for a software development firm. He was getting by, but Jon knew working for someone else for the rest of his life wasn't the path he was destined to take. Then, his PC crashed and he bought his first Mac. Unfamiliar with the new operating system, Jon went on YouTube expecting to find a video guide, but he found nothing but cat videos.
"So I figured I would just try to make some videos and try to help people," Jon said.
He went to work, posting tutorials that walked viewers through how to navigate the OS. A year later, YouTube began its Partner Program, a revenue-sharing system between the company and content creators. Jon found the name of the person heading the project and sent him a three-page, hand-written letter outlining why he should be accepted. And he received a response.
The head of the program asked that he not ever write him again. He also informed Jon that he had been accepted into YouTube's new venture.
"So I made the decision in 2009, when the economy was horrible, to quit a job," he said. "I'll always remember telling my future mother-in-law I was quitting my job to make videos for a living."
Jon hypothesized that video content was going to be the next big hit. He also realized that websites had yet to capitalize on the opportunity, so he began contacting companies and pitching his ability to create content for them. And, after refining his business plan and securing funding, TechnoBuffalo was born.
Today, Jon and the TechnoBuffalo crew are committed to dishing out the scoop on the latest technology and tools to make people's lives easier — whether it's a consumer deciding on a new smartphone or a marketer looking for software to streamline sales campaigns. The aim is to inform — a goal the folks at TechnoBuffalo easily achieve. And the team's entertaining writing style and engaging video production techniques have visitors returning in droves.
Delivering the Scoop on the Latest Tech News and Products
When you get down to the nuts and bolts of TechnoBuffalo's mission, it's really all about helping people avoid making technology purchases that don't deliver the type of ROI they're seeking. The team executes this mission with both expansive and focused profiles of the latest mobile, tablet, computer, home entertainment, and gaming technology. But the content isn't just product centered. TechnoBuffalo also covers tech sector news and geek culture.
As a result of its 10 years in the review space, TechnoBuffalo has earned a stellar reputation among consumers and technology manufacturers alike. Jon and his team regularly receive the latest games, phones, smart TVs, and software, among many other products, to review. And the approach is always the same — reviews are always meant to deliver unbiased insights on the product in question. The team's conclusions on a product are the result of careful study and are transmitted with authority and enthusiasm.
Delivering industry news is a major part of TechnoBuffalo's content strategy. Events, such as Google's 2018 I/O Keynote, are covered to help web professionals and businesses that rely on SEO and analytics prepare for what's coming down the pipeline. On the consumer side, updates, like news of HTC's upcoming release of a new flagship device, help those in the market for a new phone set their expectations and budgets.
In the spirit of Jon's founding mission to help foster better purchasing decisions, TechnoBuffalo's educational resources help readers decode the latest advancements out of Silicon Valley and beyond. One content piece introduces readers to a bundle covering AI and Deep Learning, which provides an in-depth look at the often misunderstood concepts. The seven ebooks and the 10 hours of video in the series examine programming languages and platforms that can help prepare IT pros uncover emerging job markets and opportunities for career advancement.
A Decade-Long Aim to Improve Video Reviews in the Technology Space
Jon told us TechnoBuffalo's video content is really what separates the company from other review sites. And TechnoBuffalo's dedication to continuously improve on this front plays a huge role in the company's success.
"Tech videos, in general, used to be very low-production quality affairs," Jon said. "When video reviews first hit the scene, many people were just using low-quality webcams to show phones and devices. But it has evolved very quickly, and the space became very crowded to the point where people are filming their tech videos on a RED cinema camera. The production quality has just gone through the roof."
Jon noted that being informative is not enough. Videos must look professional and engage consumers. As a result, TechnoBuffalo built its production aesthetic around the viewer experience. The music choice is suited to the product being displayed without distracting from the presentation. And the sound is always edited in a way that magnifies the points being made while allowing the viewer the space to take in the product design.
Along with cutting-edge camera technology, TechnoBuffalo utilizes cinematic techniques to invite the viewer into the narrative. Slow pans and subtle zooms showcase the devices down to the most minute detail. The camera work accentuates the beauty of the design, an important advancement in today's marketplace. Utilizing steady camera technology for tilts and other 3D moves around the products creates the most immersive experiences possible without actually holding the product in your hands.
Simple but timely animation helps demonstrate some of the technology that viewers can't observe. For example, Jon's review of the Sony A1E OLED TV goes into great detail about the product's sound-emitting screen technology. As Jon explained in the review, vibrations are created by the actuators in the back of the set and then amplified through the glass. The process is made clear in the video review with the visual aid of clean, white graphics provided by the production team while Jon gushes about the experience of using the set in the TechnoBuffalo offices.
All of these aspects serve to make the videos more engaging and contribute to their informative value. But the most entertaining element may be Jon himself. He demonstrates his acumen for design and technical capability with fluency and personality. His excitement for Sony's television processors and their ability to handle the playback he throws at his own with sporting events and FPS video games is contagious.
Personality and preferences weigh heavily in TechnoBuffalo's content. However, the focus is always on the technical achievement or lack thereof. Jon told us the goal is to be specific and fair when critiquing a product.
A Competition-Based Content Development Process: Best Idea Wins
Though he founded the company out of a one-bedroom apartment, Jon makes it clear that TechnoBuffalo is now a collaborative effort. And all staff members contribute ideas to the content planning and production process.
"We've made it very collaborative and usually the best idea will win. And oftentimes that's not my idea," he said. "The team sits down together and breaks out what we know, what tech is coming out, and what we want to cover."
Jon told us the content creators at TechnoBuffalo are given plenty of freedom to roam. And this is fine with the company president, who would rather not micromanage employees. He's happy to see team members meet their responsibilities independently. And that autonomy shows in the writing. Opinions serve as subheads in Brandon Russell's review of Huawei's P20 Pro smartphone. Just by scanning the headings, such as "I love the gradient paint job," and "The camera is a triple threat," readers get an idea of Brandon's take on the product.
Another regular contributor, Danny Zepeda, has a succinct style that cuts to the heart of the matter in his posts, often covering electric vehicles and hybrid cars. In a review of Kia's Niro, he praises the new production model, which differs vastly from the concept car unveiled early this year at CES. Danny's initial impressions of the vehicle included "gaudy" and "ostentatious". But he then pivots to the more family-friendly version consumers will see at the local Kia dealership. He praises the 64 kWh battery, which is expected to deliver 201 horsepower and 291-pound-feet of torque, as well as 280 miles on a single charge.
All of this works to hit one overarching metric.
"In all honesty, on the video side, I ask 'Is this interesting to me?'" Jon said. "If I would watch it, then we cover it."
TechnoBuffalo is more of a partnership these days. The Editor-in-Chief uses the same metric as Jon: If he would read it, he publishes it. And Jon said there's just one qualification for all content TechnoBuffalo posts.
"Every article and video is part of our mission statement: It has to engage, entertain and inform," Jon said. "As long as everything we're doing is adhering to those principles, then we're comfortable to run it."
Tech Consumers Without an Agenda – Branding Kept Simple
TechnoBuffalo has become a reliable voice in the tech review space. Companies send products to Jon and his team because of the weight TechnoBuffalo reviews carry with consumers. However, no company is guaranteed a glowing review. Even with products they adore, the team members pull no punches when it comes to design flaws or impediments to a smooth user experience.
An avid sports fan, Jon modeled a recent review on an MMA fight, pitting the iPhone X against the Pixel 2 XL. There were five scoring categories: design, camera, display, performance, and intangibles. The competition was bruising, and Jon gleefully described all the aspects he loved about both devices as well as their vulnerabilities. He delivered on his promise to choose a clear winner. And though the iPhone X's flaws included the "hump" created by the phone's camera housing which prohibits it from lying flat on its backside, Apple's flagship took the match.
TechnoBuffalo maintains its autonomy because it is not owned by a large conglomerate. Jon said he is proud of the fact that the website is able to deliver authentic responses and informed criticism. This freedom has built trust with his readers and allows him to create new ventures that his readers want to see. The company plans to expand its focus and launch a satellite site soon for more movie news, comic books, and anything related to the new generation of geek culture.
For Jon and the TechnoBuffalo team, it's all about being an enthusiast. And the site reflects that without compromise.
"We try to brand ourselves as the voice of the consumer," Jon said. "We are tech consumers and lovers of technology without any agenda."
Advertiser Disclosure
HostingAdvice.com is a free online resource that offers valuable content and comparison services to users. To keep this resource 100% free, we receive compensation from many of the offers listed on the site. Along with key review factors, this compensation may impact how and where products appear across the site (including, for example, the order in which they appear). HostingAdvice.com does not include the entire universe of available offers. Editorial opinions expressed on the site are strictly our own and are not provided, endorsed, or approved by advertisers.
Our Editorial Review Policy
Our site is committed to publishing independent, accurate content guided by strict editorial guidelines. Before articles and reviews are published on our site, they undergo a thorough review process performed by a team of independent editors and subject-matter experts to ensure the content's accuracy, timeliness, and impartiality. Our editorial team is separate and independent of our site's advertisers, and the opinions they express on our site are their own. To read more about our team members and their editorial backgrounds, please visit our site's About page.