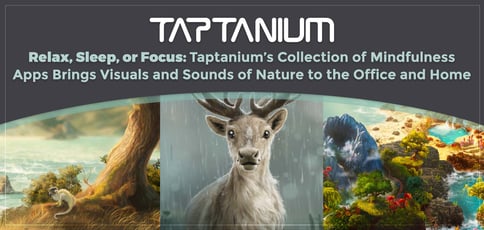 TL; DR: Taptanium offers a collection of wellness apps designed to bring the psychological benefits of nature within four walls. The technology is intended to positively impact the lives of users in a variety of ways, from improving productivity to enhancing sleep. With plans to combine the separate apps into one comprehensive package, Taptanium aims to make it easier than ever to invite land, wind, and sea into our homes and offices.
From the repetitive whoosh of breaking waves to the buzzing and chirping of forest life, the soundscapes of natural habitats have the undeniable power to quiet a chaotic mind. A 2017 study from the Brighton and Sussex Medical School found that the effect of natural sounds on the body may be deeply ingrained in our evolutionary history, affecting both the sympathetic and parasympathetic nervous systems.
Most of us with 9-to-5 office jobs don't have the luxury of unwinding in the wilderness on a daily basis, but that doesn't mean we can't reap the benefits of natural sounds. With innovative new wellness technology from companies like Taptanium, city dwellers can immerse themselves in a premium sensory experience designed to reduce stress, boost productivity, and drown out distractions.
Founder Franz Bruckhoff designed Taptanium's collection of mindfulness apps to mimic the visual and auditory stimuli in a variety of natural settings, including a beach, streams, and a forest. "Listening to nature has a powerful effect on us that acts as a shower for the brain," Franz said. "It gives us the opportunity to let go of stressful thoughts."
Taptanium's app collection also includes custom visuals and a detailed, interwoven storyline intended to transport users into a wild and carefree world. Each app in the series is suitable for unique purposes, from sleeping to concentrating. With long-term plans to unify the content into one convenient app package, Franz plans to make it easier than ever to enhance wellness through the forces of both nature and technology.
Enjoy Better Sleep, Improve Productivity, and Enhance Wellness
Today's startups have turned the traditional office environment on its head. Cubicle walls have come down, dowdy color schemes have been swapped for energizing hues, and height-adjustable desks keep workers in good shape.
Franz said many employers are choosing to fill their new open spaces with music. But not all employees can tune out the noise, and some studies indicate that open offices may reduce productivity by up to 66%.
"Your brain naturally works to decode sounds with high information content, like song lyrics and even people talking, which can make it difficult to concentrate," Franz said. "Nature sounds can be used to tune out these distractions with white noise, but in a pleasant way. It's not just about relaxation — it's also about masking."
Windy, Taptanium's natural white noise app, delivers soothing, high-quality gusts with the option to mix in additional nature sounds as desired. In addition to audio, the app provides 3D imagery of sandy dunes and chilly winter storms that allow users to place themselves within a scene.
For better sleep, Franz recommends Rainy, a free app that comes with two scenes featuring a personable reindeer, the calming sound of precipitation, and a charming narrative about the science behind raindrops. The app is popular with parents looking for a multimedia bedtime story experience.
"All the apps are actually connected in one big story world where these characters live," he said. "In some of the illustrations, you see a distant island. And then in another app, there is another illustration that is actually on that island. These additional touches put users within the scene without requiring a lot of imagination."
A Mission to Calm the World and Positively Impact Users' Lives
Franz has worked with a handful of independent artists to craft his apps, including illustrator Marie Beschorner, composer David Bawiec, and sound recordist Gordon Hempton. "The product is only as strong as its weakest component, so I made sure to hire talented people to fill in the missing gaps I could not provide myself," he said.
But when it comes to development, Taptanium is very much a one-person operation — which is especially impressive considering that when combined, his apps have reached more than 5 million people. Franz said his goal is to use technology to bring humans back to nature.
In the distant future, Franz envisions a world where anyone can visit the most beautiful natural wonders of the world from the comfort of their living rooms. These microvacations, as he refers to them, would see us trading plane tickets for advanced virtual reality technology.
"Not everyone gets to live in Hawaii or California — there are people in hospitals who can't even escape their beds," he said. "How cool would it be to send them to enjoy some nature somewhere else? That's where I want to go with my technology one day."
For now, he's content with doing what he can to improve sleep, productivity, and overall well-being.
"The top benefits of the apps have to be better sleep, which improves productivity, because if we wake up groggy, we can't focus," he said. "And on the other hand, even if we have a good night's sleep, we can't focus if people are chatting around us, so it helps there as well."
Premium Psychoacoustic 3D Audio for Stereo Headphones
Franz said the audio for his apps was recorded using a psychoacoustic microphone that captures more detailed sound than traditional devices, much like 3D films enhance depth perception. "With 3D glasses, there are different lenses for the left and right eye, and your brain combines them into one image," he said. "The same works for sound between the left and right ears."
The Flowing app, for example, includes rich sounds of streams, waterfalls, and rivers in 3D audio that works perfectly with headphones. Flowing's natural streaming water delivers ambient white noise that can be used to drown out noise or soothe listeners to sleep. Listeners can also mix in high-quality music composed by David Bawiec, the sound of rain on a tent, and the songs of birds. And, as a bonus, Flowing also includes three guided meditations.
In addition to 3D technology, Franz said Taptamium's apps include hidden functionalities that differentiate his products from tracks on Spotify or Pandora. "The audio engine was designed so that statistically you don't hear one element more than any others, which is the case when we have an app which would always just play from the beginning," he said. "There are many little polishes like this deep inside."
It's true — many of Franz's apps have hidden treasures tucked within. Away features audio of real coqui frogs and wild Hawaiian chickens recorded with sound field microphones in Hawaii. Sleepy Fan, on the other hand, includes the sounds of oscillating, ceiling, desk, and car fans with a mix of white, pink, and brown noise.
Plans to Unify the Content into One Package
Within the next year, Franz plans to release his entire interwoven collection of apps in a single package.
"A lot of my customers have asked for the apps to be unified into a big offering under one icon, providing all that content in a single powerful product," he said.
Once released, Franz said the apps will be available at no cost, with no advertisements. "I just want to reach the maximum amount of people," he said. "This kind of nature content should be out there for everybody."