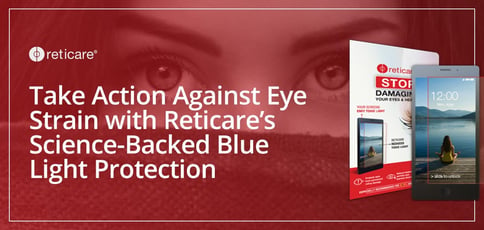 TL; DR: Reticare's eye protection filters, backed by research out of the University Complutense of Madrid (UCM), are designed to mitigate the harmful effects of blue light emitted by computers, tablets, and smartphones. The company recommends that coders and site-builders, among other users, apply Reticare to all of their LED screens, as the highly intensified light they generate can damage the retina, even with moderate usage. Reticare is one of the only companies to rely on 15 years of science in the area of blue light protection to help coders, site-builders, and other IT professionals preserve their sight for years to come.
Despite how many hours a day we spend making money behind screens, we all have the innate sense that the way we're toiling away our time isn't quite right. And now, scientists are backing those suspicions up.
According to Harvard Medical School, continuous exposure to artificial lighting disturbs the body's circadian rhythm, decreasing sleep quality and contributing to cancer, diabetes, heart disease, and obesity. For developers and those who work on site-building projects all day, constant screen exposure could result in serious health risks.
While many so-called blue-light blocking lenses are available on the market today, Reticare is one of the only research-backed solutions available. The company's patented ocular protection solution is based on more than 15 years of optic research from the University Complutense of Madrid (UCM), in tandem with contributions from experts in mobile technology and consumer electronics.
"Reticare is a screen protector that you can place on the devices you use, including your monitor, tablet, and smartphone, and it pinpoints and reduces the harmful parts of blue light," said Değer Saner, Director at Reticare. "This prevents retina cell damage, which is irreversible and can lead to macular degeneration, the number one permanent cause of blindness in the world today."
Değer told us Reticare's technology also helps with headaches, migraines, sleep disorders, and — according to a recent third-party study — dry eye syndrome.
"Staring at screens causes you to blink less, or you have incomplete blinking, and people unconsciously rub their eyes when this happens. Reticare helps normalize the incomplete blinking and reduces the dry eye symptoms."
Değer recommends that those with computer-based jobs apply Reticare to all of their LED screens, as the highly intensified light they generate can damage the retina. And the habit of rubbing one's eyes due to damaging light is especially risky amid an ongoing pandemic.
"Medical studies show that the eyes are one of the key entry points for the COVID-19 virus," Değer said.
Eye Protection Filters Born Out of the Complutense University of Madrid
Reticare is a product of Tecnologia Sostenible y Responsible, a 100% Spanish-owned company established in July 2015. The team has over 15 years' experience in both electronic device development and design.
"We launched Reticare in the U.S. almost six years ago," said Değer, who has worked for the company for five years. "It's a family-owned company on a mission to save the world from a global ocular crisis," she said.
Tecnologia Sostenible y Responsible was working in the consumer electronics technology industry focusing on device screens when the company's CEO, Nilo Garcia, met Dr. Celia Sánchez Ramos, a professor at the University College of Optics at Madrid's Complutense University, while at a conference.
"He happened to meet one of the most prominent eye specialists at the University of Complutense in Madrid, and she said, 'Do you know that these monitors that you sell are hurting people's eyes?'"
At the time, blue light protection was a vague concept limited to scientific circles. To introduce the innovation to the mass market, Tecnologia Sostenible y Responsible created Reticare based on the work of Dr. Celia Sánchez Ramos.
"Redicare is the only scientifically proven eye protection from blue light to date," said Değer. "Today, we have a lot of corporations and companies that buy protectors from us. Reticare is present in more than 100 government and corporate institutions. We also have an online store, and we get orders all day long."
Mitigating Eye Problems Spurred by Increased Screen Time
Today there are more than 500,000 Reticare users worldwide. "That's 1 million eyes, since most everyone has a pair," Değer said.
The company's greatest concerns revolve around IT workers, such as developers, sysadmins, site-builders, and web designers. The company is also focused on helping the growing population of remote workers and children attending virtual schools in the COVID-19 era receive proper eye protection.
"Between digital workplaces and schools, people are using their devices more than ever before," Değer said. "About seven years ago, the market started to massively implement LED backlight for device screens with greater intensity that emit high-energy blue light. The combination of increased hours and exposure to intense light can be hazardous to our health."
In a study on retinal damage by light, researchers found that the retinas of lab rats were irreversibly damaged by intense light.
"Structural and gene expression damages were studied on the retina of pigmented rats, which were divided into three groups: a exposed group, a protected group, and a controlled group," Değer said. "The first group was exposed to white LED light from tablet screens currently on the market. The second group was made up of rats of the same species exposed to white LED light from tablet screens with Reticare physical filters, which absorb the ideal amount of short-wavelength light."
"The methodology used for light exposure consisted of six tablets placed only around the sides of the cages (not at the top or the bottom of the cages)," Değer said. "The tablets were switched on for 16 hours and then switched off for eight hours a day over a three-month period. In both cases, with and without filters, the results were compared with animals in the controlled group."
"When looking at the retinal structural analysis in each group, it showed a significant reduction of 23% in the number of nuclear cell layers in rats that were exposed to unfiltered light from tablets," Değer said. "Rats exposed to filtered tablets with Reticare eye protection white LED light did not show any significant difference in retina layers."
Trusted by Individuals, Organizations, and Government Institutions
Reticare hit the market before most people knew what blue light was. Since then, a number of competitors have popped up, many of which advertise their product by percentage of blue light absorbed. Reticare takes a different approach.
"Reticare absorbs the toxic part of light, between 380 and 500 nanometers" Değer said. "Talking just about percentages can be confusing for the user. What is really important and what customers expect the most are the results they benefit from by using Reticare. That's our science, which shows the concrete results of Reticare eye protection."
Reticare's 15 years of experience and focus on research has helped the company earn the trust of 500,000 individuals and hundreds of organizations and government agencies, among them two Nobel Prize Winners, the U.S. Senate, and West Point Academy. Değer said one of her jobs is to educate a range of users to prevent the risks associated blue light exposure.
"We encourage healthy vision because no one should take chances with their eyes," Değer said. "If people really understand what this high-intensity light does to you, they wouldn't hesitate one moment to take action."
Custom Solutions Available to Fit the Latest Screens
Reticare is planning to work more closely with technology manufacturers to pair the protectors with newly released screens before they are released to the market.
"As an example, when a new electronic model of a device comes out, third-party manufacturers should immediately recommend the right Reticare screen protector that will fit it," Değer said.
That said, Reticare products are sized to fit nearly all popular monitors, smartphones, tablets, and laptops. "But if we don't have your brand, you can actually buy the filter closest to your screen size and trim it," Değer said. "It's 100% flexible and scrollable."