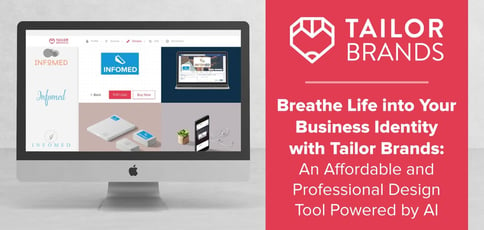 TL; DR: Tailor Brands, founded in 2014, is on a mission to make professional design accessible to entrepreneurs and SMBs. The company's full suite of customizable tools leverages the power of automation to deliver a fast and affordable alternative to freelancers, graphic designers, and agencies. By combining stunning artistry with powerful technology, Tailor Brands aims to help businesses make a lasting impression on their target audiences.
Branding Consultant Scott Bedbury knows a thing or two about marketing.
As former Advertising Director for Nike, he had a hand in the brand's infamous "Just Do It" campaign. And, while serving as Chief Marketing Officer at Starbucks, he helped position the coffee shop as a welcoming third place between home and work.
So when Scott said, "Branding is everything — and I mean everything," there was significant weight behind his words.
Still, for the average entrepreneur — who juggles sales, accounting, operations, customer service, and legal responsibilities — branding is often too expensive and time-consuming to be given proper attention. This creates a downward spiral: Without accessible and professional design services, it's nearly impossible to stand apart from the competition.
Enter Tailor Brands, a design agency committed to streamlining the branding process for small and medium businesses, helping them build recognition, loyalty, and credibility.
"It's a one-stop shop for branding that's affordable, fast, and beautiful," said Tom Lahat, Co-Founder at Tailor Brands. "These days, companies must put forth a consistent and professional image because internet users are so flooded with visuals that they can tell the difference between professional and amateur design in just seconds."
Tailor Brands puts professional design within reach through customizable solutions for building complete, industry-specific brand identities powered by machine learning. The company's easy-to-use suite of tools empowers entrepreneurs without technical skills to create logos, watermarking tools, presentations, business cards, branded merchandise, and social media posts, among other assets.
When combined, these resources create memorable and consistent brand presence while simplifying daily tasks so entrepreneurs can focus on what's really important: their core business missions.
The Clever Alternative to Freelancers and Agencies
Headquartered in Brooklyn, New York, Tailor Brands was founded in 2014 by Nadav Shatz, Yali Saar, and Tom. At the time, Tom, who has a background in design, said there was a prominent gap in the market.
"Professional designs were not easy to get," he said. "You had freelancers who were either hard to hire, expensive, or unreliable. You also had big design agencies with slow turnarounds where you would get lost in the back and forth."
Tom's goal was to provide an alternative solution for delivering credible, fast, and affordable design services. He wanted the service to be based online, but miles above its ecommerce competitors at the time in terms of sophistication.
"What you had on the web at the time were sites where you could, for example, enter text, and the system would spit out your logo as a GIF in flaming text," Tom said. "That was your option. We wanted to create something more respectable."
Tailor Brands brought forth a far better choice with its AI and machine-learning engine, which helps brands create credible design assets quickly and easily. The Tailor Brands Logo Maker, for example, leverages an AI algorithm to create the perfect logo based on user input regarding company type and design preferences.
First, the user enters a business name and company information and chooses between name, icon, and initial-based designs. Next, the company's This or That tool guides the user through font choices, allowing the algorithm to better understand the user's aesthetic and brand personality.
The logo creator will then present multiple design variations and give the user the option to customize fonts, colors, sizes, and text as desired. The process often takes less than five minutes, and the design process is free. Users can download a low-resolution version of the logo for no cost (charges only apply to vector files). Users retain full commercial rights to their designs.
Tom said the logo maker's AI-driven algorithm uses machine learning to determine popular layout structures and color palettes, as well as dynamically analyze current trends.
"Our platform relies heavily on data," he said. "If we add and recommend a new effect based on trends in the design world, and users choose an alternative, we start recommending that alternative. It's like we have thousands of little testing groups."
A Fighting Chance: Removing Barriers to Design for SMBs
It's no secret that entrepreneurs frequently tap into their own savings to fund their passion projects. In fact, research from the Small Business Administration shows that personal and family savings accounts are the most common source of capital SMBs use to finance business growth, outranking profits, financial loans, and credit cards. To survive, entrepreneurs have to budget their finances carefully, especially considering that 23% of SMBs fail because they run out of cash.
Fortunately, modern technology is leveling the playing field for bootstrapped entrepreneurs — at least in some respects. "Nearly every brand today has a presence on Facebook and Instagram," Tom said. "It's the equivalent of a front door. But the cool thing is, both Nike and your mom-and-pop shop have equal access to a Facebook page."
In that way, a company's design and branding assets set them apart more than their advertising platform. And that's where Tailor Brands comes in to even the playing field again, giving smaller businesses a chance to compete in online markets.
"We want the local coffee shop to have the chance to stand out among the competition, despite how large of a marketing budget Starbucks has," Tom said. "It sounds intimidating, but we help companies break branding down into easy steps."
Tom said the logo is the first course of action when developing a company's visual language. To ensure customers express their brand personality accurately during this crucial phase, the Tailor Brands blog provides a wealth of easy-to-understand tips and insights on customization, common mistakes, colors and fonts, and icons, among other information.
In a creative rut? If users need inspiration, the company also offers a comprehensive guide on logo designs for a range of industries, including photography, real estate, gaming, construction, fitness, trucking, fashion, beauty, art, education, and sports.
Everything From Logos to Entire Brand Stories — in Minutes
Tom told us that Tailor Brands is a one-stop shop for nearly any branding need. The demand for such services was clear from the start, even when the company only provided logos as its bread and butter.
"They wanted more," he said. "They would create their logo and say, OK, 'How do I make it look good on Facebook?' or "What should I do with my landing page?' From there, we started creating more and more products."
Today, the goal is to get customers started with initial branding assets (logos, business cards, and so forth) and then help them scale their businesses as they grow.
"After we help you solidify your branding, essentially making you exist, we will move into steps toward growth, whether that's social media ads, printed promotions, etc.," Tom said. "That will be our focus for 2020."