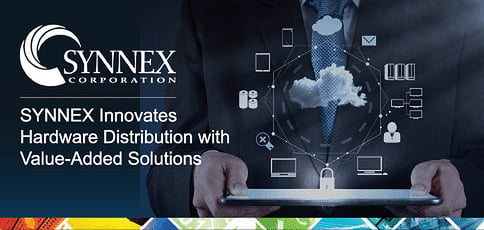 TL; DR: Best known as a technology hardware distributor, SYNNEX pumps more than just components into the tech industry. The company's aim is to supply their clients with solutions to vertical-specific problems so as to increase efficiencies and drive revenue. From hardware and server builds to cloud and value-added services, SYNNEX's footprint encompasses a wide area. Their partnerships with companies operating in multiple markets gives SYNNEX a unique perspective from which to view and project industry trends. The company's vantage point is a valuable asset for hosters wanting to employ new techniques to increase efficiencies or step into new verticals. This, coupled with their dedication to employing experts from industry-specific niches, positions SYNNEX as a leader in helping companies solve problems and scale businesses.
In 1974, famous physician, biologist, and author Lewis Thomas published his collection of essays The Lives of a Cell. With detailed and often poetic language, Thomas posited that, from a certain vantage point, the Earth resembles a single living cell with all of its composite parts working together to create the semblance of a complete living organism. The analogy isn't a perfect one, but it is apt. Just as the organelles within a cell work to ensure the proper functioning of the whole, so, too, do the various systems of Earth work to create the balance of the planet.
A similar analogy can be drawn in relation to industry. The term itself draws images of components working together toward a common end. Though, when viewed from the right vantage point, industry becomes something of a living, breathing being. Manufacturers, vendors, distributors, wholesalers, and retailers work together toward a whole that somehow adds up to more than the sum of the parts.
When we look closely at the components of industry, each is integral to ensuring a healthy system. Manufacturers build. Wholesalers and retailers sell the products. Right in the middle are the distributors — the pump supplying the lifeblood that keeps the system linked and healthy.
For almost 40 years, SYNNEX has been filling this role in the technology industry. They're most famous for their long history as a technology hardware distributor but have been innovating and expanding along the way.
From hardware and server builds to software and cloud solutions, SYNNEX operates with the primary aim of helping their clients solve problems and drive revenue. By recognizing trends and staying in front of market growth, SYNNEX is the support system that helps their partners and the tech industry at-large thrive.
Expansion to Hybrid Model Changes the Role of the Hardware Distributor
SYNNEX's story began in 1980 when they were founded as a technology hardware distributor. The San Francisco Bay Area company achieved wide success, part of which was due to their ability to adapt to market conditions and willingness to enter new markets.
"We're a kind of company who's ready to expand at the right times," said Rob Moyer, Vice President, Cloud Services. "We started out in distribution, but we've expanded and done very well."
Rob had a software background running distribution for Microsoft and came to SYNNEX seven years ago, a time when the company recognized industry trends moving toward a hybrid model of on-premises and cloud-based applications.
"As the world's shifted, I think technology hasn't changed much," Rob said. "It's just the way we connect things that are much different."
Rob noted there has always been baseline server networking software application and edge devices, but now software has become to define everything.
"In many ways, the world hasn't changed. It's still server network edge devices," Rob said. "But instead of them being PCs, they're everything — your car, phone, PC, Mac, whatever. But you still have software applications running on a network that probably has a little bit more software than it did in the past, and you still have a baseline of a lot of servers."
Though there have been leaps and bounds over the years with technologies, like VMware and containers, Rob pointed out there are more servers today than there have ever been. And for a company like SYNNEX always looking for ways to stay ahead of game, that translates into an opportunity to expand into a hybrid cloud model.
"For me, I was excited because I came from the software side," Rob said. "I think, at times, people get over-pivoted on cloud when really it's the bridge to cloud. On-premise is still significant. There is still a lot of local control, but people punch out workloads to the Cloud. I think that's what's exciting for a company like ours because we get to see both sides."
Because of this perspective, SYNNEX is able to provide unique solutions for their partners. By identifying trend lines, as Rob told us, SYNNEX doesn't necessarily make markets for their partners; they help their partners take advantage of markets.
How SYNNEX Services Add Value, Drive Efficiency, and Boost Returns
For hosts, its all about maximizing network efficiencies in a way that provides the largest return on investment. In SYNNEX's view, there are two ways to do this — find the most cost-effective ways to manage infrastructure and identify areas of growth in new markets or verticals and take advantage of them.
"At the end of the day, you're either saving money or creating opportunities to make more," Rob said. "For hosters, the questions become how to create the most efficient networks possible, which is an IT question, or how to step into the markets you serve and expand your footprint."
Wanting to increase efficiencies and move into new verticals is not a new schtick for hosters. However, because SYNNEX works with so many partners involved in a multitude of verticals, they see trend lines before they happen and can help hosters hedge their bets on the best moves to make.
"Let's say there's a wave of disruption coming, and, as a company, you can only make three or four bets and execute on them, but there are 10 things to bet." Rob said. "That's why you work with a company like SYNNEX who's vetting these out and saying 'based on your profile and company, here are a couple you ought to look at, and we'll augment your capacity and help you get there.'"
SYNNEX's philosophy is centered on figuring out the best ways to solve problems. Whether that's by helping build businesses around a hybrid cloud model, looking at trends like containers and VMware, or helping companies make the right decisions based on market trends, SYNNEX has a proven track record of success.
Grow Faster Than Market With the Help of Experts Who Know Your Field
The ability to innovate and identify market trends is a big deal for companies wanting to succeed in the tech industry. Again, SYNNEX has set themselves in a leadership position in the way they approach market- and vertical-specific problems.
One methodology that differentiates SYNNEX from the pack is their recognition of a shift in the decision-making capacities within many companies. SYNNEX saw that IT professionals were not necessarily the individuals making decisions on technology in certain verticals.
"To get into the education space, we hired four educators. To get in the public safety space, we hired a police chief," Rob said. "We didn't just bring in IT professionals. We brought people who actually use the technology and understand how decisions are made."
SYNNEX's goal in doing this was to help their clients easily make the bridge to the Cloud as they entered these verticals where trend lines were disrupting current technologies. In the education industry, SYNNEX was able to use Chrome at the edge of the network, employing a Chrome management console to back it up into the on-premises environment. This enabled a seamless on-premises punch out to a Chrome environment for students.
"You can take any vertical and have the same effect," Rob said. "The same thing's happening in public safety where you have these edge devices and need a way to manage them and figure out a way to connect them to your core infrastructure, whether that's private or public."
For the decision makers in these industry-specific niches, SYNNEX's approach is a breath of fresh air. Instead of everything being IT-driven, solving problems becomes user-driven. Rob noted the response from SYNNEX's partners has been huge because of this.
"We have experts talking to influencers in their fields," Rob said. "That goes a long way in understanding the end-user and how to understand exactly what they need. Our #1 goal is to help our partners grow faster than market."
SYNNEX Continues to Facilitate Seamless Transitions to a Hybrid Cloud
SYNNEX's primary mission is to help their clients segment markets and augment capacities so they can get closer to solving the end-user's problems. Going forward, Rob sees a lot of opportunity in helping people transition to a hybrid cloud model.
He told us Migrations-as-a-Service giving a seamless cloud is definitely a trend worth noting. Rob thinks the answer to building such a hybrid cloud is moving workloads into different spaces.
"If you architect it correctly, you don't create a cloud lock-in, but you optimize your spend," he said. "So, you may move certain things out, like email and productivity apps, but your core functionality — your databases, your analytics — have to go to both sides, whether it's on-premises or public."
One thing's for sure about SYNNEX: They're going to remain at the heart of the technology industry, pumping the lifeblood into the components that make systems thrive and providing solutions to keep the industry breathing and healthy.
Advertiser Disclosure
HostingAdvice.com is a free online resource that offers valuable content and comparison services to users. To keep this resource 100% free, we receive compensation from many of the offers listed on the site. Along with key review factors, this compensation may impact how and where products appear across the site (including, for example, the order in which they appear). HostingAdvice.com does not include the entire universe of available offers. Editorial opinions expressed on the site are strictly our own and are not provided, endorsed, or approved by advertisers.
Our Editorial Review Policy
Our site is committed to publishing independent, accurate content guided by strict editorial guidelines. Before articles and reviews are published on our site, they undergo a thorough review process performed by a team of independent editors and subject-matter experts to ensure the content's accuracy, timeliness, and impartiality. Our editorial team is separate and independent of our site's advertisers, and the opinions they express on our site are their own. To read more about our team members and their editorial backgrounds, please visit our site's About page.