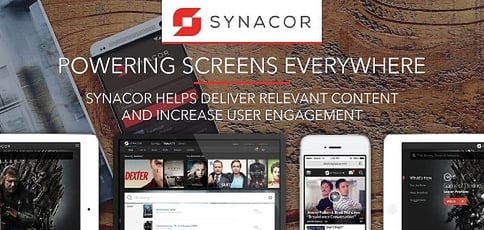 TL; DR: Helping cable and video operators scale their businesses and extend their subscriber relationships, Synacor follows a mission of enabling customers to better engage with consumers. The 20-year-old company delivers managed portals, advertising solutions, email and collaboration platforms, and cloud-based identity management services, working with 120 service providers, 1,000 govevrnment agencies, 2,500 businesses, and hundreds of web publishers around the world. Through Cloud ID, Synacor seamlessly connects users with vibrant videos and online programming across all devices.
Imagine sitting down on the couch after a long day of work, ready to relax and finally catch the season premiere of your favorite show. You grab the remote, point it at the screen — and have to type in two usernames and passwords.
With TV Everywhere, where audiences can access content through mobile apps, internet-based services, and devices like Apple TV, viewers often have to confirm their cable subscription and enter an additional passcode to link the device to their account. It's a frustrating process that leads to half of all viewers giving up on their favorite show because of the tedious logins.
By simplifying the sign-on experience, however, Synacor has seen a 20% increase in viewers and an 80% lower rate of abandonment, according to Vice President of Corporate Marketing and Communications Matthew Wolfrom. The company, behind many successful video, internet, and communications experiences, powers the multiscreen and multiplatform interactions between cable providers, device manufacturers, and the legions of diehard television fans.
"Watching TV shouldn't be a struggle," Matthew said. "No TV provider wants to turn audiences away. But all too often, pay TV subscribers sit down, turn on their chosen device, and frustratingly fail to access their TV Everywhere because the login experience is too hard. This annoying scenario is happening on couches, in beds, and out of the house, wherever audiences have an internet connection and a screen."
Cloud ID Eases the Login Logjam With Simplified Authentication
Synacor, celebrating two decades in business, helps cable operators, internet service providers, advertisers, and publishers reach consumers with engaging content. The company produces informative homepages and portals, email solutions, and identity management solutions; Synacor also serves relevant advertising to monetize the customer interactions and shares the revenue with its customers.
One of the most exciting products to Matthew, however, is the identity management platform that connects consumers and content. Cloud ID implements single sign-on technology and authentication services that enable viewers to access online entertainment across multiple devices while allowing video providers to manage access levels and prevent fraud.
"This is an exciting area for us, one that is showing growth and recurring revenue," he said. "More and more people want to watch TV on all their devices but are struggling to do so. Cloud ID gives them a streamlined and seamless experience."
With Cloud ID, viewers can unlock all of their programming with one click. The white-label platform is the first authorization system to allow customers to use social media logins or home-based authentication, which relies on ISP network-level data associated with the consumer's IP address to verify TV subscriptions.
"We bring together and enable all these business rules to play videos at scale to answer the demands of consumers," Matthew said. "People want the experience to be clear, easy, and seamless. The technology should not be overbearing."
Single Sign-On Boost Apple TV Users' Access to Content
Although configuring single sign-on, or SSO, authentication on websites is relatively straightforward, using one login credential to access a connected network of content and applications get more complicated on mobile devices, according to a Synacor white paper. Using a specially designed software development kit, however, programmers can manage the operating system-specific nuances of SSO. Android functionality is a bit more limited, but Apple offers a proprietary SSO service for Apple TV, iPad, iPhone, and iPod Touch.
"We are very pleased that the current wave of multichannel video programming devices Apple launched are almost all running on Synacor's Cloud ID Advanced Authentication platform to support single sign-on for iOS and tvOS," Matthew said. "It is a testament to the robust and reliable nature of our Synacor-as-a-Service platform."
Synacor Cloud ID is the industry's only end-to-end identity platform that simplifies the subscriber login experience anywhere they access programming, he added, whether end users are at home on their wifi network, on a connected TV, or using a mobile device. Apple SSO users will only need to sign in once on devices to access authenticated applications. Once an iPhone, iPad, or Apple TV user is signed into an app, the subscriber will automatically be logged into all other supported apps requiring authentication from participating providers.
"Today, we can authenticate more than 95 million households in the US through Cloud ID," Matthew said.

With Cloud ID, Apple users can enjoy single sign-on functionality across a variety of devices."The last thing any these consumer electronics manufacturers want to do is manage all the disparate billing and integration issues across hundreds of operators and hundreds of devices," Matthew said. "If you have one platform that does that, you can focus on what you do best, which is creating content and delivering content or devices to display that content. You don't have to be a software authentication company.
Restricting Password Sharing Without Angering Customers
Market research company Parks Associates estimates that 16% of broadband subscribers use shared login credentials to stream television programming to the tune of a $3.5 billion loss for cable providers. That figure is expected to soar to $10 billion by 2021.
"Password sharing and its impact on the industry is an important issue that needs to be addressed," Matthew said. "Rather than taking a heavy-handed approach using technology to enforce business rules, we can have a meaningful impact in combatting piracy without damaging the brand."
Sharing passwords makes sense to Matthew, who sees two paths service providers can take, one being the draconian response from the late '90s when people stole cable.
"But that's probably going to drive people away," he said. "That's going to damage the brand, and who wants to give money to somebody who acts as a police state?"
Instead, Matthew suggested implementing better rules to protect cable providers. Organizations can choose to limit the number of concurrent streams on each account, or introduce more expensive plans that cover unlimited streaming.
"People are willing to pay more for unlimited streaming," he said, pointing toward the successes of Google Music, Netflix, and Spotify. "That's where Synacor comes in to create and sustain those rules while meeting the demands and expectations of the consumers. We're addressing a business problem while maintaining the scale and positive relationships with consumers."
How Broadband, Millennials, and Mobile Devices Impact Video Streaming
When Synacor launched in 1998, broadband internet connections were just starting to appear in homes across the country.
"It was nothing like today, where you have 100Mbps coming into your home for a pretty minor price," Matthew said. "Back then, the main drive was giving people a strong desktop experience when they log on to this new service."
Now, the prevalence of smartphones, tablets, and wireless connections means customers want to access content from multiple locations and devices. Providing a consistent and unified experience across devices is critical for organizations, according to Matthew.
"You pay for it in your home, but maybe you're traveling and want to watch that content," he said. "You should be able to seamlessly log in. If you can't do that, you're likely going to abandon that service. That's a huge problem."
The revenue shortfalls associated with losing viewers can be staggering; Matthew said cable operators could see market growth of $4.2 billion by luring more millennials back to subscriptions.
"The millennials, who are viewed as cord-cutters and cord-nevers, represent a huge part of the market," he said. "Just getting some small percentage of them online is a huge opportunity, particularly if they can get to the content when they want and how they want it."