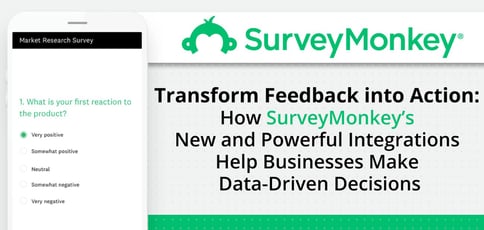 TL; DR: SurveyMonkey is on a mission to help individuals, teams, and enterprises measure, benchmark, and act on survey data, turning insight into action. More than 100 data integrations allow users to make the most of professional surveys tailored to individual use cases. With the acquisition of the voice of customer company Usabilla and continuous product development based on user feedback, SurveyMonkey is ensuring customers have the tools they need to drive success.
Disney World has been spooking patrons on its Haunted Mansion ride since 1968. From the minute visitors step into the elevator room, they're greeted by four seemingly innocuous portraits. But as the ceiling slowly rises, the bottom half of each painting comes into view, revealing a darker story.
A portrait of a little girl holding a sun umbrella lengthens, revealing that she's perched upon a tightrope above a salivating crocodile. A painting of a seated man begins to stretch, making it clear that he's resting on the shoulders of another man drowning in quicksand. The unnerving illusions go on.
Besides introducing a little fright to an otherwise magical park, the elevator in the Haunted Mansion underscores the importance of context: If you can't see the entire picture, there's no way you can fully grasp the situation.
Sarah Din, Director of Product Marketing at SurveyMonkey, understands this concept well. In the company's two-decade history, it's helped users collect massive amounts of survey data, all while realizing that data alone is worthless without a frame of reference.
"Data has become ubiquitous in the business world, but without context, you can't really understand why things are happening," Sarah said. "That's where we fit in this space: We offer a unique perspective by putting more value on contextual, explicit data, and it's starting to make a big impact on how businesses perform and improve the customer experience."
Today, SurveyMonkey's mission is to help curious organizations around the globe to make critical business decisions based on comprehensive information. The company also drives value through customizable solutions and integrations with tools such as Salesforce, Microsoft Power BI, and Slack. Now, with the recent acquisition of Usabilla, SurveyMonkey is helping customers turn real-time digital feedback into actionable data.
From Slack to Salesforce: Add Context with 100+ Data Integrations
Sarah said data is far less challenging to collect than to operationalize, which is why SurveyMonkey's products were built to ensure seamless integration within customers' existing workflows.
"Businesses shouldn't have to employ data scientists to make use of the important information they collect," she said. "Anyone in an organization should be able to use data if it is visualized in a way that is easy to understand, so we've really focused on building integrations with data visualization tools such as Microsoft Power BI and Tableau."
If SurveyMonkey provides the "why" behind data, integration with Power BI takes things one step further, allowing customers to explore data through stunning, shareable visuals compatible with any device. "Enabling users to create and collaborate on customized dashboards allows them to make well-informed decisions at a faster pace," Sarah said.
Of course, that's one integration option out of hundreds of apps and plugins.
To better understand their customers, users can also connect survey results with data in CRMs like Salesforce. Or marketers may choose to better understand prospects by integrating survey data with marketing automation apps such as Hubspot or Oracle Eloqua. Users can also import survey data into popular collaboration apps as well as analytics and reporting tools.
"In recent years, we started to realize how important integrations are and have put a lot of development efforts into building bigger, more robust, premium integrations," Sarah said.
Turn Real-Time Digital Feedback into Actionable Data with Usabilla
In early March 2019, SurveyMonkey announced plans to acquire Usabilla, a leading voice of customer (VOC) technology provider that empowers enterprises to collect, analyze, and take action in response to real-time feedback. The platform, which aligns with SurveyMonkey's product strategy, provides enterprises a way to collect qualitative and quantitative data that can be used to inform critical business decisions.
"What's so special about Usabilla is they have a tool that allows you to collect real-time digital feedback," said Sandra Gharib at SurveyMonkey. "Imagine a customer is browsing a site, and something's wrong with the shopping cart. With Usabilla's in-page feedback tools, the customer can provide instant feedback, and the issue can be addressed in a timely manner."
Usabilla's innovative and secure platform aligns seamlessly with SurveyMonkey's existing solutions, allowing enterprises to leverage a comprehensive data portfolio. It complements SurveyMonkey CX, a flexible NPS solution businesses use to collect, understand, and act on customer feedback; as well as TechValidate, a platform that transforms feedback into valuable content. In addition, Usabilla's solutions integrate with platforms that SurveyMonkey users have come to know and love, including Slack and Jira.
Headquartered in Amsterdam, Usabilla serves more than 450 enterprises in 35 countries, which will also allow SurveyMonkey to expand its already significant international reach. In addition, the acquisition will help SurveyMonkey better serve large companies through Usabilla's experience with Lufthansa, Philips, and Vodafone.
"Usabilla's outstanding user experience solution for capturing real-time digital feedback enhances our enterprise offerings and expands our international footprint," said Zander Lurie, SurveyMonkey CEO. "Every brand needs to offer a compelling digital experience to win and retain customers — Usabilla's solution helps companies collect 100,000 feedback interactions daily so they can improve their digital experiences and drive growth."
Create Professional Surveys Tailored to Individual Use Cases
SurveyMonkey attracts a wide range of users who leverage the company's many survey templates to get the answers they need. Customers may use the company's methodologist-certified templates for academic research, quizzes, customer satisfaction polls, market research, school surveys, and employee satisfaction surveys, among many other purposes.
"The use cases vary from customer to customer, but customer feedback, customer satisfaction, and customer experience are some of the most popular survey types," Sarah said. "There's also a lot of businesses that use SurveyMonkey internally to gather feedback and make changes that positively affect employee engagement."
But that's not all: SurveyMonkey guides users through the process for each survey type. For example, the company provides a variety of information on how to use surveys to measure employee morale and increase happiness.
In addition, the templates are designed to measure specific areas of concern, including compensation, financial wellness, benefits, supervisor performance, and career development. The company even provides a list of example questions employers can use to understand their team members on a deeper level, plus tips to improve response rates.
If you're conducting a type of research where you don't have your own pool of survey subjects, tools like SurveyMonkey Audience make finding your target market a breeze. As a marketer herself, Sarah said this product allows her to run intelligent market research from start to finish in a matter of minutes.
"I've worked at other companies where I've had to pay tens of thousands of dollars to perform market research, which is an arduous process that takes months," she said. "Being able to reach market prospects instantly and make changes based on their feedback is very valuable."
Product Development Through the Power of Customer Feedback
This year marks SurveyMonkey's 20th anniversary. Moving forward, the company will continue to leverage customer feedback — collected via (you guessed it) the SurveyMonkey platform — to inform its product development road map.
"We're focused on enterprise customers that need administration and governance but also want to solve for a variety of use cases within their organizations, whether for market research, product surveys, or employee engagement purposes," Sarah said. "We want to ensure a plug-and-play experience where users can customize the product around exactly what they're trying to accomplish."
SurveyMonkey will also focus on expanding its already comprehensive set of integrations to ensure customers can reveal every detail of the story behind their data. As Disney's Haunted Mansion shows us, context is key.