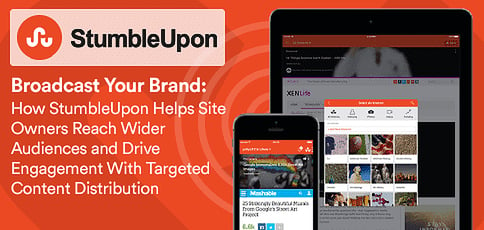 TL; DR: StumbleUpon offers publishers of new websites a platform to help attract vast, yet precisely targeted, audiences to their content. Before surfing the web, end-users pre-select interests, and the platform's content aggregator generates relevant pages to present to them. This provides a unique opportunity for site owners to market to a specific set of consumers likely to be receptive to their content. In addition to interest, StumbleUpon helps web publishers reach audiences based on demographics and even the device being used. To date, the platform has effectively promoted the sites of more than 120,000 brands and continues to change how content is presented on the web.
In 2014, HBO launched the TV series True Detective. As the name suggests, it was focused on police detective work, but the show wasn't your run-of-the-mill good guy/bad guy cop genre piece. The series blurred the lines between law and lawlessness — good and evil — and utilized surreal camera work creating an oddly bizarre feel.
To get the word out, HBO developed a microsite to draw people who might be interested in such a strange, out-there show. However, the company's marketing team soon realized in order to promote the series they needed to promote their new site, too.
Instead of trying to market the microsite solely on channels covering TV and movies, HBO's ad agency took the creative direction of advertising the site according to specific viewer interest. To do this, they employed StumbleUpon's paid site discovery to target people who were fans of mystery, horror, drama, and oddities — people who perfectly fit True Detective's audience profile.
For end-users, StumbleUpon works by curating content across the web, allowing people to view only the articles, images, and videos relevant to their pre-selected interests. The platform is especially beneficial for new site owners who want to reach narrowly targeted audiences. StumbleUpon allows web publishers to advertise their content to specific user groups based on interest, giving them the opportunity to generate buzz about their sites.
The Experience: A Website Discovery Platform for the End-User
StumbleUpon acts as a "front page of the Internet" for users who want to cut through all the fluff on some of the more popular websites and only view content that matches their interests. The platform makes it easy for users to sign up using a Facebook account or email address.
Once registered, users have the opportunity to select from a potpourri of topics relevant to their interests such as commerce, computers, health, hobbies, and media. All users need to do next is click on the big, red Stumble button and pages containing content relevant to their subject area selections appear in their browser.
Users can peruse content, pressing the Stumble button whenever they're ready to move to the next page. If a content piece a user doesn't like appears, a thumbs-down button can be clicked, and pages from that site will not appear again. Conversely, thumbs-up votes can be employed on compelling content pages to ensure more items from that source pop up. Users can also bookmark any piece of content they want to visit later on.
For those who want to stray from their selected interests, StumbleUpon makes trending content available so users can stay on top of hot topics. The site also acts as a social media channel, as it gives users the opportunity to follow others to view content they find interesting. For example, those interested in humor might follow a comedian to see where the inspiration for jokes might be coming from.
In addition to interests, StumbleUpon adds another layer of personalization to the web experience by allowing users to sort the content they're presented with by media types, including videos, photos, and articles.
The Aim: Get the Right Content in Front of the Right People
StumbleUpon isn't just a platform that benefits readers. The site's Paid Discovery feature allows publishers to target audiences based on demographics and interest. The system works just as it sounds. Publishers pay StumbleUpon a premium to display content to a specific subgroup of users. When those users click the Stumble button, they engage with the content.
StumbleUpon allows publishers to share any kind of content on the platform: articles, listicles, images, and videos. Basically, anything with a URL is eligible. The platform displays content in full-screen mode, so there are no distractions, annoying pop-ups, or sidebars riddled with ads. Instead, users just see the content publishers want them to see.
With StumbleUpon, web publishers have the unique opportunity to precisely target millions of people searching for topics directly related to their content. According to a Customer Think article, this type of "invisible" personalized marketing that provides consumers with content relevant to them is one of the most effective ways to attract interest in a brand.
In addition to interest, Paid Discovery allows advertisers to target content based on demographics. If publishers are interested in reaching only millennials in Seattle, that option is available. Advertisers can also target users based on the devices they are using. This way, content that doesn't look great on a smartphone can be pushed to only desktop or laptop users.
The Tools: Best Practices and Industry Tips to Promote Growth
StumbleUpon doesn't just give publishers a means to advertise their content. The platform's blog also offers advice about the type of content users are most likely to appreciate.
First on the list is beautiful imagery. Unsurprisingly, StumbleUpon users, like so many on other social media and Web 2.0 platforms, appreciate a good photo or graphic. Publishers who want to improve brand recognition benefit greatly from running images on StumbleUpon.
Listicles are also popular because they are eye-catching. Articles like "12 Reasons Today Is the Best Day of Your Life" tend to promote thumbs-up votes because of the easily scannable nature of the content.
StumbleUpon's advice blog also notes humor is a big draw. Publishers can brand and share funny memes on the platform to draw traffic to their sites.
Life hacks also draw a good-sized audience. That's because StumbleUpon users are always looking for a better way to build the proverbial mousetrap.
Anything out of the ordinary is usually a big hit, according to StumbleUpon. Articles that present life hacks, weird GIFs, and new gadgets get people to take notice and dive deeper into a publisher's content.
The Result: 120K Brands Successfully Market Sites With StumbleUpon
Since the platform's inception, StumbleUpon has attracted more than 120,000 companies looking for assistance to market their content to increase traffic and build brand awareness. New site owners have benefited from the platform's Paid Discovery service by getting their media in front of vast, yet precisely targeted, audiences. Big, established brands, like Buzzfeed, Red Bull, Nike, and HBO, have also reaped the rewards of StumbleUpon.
For HBO, StumbleUpon generated a significant amount of traffic to their True Detective microsite, and they even sparked more than 4,500 social media shares in the days leading up to the series release. As HBO's Agency of Record noted, "StumbleUpon provided HBO with an opportunity to reach a highly qualified audience of digital explorers with varied interests and to introduce them to the dark, complex world of True Detective."
The microsite's traffic continued to increase months after the campaign ended, leading to the goal of increased viewership and overall awareness of the True Detective brand. StumbleUpon's platform can do what it did for HBO for any website.