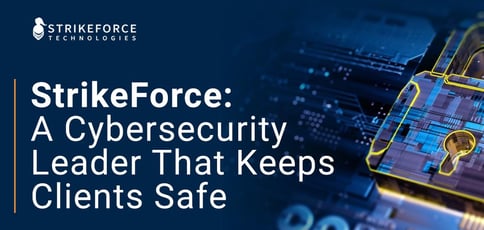 TL; DR: StrikeForce Technologies has been a leader in cybersecurity solutions for more than two decades. Since it launched, the company has seen the internet become an integral part of daily life, and it has also seen the need for security evolve. The company's offerings, including multifactor authentication, have become standard practice for consumers, SMB, and enterprises. StrikeForce looks to build on its strong foundation as it plans more innovations that promote technology security and safety.
George Waller has seen the internet grow from a novelty to its current position at the center of daily life. It has evolved into a necessity for consumers and businesses during the last few decades.
Ram Pemmaraju also understood the implications of the web early on and wanted to focus on helping secure it.
"He saw that the internet would be a big thing," George said of Ram. "And that people would need to authenticate themselves."
The pair's mutual passion for internet security led them to launch StrikeForce Technologies, a company that has been a leader in cybersecurity for more than two decades. It works with clients in industries that rely heavily on security, including financial services, healthcare, and government agencies.


Ram was a pioneer in developing multifactor Out-of-Band authentication. That technology has helped change the face of security in modern computing. That technology has helped change the face of security in modern computing.
StrikeForce is known for its work in secure video conferencing, endpoint protection, multifactor authentication, anti-keylogging, and mobile device security.
"We strive to make the world a safer place for you to compute by protecting you, your family, and your business from the cybersecurity threats in our modern world," reads a post on the StrikeForce Technologies website.
George said StrikeForce was an early proponent of security and understood its evolving nature. That means the company isn't complacent because it tracks advancements in technology to stay ahead of digital threats. That approach keeps its clients and customers safe from attack.
StrikeForce customers find value in the peace of mind and operational agility its products provide. It also offers businesses the safeguards to comply with regulatory oversight, leading to streamlined workflows.
Identifying Cybersecurity as an Early Priority
Ram invented Out-of-Band authentication, which enhanced the first two-factor authentication protocol. It grew from the basics he learned working in the telephone industry.
The concept relies on sending your credentials on two separate channels rather than one.
"Over IP, I'm sending my username, password, and authorized credential," said George. "A man in the middle attack beats it 100% of the time."
Ram realized that splitting up credentials on two separate channels made the information virtually impossible for a third party to access and match up.
"Nothing's impossible, but it's extremely hard to beat that because you'd have to break into the telephone companies at the exact same second," said George. "You'd have to have such coordination with people, and it just wouldn't happen."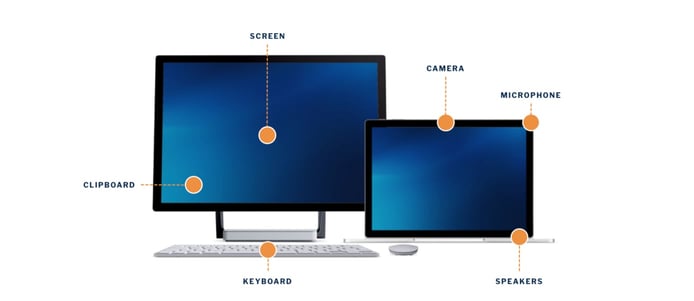 George said that type of authentication was more convenient, and certainly more affordable, than other approaches in the early days of computing. He said StrikeForce had its proof of concept ready in 2001.
What grew from that initial product is a comprehensive service offering including products that protect SMBs, enterprises, and individuals.
StrikeForce includes two subsidiaries, CyberSecurity Risk Solutions (CRS) and BlockSafe Technologies. Both groups extend StrikeForce's mission to make computing safer.
George said the company also works with clients in highly regulated industries that need strict security.
"There's a lot of data and privacy issues they have to get absolutely right," he said. "There's healthcare, financial services, energy, insurance. Then there's legal, and you think about all the corporate data around lawsuits. Or in healthcare with so much patient information."
Companies in those industries have a pressing need for the security StrikeForce offers through its suite of products and services.
Protecting the Evolving Virtual Work Environment
StrikeForce was already well established when the COVID-19 pandemic became one of the most significant events of the 21st century.
Though it brought logistical challenges for businesses, the pandemic also created an enormous opportunity for StrikeForce to advance security as workforce expectations changed almost overnight.
"Everyone went for video conferencing," George said. "And that opened the opportunity for hackers to go after video conferencing."
George said most businesses realized they needed to build remote collaboration into the fabric of how they worked.
StrikeForce's Out-of-Band authentication technology allows users to log into video conferences safely, preventing hackers from gaining access to a user's credentials.
It became the first cybersecurity company to build its own video-conferencing platform, which it calls SafeVchat. And George said the authentication platform is at its core.


"Ensure all of your communications with colleagues and consumers are protected from the privacy compromising vulnerabilities of other platforms," reads the product's description on the company website. "StrikeForce's new SafeVchat is the leading secure video conferencing platform. With technologies such as our patented out-of-band authentication and keystroke encryption. No other competitor in the industry can match SafeVchat's signature 5-Level security control approach."
In a white paper on SafeVchat, StrikeForce highlights how many video conferencing platforms don't prioritize data protection. SafeVchat has many layers of security, including a meeting password, authentication, and authorization — only participants listed for the meeting can access it. The meeting endpoint is safe from malware spying, and all audio and video are encrypted.
SafeVchat is just one of the company's offerings that keep pace with daily technology shifts. It also includes Mobiletrust for consumer devices. The product's "patented anti-keylogging technology secures your sensitive personal and financial information by proactively encrypting every keystroke as you type," reads its description on the company website. "GuardedID® also provides advanced anti-clickjacking and anti-screen capture technology, for multiple layers of protection from cyber attacks."
Embedded Safety: The Future of Secure Collaboration
Businesses and individuals need to keep their data secure, technology that will get more complex with time. StrikeForce sees the next step as including high-level security into every solution.
"We see that a big part of moving forward is customizable capability," George said. "We built a set of APIs that anyone can integrate. They will help you instantly embed secure video conferencing into any application you have."
George said StrikeForce is looking at the integration points that others use to inform its future security products.
"How do we take our secure video and embed it into support applications, ERP applications, CRM applications? That's where we see it's not just a video conferencing platform that companies should be using. We also want to make existing legacy applications more user friendly and secure," George said.
The opportunity is significant because the distributed workforce isn't going away. StrikeForce is looking at ways to promote and foster collaboration and engagement with security at the forefront.
"We want to see more secure collaboration across multiple verticals and locations," George said. "Cybersecurity shouldn't be pigeonholed into a single industry."