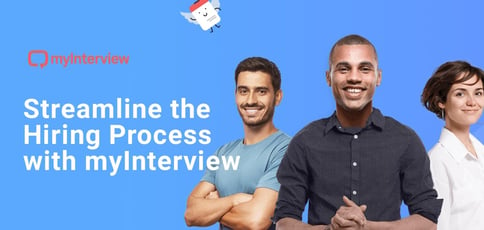 TL; DR: myInterview takes a unique approach to the recruitment and hiring process by allowing businesses to look beyond résumés and CVs and really get a feel for a candidate's skills. The company has leveraged its Smart Video Interview technology to create a platform that delivers live remote interviews, candidate management and organization capability, GDPR compliance, and team collaboration functionality, among many other features. myInterview's goal is to help talent acquisition professionals hire the people who are the best fit for a position and a company's culture.
If you're a business owner, recruiter, or HR professional, odds are good that your job was complicated by the coronavirus pandemic that hit in early 2020. Hiring an employee who is the right fit for both a position and a company's culture has always been challenging.
But with workforces becoming more distributed and the work paradigm shifting to a remote or hybrid model, the recruitment and onboarding processes that worked in the past now seem ineffective or, at best, a bit dated. A recent survey conducted by the Society of Human Resources Management (SHRM) found that 70% of talent acquisition professionals agreed that hiring now must leverage technology and employ a virtual or hybrid approach to interviewing and onboarding.
As a result, technology providers, like myInterview, that help businesses and HR professionals transition to the new recruiting and hiring model are thriving.
"The biggest shift that pushed our company forward was the pandemic and the subsequent shift to remote working and virtual environments," said Benjy Gillman, myInterview CEO and Co-Founder. "While many companies paused hiring at the start of the pandemic, many others have continued and even accelerated hiring and are now facing challenges such as large candidate pools, social distancing restrictions, and tighter HR budgets."


myInterview takes a unique approach to the hiring process with its Smart Video Interview platform. The company's mantra is to allow businesses to get to really know the candidates they're recruiting through video, rather than just reading a CV.
"We use video in so many facets of our lives — how has recruiting and hiring not caught up?" Benjy said. "Being able to see and hear people puts life into an application and helps recruiters get a broader and better understanding of who the applicant is — specifically their soft skills, which are otherwise overlooked or difficult to discern."
Put People, Not CVs, at the Heart of the Hiring Process
Benjy told us that he and Guy Abelsohn came up with the concept for myInterview when they were in high school. Both were applying for highly competitive entry-level jobs, but they felt their résumés alone weren't enough to help them get a foot in the door.
"We grew frustrated with the process and sought to put people, not CVs, at the heart of the hiring process," he said. "We founded myInterview in 2016 with the belief that finding the right person for the right office culture can be just as important as the skill set they bring with them."
With the help of two funding rounds, one a $1.6 million pre-seed round with participation from a former LinkedIn executive, and more recently a $5 million seed round investment led by Israeli VC Aleph, myInterview took off. Even before the pandemic hit, companies were seeing the benefits of myInterview's approach.
"We set out to be different from other companies by utilizing machine learning-powered analytics to generate a candidate-match ranking with particular emphasis on office culture compatibility," Benjy said. "We prioritize the concept of personality in interviews by having employers focus more on the candidate and less on the résumé — putting people ahead of paper."
Benjy noted that myInterview's platform is a completely new and purpose-built framework with no off-the-shelf components or data sets that are often utilized by other companies.
An Easy-to-Use Platform Streamlines Interviewing and Onboarding
myInterview's interface makes it simple for recruiters to organize candidates and workflows into a single pane of glass. Candidate videos can be easily accessed, and members of the recruitment team can collaborate by reviewing videos together, creating short lists, and inviting hiring managers and others to join the evaluation.
According to Benjy, the aim was to make the hiring process more efficient and effective by optimizing the screening and selection process, and ensuring that the most appropriate applicants are moved to the head of the line.
"Again, it's about finding the right people, not just the right résumés," he said. "This ultimately reduces time to hire, improves the fit between new hires and company culture, and saves money."
Benjy told us that myInterview is aware of the challenges the industry faces, and his team has learned from them. This allowed myInterview to build a technological framework from the ground up to avoid problems and maximize the lessons learned within the industry.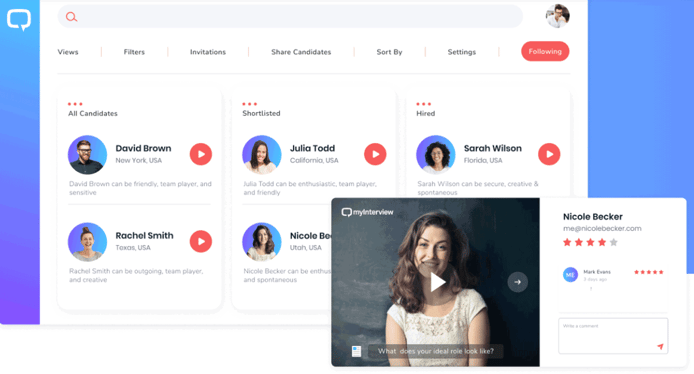 And it's not just recruiters who benefit from myInterview. Job seekers also love the platform.
"Our customers love the fact that the platform is incredibly easy to use, and the fact that an interview can be completed in less than 15 minutes — start to finish," Benjy said. "Many job candidates say it has helped let them be more themselves. Our company understands how stressful the job search is, so we knew that it was important to create our technology in a way that would be accessible to all and assist in making the job search a smoother, more enjoyable process."
The process removes the shields that interviewees sometimes put up due to nerves or the desire to just answer questions correctly. The platform allows recruiters to really hone in on who a person is and make more informed hiring decisions.
"Recruiters can get a more in-depth view of who they are reviewing," Benjy said. "Companies hire people, not pieces of paper, so by ensuring that everyone gets to let their personality shine, we are creating a better experience and outcome for both sides."
A Mission to Continue Enhancing Approaches to Recruiting
The last five years have proven to be successful for myInterview, and Benjy told us the team doesn't show any signs of slowing down. myInterview maintains a robust feedback loop with its clients, and that has really helped the company stay abreast of industry trends and inform its product development.
"Our main priority in the innovation process is to listen to customer feedback," Benjy said. "From there, we can constantly reassess how the platform is being used and work to improve its efficacy and experience."


myInterview not only employs engineers to develop the product. The company also leverages the expertise of behavioral scientists who consult on best practices, which helps improve the platform.
But, for Benjy, at the end of the day it's all about helping job candidates and employers find the right match by improving their hiring processes and streamlining job searches.
"We are very proud of the product we built and have already seen major success around the world," Benjy said. "We know that the most crucial part of any organization is its people, with the hiring process at its core, so we are constantly coming up with innovative ways to enhance the recruiting process."