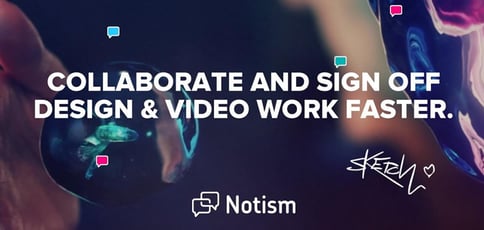 TL; DR: Notism is a feedback, prototyping, and workflow platform that helps creative teams streamline collaboration on visual projects. The all-in-one project management suite allows users to trade costly and frustrating back-and-forths for effective real-time versioning. With a current focus on offering integrations with project management tools and apps, Notism is furthering its commitment to helping customers improve their design workflows.
Before the death of print media, I worked as a magazine editor and project manager. One of the most challenging parts of my job entailed coordinating communication between multiple stakeholders during the proofing process.
I would often receive feedback scrawled illegibly on a hardcopy from one person, a marked-up PDF from another, and an email from a third. Usually, instructions from one person would contradict those of another, and we'd have to schedule a lengthy phone call to sort out the mess while on a tight deadline.
Looking back, a robust collaboration tool like Notism could have saved me some serious headaches. The platform provides a common ground where multiple users can share, review, and sign-off on design and video projects clearly and effectively.
The feature-rich tool can be used to facilitate collaboration on various types of visual content, from desktop and mobile web design to video projects.
"We have combined the best prototyping, collaboration, and project management tools into an all-in-one visual project management suite," said Jan Riecke, CEO of Notism. "The platform includes everything you need to work on creative content with others."
With Notism, teams can sketch feedback directly on digital content, view the actions of all collaborators, and leverage the platform's activity stream to collaborate with members in real-time. This transparency instantly enhances communication and boosts team productivity, making it that much easier to sign off on visual content.
Now, with an increased focus on integrating the platform with existing project management tools, Notism is poised to help customers improve their design workflows to an even greater extent.
An All-in-One Suite for Visual Project Management
Notism got its start in 2012 as an in-house tool developed by Jan and a group of freelancers who needed a solution for reviewing websites, games, and other digital products with their clients. In its early days, the app was a simple tool for uploading and commenting on images. Still, it quickly captured the attention of customers.
In 2015, Notism added video support in response to requests from multiple development agencies. "This feature allows you to review real-time video footage from any desktop computer, mobile device, or tablet," Jan said. "You can upload videos, sketch and add notes directly on the video, and switch between feedback frames in the video timeline."
EAT MY DEAR, an Austrian-based creative studio focused on video content, uses Notism to collaborate on its highly creative and elaborate productions. Patrick Sturm, the organization's Founder and Director, had glowing feedback on the platform's capabilities.
"With Notism we could immediately streamline our processes," he said in a review on the Notism site. "It's an incredibly powerful tool when it comes to reviewing and signing off on motion work."
Notism also serves a number of widely recognized organizations, including HSN, MoMA, and Virgin Mobile. As the product evolved over the years, Jan said it began to attract a lot of customers with backgrounds well beyond that of the typical advertising or design agency. In fact, he said Notism can help save time for customers working in a range of fields.
"It was made for advertising or design agencies, but a lot of other businesses also use it," he said. "We have clients in the real estate business who use the tool to review complex building plans and engineers who work with blueprints of airplane consoles. There are a lot of use cases that we didn't initially have on our radar."
Eliminate the Costly and Frustrating Back-and-Forth Process
Still, Jan said many advertising and design agencies desperately need the company's help. "So many of the agencies I visit are still depending on PDF files for collaboration," he said. "If the work is between just two people, then maybe a PDF would suffice, but when there are a dozen people involved, there's almost always a problem."
Rather than try to consolidate feedback that's floating around the office via multiple PDFs, Notism allows users to log in and view all communication in one place. Jan equates it to Slack — a cloud-based set of collaboration tools — for visuals.
Anyone can use the platform, which is compatible with all browsers and operating systems. By allowing users to create prototypes, make comments and sketch directly on creative work, run usability tests, and manage the project's development, Notism offers a simple and effective way for teams to work together in real-time.
The communication options are seemingly endless: You can use highlighters to point out large areas of the layout; use several drawing tools, including a pencil, rectangle, and circle with different colors, line types, and widths; and place feedback notes right where they make sense.
"Notism lets us share concept designs easily, not just with our clients but also internally," said Notism customer Noel Smetanig, Design Director at Deepend, in a review on the site. "We can track client feedback all in one place, avoiding messy emails or handwritten notes. Seeing what the team is working on, and at what stage a project is, streamlines our workflow."
The company also provides developers access to an application programming interface (API) that allows them to create robust and unique products powered by Notism. "Our API allows developers to incorporate Notism's features into your app or services, which is one way we differentiate ourselves from our competitors," Jan said.
It's a tough market, he said, but once customers try the product, Jan said they typically see its inherent value immediately. To that end, the company offers a free trial for new customers that can be upgraded to a paid account within 15 days after the free trial has started.
As a bootstrapped company, Notism doesn't currently have any investors but is actively seeking funding to facilitate further development.
A Future Focus on Integrations with Project Management Tools
Notism has big plans for the future. The company is currently working to provide seamless integrations with popular project management and team communication solutions like Basecamp and Slack.
"It's difficult for users to switch completely from another platform to Notism," Jan said. "We're starting to build these integrations so that we can offer even more business value."
The company also hopes to offer support for Sketch, a collaboration tool used by more than 1 million designers, from freelancers to those at large corporations. "Ultimately, we would like to include a plug-in where you just design in Sketch and upload your work to Notism," Jan said.