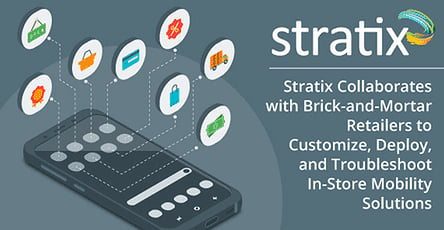 TL; DR: While some might think traditional brick-and-mortar stores are in trouble, Stratix, a managed mobile services provider, has demonstrated the dramatic impact mobile POS devices can have on physical store locations. Surveys suggest that retailers can increase in-store revenues by nearly 150% by implementing mobile solutions that streamline and personalize the consumer experience. Stratix provides and manages these solutions, offering services from the planning stages of a mobile rollout and continuing through the compliant retirement of devices. In between, the company helps retail stores deploy, troubleshoot, and cycle their devices with its customized tracking software and award-winning customer service.
In the mobility field, there are plenty of new service providers on the block. But Stratix believes that commitment, focus, and longevity make all the difference in creating change and fostering innovation within the industry.
Stratix has been exclusively focused on mobility solutions, primarily in the retail space, since its inception in 1983. Retailers trust Stratix to acquire, configure, service, update, and support mobile devices throughout their organizations.
"For 35 years, we have helped retailers and other enterprise customers both plan mobility, and support and deploy mobility for their users," said Gary Lee, Chief Solutions Officer for Stratix.
This long-term experience in a relevant, ever-growing field gives Stratix an edge in revolutionizing brick-and-mortar retail. Stratix began by asking: How can physical retail stores compete with the growing popularity of online shopping?
The answer is by adopting useful — and versatile — mobile-devices. Stratix discovered that retailers who deployed in-store mobile technologies effectively have a sales growth forecast of 146% in 2018.
The devices — from tablets to barcode scanners — allow associates to transform physical stores into the more connected experience that consumers expect. If an item is out of stock, a quick check on a mobile device shows where it is — anywhere along the supply chain.
That real-time visibility is a game-changer for retailers, Gary said, because it enhances their value to customers by upgrading the store shopping experience to meet their omnichannel expectations.
Stratix eliminates the need for retailers to research, compare, and deploy mobile solutions, giving them time to focus on the customer journey and their bottom lines.
Helping Businesses Create More Memorable In-Store Experiences
News of the decline of the physical store has been overblown, as Gary noted that 90% of retail purchases in the US are still made in brick-and-mortar stores. But retailers face challenges to sustaining that number.
One is creating a consumer experience that offers something wholly different than shopping online. Some effective changes include in-store personalization, one-on-one service, and associate-to-customer guidance.
"The associate is that frontline representative for the brand, so, we see the use of mobility as a major part of the point of conversation with the customer. Technology helps guide the customer through whatever questions they have," Gary said.

Stratix helps retailers implement mobile POS systems that add value for the customer. For example, a store associate can quickly view inventory from a tablet on the sales floor and ship a product that is not in physical stock to a customer's home. The associate can also view a customer's purchase history and even his or her loyalty status.
Brick-and-mortar retailers are also seeing the value of hiring personable, tech-savvy associates who can help customers through their journeys.
"The smart retailers are hiring associates who can use mobile technology to spark a conversation and can be involved in shepherding the customer through the buying process," Gary said.
The effect of mobile POS on the retail store has been well-documented. In 2017, retailers who used mobile POS saw an average increase of 24% of sales compared with businesses that did not implement these technologies.
Managed Services Offer End-to-End Technology Solutions
While the benefits of mobile POS in the retail environment are undeniable, implementation, management, and compliant retirement across the retail supply chain can be a daunting proposition. Stratix simplifies this process by partnering with retailers to manage mobile development from planning to device disposal.
"We have a group of engineers in our company who work on the development side of our business and often help customers create what we call 'the mobile blueprint,'" Gary said.
In the planning stage, the Stratix team first considers the needs of the business and maps out a mobile strategy. Next, Stratix develops an implementation plan, which includes managed services if needed.
"We'll look at the total rollout of mobility and how it's going to work — from getting devices in the hands of users to how we're going to support them going forward," Gary said.
Stratix supports devices from more than 20 original equipment manufacturers including Apple, Zebra, and Samsung. Retailers can choose their own hardware to be custom configured by Stratix.
The retailer's devices are shipped to the Stratix warehouse in Atlanta where they are checked for quality and updated with the latest applications and personalized settings employees need. This process ensures that when Stratix delivers the devices to stores and warehouses around the country, they are ready to be used right out of the box.
"We put it through a full configuration so that when that retail associate or warehouse worker receives that device, it's got everything they need to use on Day 1," Gary said.
The device disposal stage is equally well-planned, as Stratix retires devices securely so that confidential information is never compromised.
"We securely dispose of all devices, so a retailer's sensitive information doesn't end up in the wrong hands," Gary said.
Mobility As a Service: Troubleshooting and Device Refresh
Stratix also manages mobile devices throughout their lifecycle. One of the company's holistic packages, Mobility as a Service, includes planning, deployment, troubleshooting, repair, and replacement services. For a flat monthly fee, clients receive devices, services, and upgrades at predetermined intervals.
"We get devices into the hands of workers quickly and then manage all mobility through our managed mobile services for the life of the device," Gary said.
Stratix also provides same-day replacement service, with orders fulfilled from its warehouse. When a damaged device is returned, the company will repair or replace the device as part of the flat monthly fee.
The Mobility as a Service package includes 24/7 troubleshooting and end-user phone support from trained technicians and Stratix has even earned one of the highest Net Promoter scores in the tech industry for its customer service.
"Retailers can see if one retail store performs better than another retail store and look across different regions. They can understand how mobility is performing for them." — Gary Lee, Stratix Chief Solutions Officer
Some retailers continue to use outdated mobile POS devices because of the costs of replacement, but Mobility as a Service also eliminates that need.
"Built into the program is a technology refresh," Gary said. "We're going to refresh these devices into a new version or a new device."
Stratix: Modernizing the Future of In-Store Retail
Successful brick-and-mortar retailers integrate mobile technology to offer the reliability, service, and customization that adds value to the in-store customer experience. And massive growth is predicted for those businesses that implement mobile devices in the upcoming year.
Stratix has been innovating mobility in retail for more than 35 years and is committed to giving retailers an end-to-end solution — including Mobility as a Service. "Mobility is such a key part of retailers' success moving forward, and they need help to pull that off," Gary said.
Another useful feature is itrac360 software, which tracks devices to monitor use and performance when installed.
"Retailers can see if one retail store performs better than another retail store and look across different regions. They can understand how mobility is performing for them," Gary said.
Stratix can provide retailers with all of the technology they need, from tablets for in-store associates to barcode scanners for warehouse workers — and every device in between. The company also helps businesses through deployment, management, service, and even disposal.
"Retailers have a lot of challenges, which is why there is a need for managed services like Stratix in the market. I'm excited where Stratix — and in turn, the retail industry — is going to be in the next five to 10 years," Gary said.