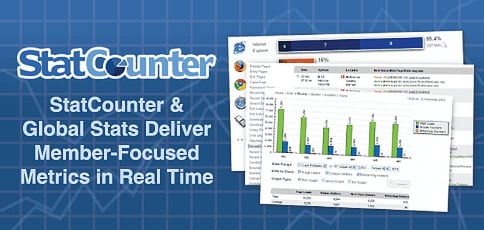 TL; DR: Recognizing the importance of speed and performance, 16-year-old Aodhan Cullen created a lightweight tool to track traffic on his personal, business, and clients' websites back in 1999. Since then, StatCounter has grown to measure more than 15 billion pageviews each month for more than three million sites. The company compiles and shares all the unweighted data they collect through Global Stats, which tracks trends such as browser usage, screen resolution, and choice of operating system. Devoted to their fanbase, StatCounter and Aodhan routinely take user feedback and adapt the platform to include new features and measurements.
As a tech-savvy teenager in the late '90s, Aodhan Cullen started a web design business. Seemingly every time he finished a website, his client would eventually ask how they could tell if they were getting a return on their investment — was this new website bringing in customers?
It was a good question that Aodhan couldn't answer for a while. Google Analytics didn't exist, and the traffic counters at the time were slow and unreliable.
Naturally, he coded his own solution — even though he didn't know how to program at the time. He tried to get help building StatCounter but never landed on a steady or sustainable program.
Still, StatCounter already had thousands of sites using it by the time Aodhan went to college to learn how to program.
"As I learned, I kept reprogramming the StatCounter website," he said. "Around 2003, I managed to make a really steady and stable platform. From there, it just exploded."
StatCounter: Simple and Affordable Analytics to Guide Decisions
Now, StatCounter boasts more than three million websites — remarkable for a team of fewer than 15 who compete directly with Google Analytics.
Whether on a free or paid account, StatCounter provides users with more than 30 measurements, including information on entry and exit pages, keyword analysis, and visitor paths. The data streams in real time, and site owners can filter traffic based on their Internet service provider, browser, operating system, and screen resolution.
"It gives you eyes and ears for your website," Aodhan said. "You can just see who is coming into your regular store and hear what they're saying. If you have a website, you have no idea what's going on until you get some analytics."
Valuable Metrics are Offered Mostly as Free, Immediately Available Resources
According to Aodhan, the StatCounter team takes users into account for every product decision. Chief among those choices is the price tag — StatCounter offers free accounts to websites with up to 250,000 monthly pageviews.
"We're happy to make it free because we just thought it would be a really great resource for the web," Aodhan said, adding that the goal with free accounts is simply to break even.
Paid accounts scale all the way to 100 million pageviews per month, though most of the plans are less than $100 a month and cover up to 40 million pageviews.
All this is done with small bits of HTML and JavaScript that users embed into their sites. Visitor information is collected anonymously and instantaneously, without slowing down your website.
"No competitors provide the kind of data we do for free," Aodhan said. "Being able to see what's happening on your website immediately has been really important, and we've kept that feature through to present day."
Simple Interface Makes Complex Numbers Easy to Understand
StatCounter beat Google Analytics to market by five years and now tracks more than 15 billion pageviews each month. Aodhan considers simplicity the main selling point of StatCounter — in fact, he preceded the phrase "easier to use" by a grand total of five much-es.
"You don't need a math degree or analytics degree to use StatCounter," he said.
StatCounter returns real-time information in an understandable format to help developers figure out how various types of people and technologies interact with the website design.
StatCounter gives you a clean, intuitive interface and a list of links to guide you to exactly the information you seek. Throughout the platform, you can filter the results to show only the traffic coming from particular browsers, devices, or even specific visitors.
"Web analytics can get very complicated," Aodhan said. "We just try to make it as nice, simple, easy, and understandable as possible. That's very important. That's a big differentiator for us."
Global Stats: Web Trends Based on 15 Billion Pageviews of Pure Data
With enormous amounts of data streaming into their infrastructure every month, Aodhan and his curious employees would notice various trends about how technology was being used online.
How fast is Internet Explorer usage falling? How many more people are going to websites on their phone? Should I build my app for iOS or Android? Should I be developing for Windows 10?
Those are exactly the types of questions StatCounter's Global Stats can answer. By compiling the analytics from across their network of three million sites — more than 15 billion pageviews per month — Global Stats paints a quite accurate portrait of Internet usage statistics and trends.
"We were noticing some pretty interesting trends and decided to help the webmaster and developer community answer the questions that commonly come up," Aodhan said.
Users can measure browser usage, screen resolution, operating system, search engine, and social media stats for StatCounter's entire data set.
What's more, StatCounter provides the information for free to anyone — you don't even need to register for a free account.
"A lot of the infrastructure was already in place for StatCounter, so it wasn't a huge investment to launch Global Stats," Aodhan said. "It was great to be able to share it for free as something extra on top of our usual services."
Journalists and technology news sites commonly use Global Stats information to report on the changing browser usage or mobile operating system rates.
"None of our competitors provide the kind of data we do for free," Aodhan said. "We're the only ones that can provide these really great global trends with that large of a sample size."
StatCounter's Future and How User Feedback Turns Into Metrics
Aodhan originally created StatCounter for himself and his business.
"I knew exactly what features to add and what to do with it because I had all these questions I needed to answer for myself and my web design clients," he said. "I just use-tested it on myself and put it out there for the world."
Because so many designers and developers had many of the same questions as Aodhan, he heard lots of input about StatCounter and requests for more features.
In addition to support forums, StatCounter includes a prominent feedback button on the website that users can press to share their experience. That information is immediately sent to the entire team of developers and managers.
"It makes sure we keep our fingers on their pulse and that we're not doing anything stupid," Aodhan said with a laugh. "If something happens that people aren't happy about, we get alerted to it right away."
In 2015, the StatCounter team polled their users for help distinguishing pageviews, unique visits, returning visits, and a new metric recording distinct visitors. They proposed changing the unique visits label to sessions to avoid any confusion and posted a poll asking users to pick their preferred terminology. Resoundingly, StatCounter members chose a different option — and that's what the platform used.
"StatCounter members are everything to us," Aodhan said. "They're the reason we exist."