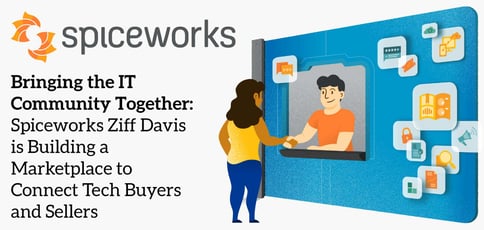 TL; DR: Spiceworks, a marketplace for tech buyers and sellers, has been connecting players in the IT industry since 2006. The brand has evolved along the way, from a software provider to a full-blown community of millions of IT pros and thousands of tech brands. After a recent acquisition, the company has reemerged as Spiceworks Ziff Davis, bringing with it new ideas for technology professionals, better account intelligence for technology brands, and new opportunities that will unite both parties.
As any chilihead knows, the spiciness of a pepper is a reflection of its capsaicin content. You can easily figure out how much of this heat-producing substance exists in a particular type of chili pepper by referencing the infamous Scoville scale, which measures capsaicin using Scoville Heat Units (SHU).
On one end of the spectrum, the amicable bell pepper has a rating of 0 SHU. Offering a manageable yet potent kick, the jalapeño comes in at 2,500 to 8,000 SHU. The Carolina Reaper — the world's hottest pepper — serves up a blistering, lava-like mouthfeel and scores anywhere from 800,000 to 3.2 million SHU.
But the Scoville scale isn't only a tool for pepper enthusiasts and chefs — as it turns out, the IT community finds it handy as well. The tech pros at Spiceworks, for example, use it as a fun way to recognize contributors within the community.
While everyone starts as a Pimiento (0 to 11 points), the most helpful and experienced users graduate to sizzling levels such as Cayenne Pepper (10,000 to 15,000 points), Ghost Chili (70,000 to 100,000 points), and the highest rank: Pure Capsaicin (250,000 points and above).
"Over the years, we've created a civil and cordial community environment with lots of fun things that brought the brand to life, such as the pepper scale," said Jay Halberg, Chairman & Founder of Spiceworks. "It encouraged people to contribute and also helped the community identify experts."
Spiceworks has taken on many different shapes and forms since its 2006 inception, from a software provider to a community of millions of IT pros and thousands of tech brands. Now, after being acquired by Ziff Davis, the company is reemerging as Spiceworks Ziff Davis, bringing with it new insights, intelligence, and opportunities as a marketplace designed to connect tech buyers and sellers.
Built on a Mission to Spice Up a Boring Market
When Jay and co-founders Greg Kattawar, Francis Sullivan, and Scott Abel began working on Spiceworks 14 years ago, there was a general consensus that it was time to start something new. So they used their shared backgrounds in IT systems management and support to inspire their brainstorming.
"There are so many small businesses around the world, and they all rely on IT — we wanted to know what the experience was like for the non-Fortune 500 company," Jay told us. "What we found when we talked to people was that they had too much on their plates, products were difficult to use, and tech vendors were hard to reach."
This feedback inspired a plan to "spice up" the IT industry with tools that "just work" — and it also informed the Spiceworks name. The company's first move was to build a free IT management application, which it supported financially through ads from tech companies.
"The radical idea was to put ads in the actual application behind the firewall," Jay said. "People thought we were a little nuts, but it turned out that we built up a lot of trust with both users and advertisers."
Within the first year, users downloaded nearly 100,000 copies of the software. As it continued to grow in popularity, the Spiceworks team added additional features, such as a help desk and up-down monitoring functionality, among other perks. The software wasn't perfect, so the company also set up a community forum to collect feedback and feature requests.
A Community-Based Approach to Problem Solving
At the same time, Spiceworks introduced a support forum that users instantly gravitated toward. "They would ask each other questions, and before we had a chance to answer them, others who had already figured out similar problems would provide answers," Jay said.
The forum soon began to grow into a thriving Spiceworks community that accepted IT professionals of all levels of experience with open arms. "Unlike some IT communities that can be very snarky and elitist, ours was very civil and collaborative," Jay said. "We just treated each other well."
From around 2011 on, Jay said the Spiceworks story was really about community growth. From new forum categories to the pepper scale and colorful badges, the company focused on giving its fans — who came to be known as SpiceHeads — the tools they needed to create a sense of belonging while keeping tabs on developments in the IT world.
Jay said the community quickly grew from thousands of members to several million, and topics of interest began to expand beyond Spiceworks. "They were asking each other what routers to buy, how to solve various problems, how to ask for a raise, and even just getting together to blow off some steam."
For a single IT person supporting the machines of 100 accountants at a firm, Jay said a few minutes of water-cooler talk can make a big difference. "If you can go online and commiserate with hundreds of people like you, then you've found the place where you belong," he said.
Delivering New Insights to Technology Pros
Soon, Jay said Spiceworks started to attract vendors that were looking to participate in the community, which the company agreed to under specified terms of engagement.
"They then said, 'Wow, you guys know how to talk to an IT pro — you know, not in the boring white-paper language but fun, human language," he said. "So we worked with them to create research papers, infographics, and content that effectively spoke to our members on their terms."
The Spiceworks team was able to pull information from its databases to provide insight into trends around technology consumption. The company also ran surveys and held complex research panels.
"We were helping tech companies decide what products to build next, how to improve their products, and how to gain traction in the market," Jay said. "During that era, we started to act as somewhat of an agency."
Around 2016, Jay said the tech industry began to change. At that time, Spiceworks updated its applications to cloud-based formats and spent more time protecting the company from phishing and malware attacks. The abundance of advertising opportunities via Google, Facebook, and other tech giants, as well as the rise of marketing automation, made for stiff competition.
"We had to evolve into a data-driven company," Jay said. "We had better data about tech businesses and could use it, first and foremost, to provide value to them. Then, and only then, we could also use that information to provide value to marketers by giving them perspective on what businesses want."
As of late 2019, Spiceworks is in the midst of another metamorphosis after merging with the global digital media company Ziff Davis, which focuses on technology, gaming, and shopping. Together, the two companies hope to help unite tech buyers and sellers quickly and with more confidence.
Up Next: Updates via the SpiceWorld Conference in Austin
Jay said Spiceworks Ziff Davis is still writing the first pages of the company's new chapter. But it has plans to drive tremendous value through insights for technology professionals, greater account intelligence for technology brands, and new opportunities that will unite both parties.
"The complexity of technology grows at an exponential rate, meaning that the challenges companies face today are way more complex than they were 15 years ago when we started," he said. "Now, more than ever, people need that trusted platform, those trusted connections. That's where we come in."
Jay told us that Spiceworks Ziff Davis will be unveiling parts of the new platform and its capabilities during SpiceWorld 2020, which will take place September 15 -17 at the Austin Convention Center.