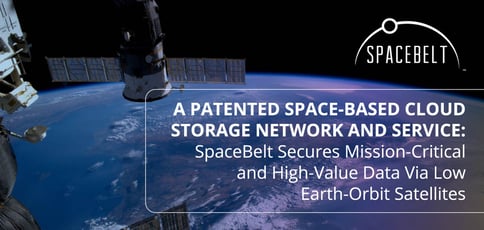 TL; DR: SpaceBeltTM is on a mission to overcome security challenges by building an isolated global cloud data storage network powered by low Earth-orbit (LEO) satellites in an optical ring around the earth. By providing next-generation security through isolation from terrestrial infrastructure, SpaceBelt can protect even the most sensitive industry and government data. With a broad spectrum of edge computing and behavioral blockchain use cases on the horizon, SpaceBelt is poised to elevate cloud services to new heights.
Move over oil and gold: Information is the new global currency.
Some of the biggest companies in the world, including Amazon, Google, and Microsoft, are also the most data-rich. Confidential datasets are critical to the missions of governments and military forces worldwide and a strategic asset for businesses. And data now fuels revolutionary innovations in artificial intelligence and deep learning.
As the value of data skyrockets, so does the importance of online security. Global cybercrime damages are expected to exceed $6 trillion annually by 2021, representing a 100% increase since 2015, and the value of cyber insurance premiums written worldwide is expected to reach $7.5 billion by 2020.
But, even with insurance, there are some things you can't recover — think brand equity, customers, reputational damage, loss of valuation, and distractions from your strategic plan. Protecting these assets requires an out-of-this-world approach — such as the one being deployed by Cloud Constellation Corporation's SpaceBelt, a network of ten LEO satellites for next-generation data storage.
"This is a way to isolate and protect data and then have real-time, secure access to it from anywhere in the world," said Dennis Gatens, Chief Commercial Officer at SpaceBelt. "It's impossible to have a seamless network like this on earth, both economically and structurally."
Securing highly sensitive data in SpaceBelt's patented, satellite-based cloud storage network liberates organizations from jurisdictional hazards and the inherent vulnerability of the internet. When launched, SpaceBelt's cloud service has the potential to fundamentally change the way service providers, enterprises, and governments around the globe transmit and store data.
Next-Gen Security Through Isolation from Terrestrial Infrastructure
The global space marketplace has experienced rapid growth in recent years. According to NASA, its valuation increased from $176 billion in 2006 to more than $345 billion in 2018, just 12 years later.
LEO satellites are attracting particular interest (Bloomberg has gone so far as to describe the market segment as the next space race). Cloud Constellation Corporation sees it as the cloud transformation of space. Unlike typical geostationary (GEO) satellites, which operate about 22,000 miles above the surface of the Earth, these satellites orbit at an altitude of 1,200 miles or less.
Cloud Constellation Corporation, based in Washington, D.C., and Los Angeles, entered this emerging market in 2015 when it was founded by satellite communications industry veterans Hooshang Kaen and the late Scott Sobhani. The company bills its patented space-based managed global network and cloud data storage as Data Security-as-a-Service (DSaaS).
"The founders developed the idea of creating a service offering that enables the strongest level of private network security and combining it with off-terrestrial, or off-Earth, data storage," Dennis said. "With SpaceBelt, you have a satellite constellation that stores your data and a cloud infrastructure that provides connectively directly to an organization's geographically dispersed enterprise locations."
SpaceBelt leverages two types of satellites for its service in complete isolation from terrestrial infrastructure. First, the information is moved from the organization via a partner's geosynchronous satellite, which relays it to (and from) the SpaceBelt LEO network of data storage satellites.
The data stored on the private, secure network can be accessed only via a SpaceBelt terminal. GEO satellite partners provide global coverage. While SpaceBelt manages access to the network, it does not have the ability to access customer data.
A Global Satellite Network Utilizing an Optical Ring Around the Earth
Before securing its position in the satellite data storage space, Dennis said the company had to ensure a few key pieces of technology were ready for implementation. To estimate the maturity of these technologies, SpaceBelt used technology readiness levels (TRLs), a method developed by NASA to provide uniform understanding and manage risk.
"The data storage capability, the processing capabilities associated with managing storage and supporting edge computing, and the optical technology had to move up the TRL curve," he said. "Now they have matured, and we're highly confident in these capabilities."
SpaceBelt's constellation of 10 LEO satellites transfers information through a global ring wherein each satellite is connected to the next via redundant optical Inter-satellite Links (ISL), allowing customers to access it globally without any terrestrial touchpoints.
"This means you can connect to our network from your enterprise location in New York City and data can traverse the ring and then hop off, say, at your enterprise location in Hong Kong, all while isolated from terrestrial infrastructure," Dennis said.
The initial 1.6-petabyte network of on-satellite storage, which will essentially create a cloud infrastructure with dynamically scalable data storage capacity and network bandwidth in space, may prove especially useful for multinational organizations that operate with any number of facilities across the globe.
"Our vision is to lead the cloud transformation of space, bringing true value on a global basis to organizations while providing the ultimate in air gap security," Dennis said.
Serving the Most Frequently Attacked Organizations
Although no technology or organization is immune to online attacks, industries with highly sensitive, mission-critical data assets are especially prone to risk. Dennis told us that the top five most frequently attacked verticals over the past five years are health care, manufacturing, financial services, government, and transportation — all of which SpaceBelt is looking to engage through its base of global channel partners.
"We're not looking to store an individual's emails or pictures," he said. "We are focused on the segment of the market for which there is not an insurance policy that can protect against the impact due to the loss or breach of data. Think in terms of high-value data."
Many such organizations have an unlimited budget for data security and a clear desire to find a solution that hasn't been available in the past — even if that requires paying a premium.
"We feel we're bringing to market a cloud service with a level of data security that is simply not possible with the terrestrial infrastructure, especially if you need to move the data and have access on a global basis," Dennis said.
Because SpaceBelt's satellite design is software-based, the company is also planning to build a virtualized infrastructure in space, enabling developers to bring highly secure, mission-specific applications online. The network's global availability also presents a strong use case in edge computing.
To that end, SpaceBelt has been working closely with IBM to bring its cloud, edge computing, and blockchain capabilities to its satellite-based cloud infrastructure. The company anticipates demand for such resources within the government and military, as well as the commercial sector.
"The combination of our three capabilities — global connectivity as a private network, data storage capability, and edge computing — is really exciting," Dennis said. "No one else is talking about that combination."
On the Horizon: Satellite Design and Manufacturing
Cloud Constellation Corporation is currently closing in on Series B funding and is in the process of making key technology vendor selections. In May, the company selected Seattle-based Leo Stella as its satellite manufacturer. The company is now in the process of choosing a satellite launch services partner ahead of its planned launch in the fourth quarter of 2021.
Looking ahead, Dennis said Cloud Constellation Corporation plans to take advantage of the cloud resources available within the SpaceBelt infrastructure by hosting some unique applications on the network, including secure blockchain capabilities.
"It's going to be a really interesting market," he said. "The technology, the economics associated with the cost of manufacturing and the cost of launch services are moving in the right direction to support the evolution of the market."