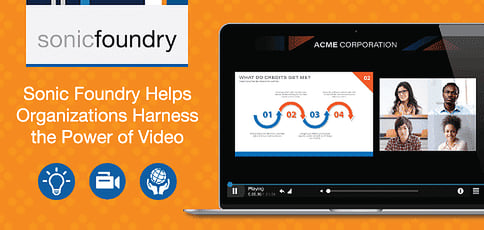 TL; DR: In 1991, Sonic Foundry was born in a small garage in Madison, Wisconsin, and has since evolved into a provider of full lifecycle streaming video services for higher education institutions and enterprise-level clients worldwide. The company's flagship product Mediasite allows organizations to easily capture, search, manage, and deploy streaming video on-prem or in the cloud. Because of the trackable nature of user actions in relation to video, organizations are using Sonic Foundry's solutions to leverage data to learn about their audiences and inform future marketing campaigns. This, coupled with the company's efforts to tap into existing web and video conferencing infrastructure, works toward Sonic Foundry's aim to create an effective and unified video communication space.
Chief Strategy Officer at Dark Fibre Africa, Reshaad Sha, laid out the benefits of connecting rural areas of South Africa to broadband in a recent Huffington Post article. Reshaad noted jobs, investments, and the social inclusion of small, rural communities improve when access to the internet becomes available. Small businesses are able to compete and education becomes more widely distributed.
The University of Free State in South Africa recognized this and sought a quicker solution to bring access to online education to the rural areas of the country. And the school found a willing and effective partner in Sonic Foundry.
"We've architected a system that's distributable in places where internet is not," said Rob Lipps, EVP at Sonic Foundry. "As an education company, it's just something we have to do to try to get knowledge into the hands of some of these kids."
The university and Sonic Foundry are accomplishing this by deploying the company's flagship video streaming product Mediasite into local servers in schools completely off the grid. Satellite infrastructure is used to pump the video platform into the schools so children and adults can learn from the world's video content.
"This is the pilot for trying to get this technology into other school systems," Rob said. "Not just in South Africa but into Sub-Saharan Africa and beyond."
Rob told us much of the innovation that goes into their educational efforts in South Africa goes on to benefit Sonic Foundry's broader customer base worldwide. In fact, what Sonic Foundry is doing in South Africa is exactly what they're doing for higher education institutions and enterprise-level businesses around the world — connecting people through video and educational resources.
From a Garage in Madison to Transforming the Video Streaming Space
Founded in a garage in Madison, WI, in 1991, Sonic Foundry had all the makings of an early '90s startup. The company's founder Monty Schmidt developed a suite of audio and video editing tools, called Sonic Forge, for musicians to perform digital editing. The software took off in popularity and within a few years business was booming.
"We grew it really big and had a market capital of over a billion dollars in the go-go economy of the early '90s," Rob said.
In 2002, all the Sonic Forge products were divested to Sony, which still owns and markets them. Just prior to this, Sonic Foundry acquired a spin-off technology from Carnegie Mellon University called Mediasite. At the time it was acquired, Mediasite was an audio search technology company focusing on speech language processing, and many large, enterprise-level organizations were interested in it.
"Mediasite was founded with several investments from the National Science Foundation, Intel, Microsoft, and Boeing," Rob said. "Everybody pitched in a sum of money to try to make the audio in video indexable."
The product proved to be a powerful phonetic search tool that could help broadcasters, such as the BBC and CNN, or even large companies, like General Motors, search through their previously unscannable archives of video. Being able to scan and index audio through the spoken word was something that couldn't be done before, and Sonic Foundry played a big role in making it a reality.
Over time, the Sonic Foundry team realized people with huge archives of video were largely restricted to the broadcast space and just a few corporations. The market was small, and Sonic Foundry wanted to grow it by facilitating easier production of video.
"As a search company, we thought our market for advanced search really hinged on the ability to produce good quality enterprise video quickly," Rob said. "So we developed a suite of technologies to integrate into the spaces presentations were being given to pull that content out."
This led Sonic Foundry into higher education and corporate training, which is what the company is most known for today — helping organizations create, search, manage, and deploy videos to their target audiences.
Full Lifecycle Approach to Capture, Manage, and Share Video Content
As Rob noted, giving organizations the ability to easily create video assets is integral to both Sonic Foundry's success and an organization's ability to communicate effectively with the audiences they're trying to reach. One of the biggest challenges higher education institutions and businesses were having was capturing video in familiar and comfortable environments.
"If you tell people you want to put them in a studio, it can be very unnerving," Rob said. "Talking to a camera is not really something most people are comfortable with. They're more comfortable standing in front of a room doing a training."
Sonic Foundry architects their solution to quietly capture people in the environments they're already working in such as a lecture hall, classroom, or in workshops at a conference.
"If you're already standing and delivering a natural presentation in front of a live audience, that's a much easier way than having the light go on and a producer say '3, 2, 1, now talk to the camera.'"
This approach doesn't change how or where people train or communicate. Sonic Foundry's tools integrate with the space presenters are in so that videos are natural and don't have a contrived studio feel.
It doesn't end at content creation, though. Sonic Foundry helps clients look at the big picture of keeping audiences engaged through frequent video deployments.
Autodesk provides an ideal example of how an effective video strategy maintains active audience participation and interaction with content after their large annual event.
"We record all the educational sessions," Rob said. "Once we started doing that, Autodesk realized their event doesn't really have to have a beginning and end. Over the four or five days of the event, you can get everyone together, but the video lifecycle can continue for the 365 days until the next event."
According to Rob, organizations that have a marketing or business interest in communicating with clients shouldn't focus all their energy on production quality. Rather, frequency is the most important factor. Videos will experience a surge in viewership right before and after an event, but it will immediately trail off if videos are continually fed to viewers throughout the year.
"It's kind of like a balloon that's not tied," Rob said. "If you stop blowing air into it, it's inevitably going to shrink."
Continually sending video to viewers keeps content relevant because of context changes, especially in the tech space. Companies, like Autodesk, Rob told us, have interests driven by the lifecycle of their content. What was presented at their conference six months ago might be completely irrelevant today.
The good news for such companies and higher education institutions is Sonic Foundry's tools can integrate pretty much anywhere — training rooms, in the studio, or even on your desktop in your home office — making it simple to produce a lot of content quickly. Once you have the content, it can be managed by Sonic Foundry's Mediasite technology for search and deployment on-prem or in the cloud.
Analytics Give Viewer Insights and Help Create Targeted Campaigns
Because of the personal nature of video, the content is very relatable for viewers. This way, video content marketing doesn't really feel like marketing at all to an organization's audience.
Video gives organizations the ability to learn about their audiences and their interests. This valuable information can be employed to inform future marketing campaigns and help more directly target content strategies.
"Google is a valuable company because they know who you are and what you're looking for," Rob said. "But they don't share that information with the owners of the video. If I put a video on YouTube, I can see how many people watched it, but I lose all the valuable analytics."
The advantages of employing Sonic Foundry's Mediasite platform is organizations are able to have all the Google-like analytical data for themselves.
Spot Where Dropoffs and Questions are Occurring to Optimize the Conversation
One of the biggest values video can bring to an organization is education on their target audiences. Through video, businesses and higher education institutions can learn where viewers are fast forwarding or rewinding and know what they're searching for.
"Every time someone clicks a mouse or presses a button on the keyboard during the video, you can record that interaction and learn why they might be taking that action or looking for something," Rob said.
By gleaning this information, organizations can gauge whether they're meeting the needs of their viewership and act accordingly. Being able to optimize the conversations organizations are having with their audiences goes a long way to positively impact the end user's experience.
Leverage Actionable Data to Get Content in Front of the Right Audiences
A good example of a higher education institution taking advantage of Sonic Foundry's video solution is Villanova Engineering School. All of the school's 100- and 200-level courses are made available online for free. Anyone with an internet connection can take their first two years of engineering school at Villanova at no cost.
"The school can learn a lot by looking at where the viewership is coming from," Rob said. "If they see they're getting a lot of hits from high schools in the Philadelphia area from students enrolled in AP courses, they know they should market to them as potential students to enroll at Villanova."
Rob told us the use case in the corporate world is much more easily identifiable. Putting a video object into a marketing campaign creates a clickable moment, and, according to Rob, this click can tell you a lot.
"The analytics from just text data is pretty limited," he said. "You have a hard time knowing if someone's eyes rolled across the screen and actually read what you said to them in an email. But seldom do people click the link to a video and not watch it. This helps you know things they're interested in."
In the conference space, the Sonic Foundry Mediasite team serves as a turnkey solution for capturing live and hybrid events for a variety of industries. The company records thousands of live and hybrid events of all sizes throughout the year, including Gartner conferences, Citrix Synergy events, and Autodesk University events. Analytics taken from event video viewership work to dictate the agendas for future events. The data tells organizers which presenters and topics are most popular, so they know to highlight them more prominently at the next scheduled event.
"These are all things tied to marketing, driven by analytics, and delivered by video," Rob said.
Tapping Into Existing Infrastructure for an Easier Bridge to Streaming
The core of Sonic Foundry's business model is built around connecting people. This is demonstrated with the company's efforts to spread education in South Africa, their flagship product Mediasite, and now with efforts to bridge the gap between video and web conferencing infrastructure and video streaming services.
"Thinking about tools, like WebEx, GoToMeeting, Zoom, and Polycom, we have to ask where does all of that small audience, high-collaboration fit into the streaming world," Rob said. "There are all these rooms that have video conferencing equipment just sitting there."
Sonic Foundry has started taking advantage of this existing infrastructure with its Mediasite Join technology. Rob told us the technology brings together the benefits of both worlds.
"You can have 25 people on a video conference and stream it to 10,000 people," he said. "The unified communications space can be catapulted by the streaming world."
Advertiser Disclosure
HostingAdvice.com is a free online resource that offers valuable content and comparison services to users. To keep this resource 100% free, we receive compensation from many of the offers listed on the site. Along with key review factors, this compensation may impact how and where products appear across the site (including, for example, the order in which they appear). HostingAdvice.com does not include the entire universe of available offers. Editorial opinions expressed on the site are strictly our own and are not provided, endorsed, or approved by advertisers.
Our Editorial Review Policy
Our site is committed to publishing independent, accurate content guided by strict editorial guidelines. Before articles and reviews are published on our site, they undergo a thorough review process performed by a team of independent editors and subject-matter experts to ensure the content's accuracy, timeliness, and impartiality. Our editorial team is separate and independent of our site's advertisers, and the opinions they express on our site are their own. To read more about our team members and their editorial backgrounds, please visit our site's About page.