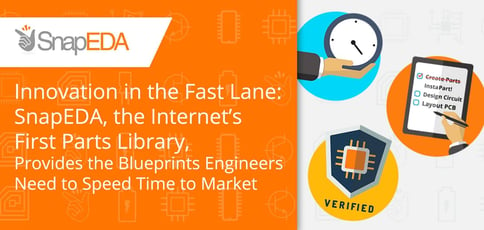 TL; DR: SnapEDA, the first online electronics design library, is helping engineers worldwide reduce time to market by eliminating barriers to design. A commitment to transparency empowers users to vet the quality of the libraries using powerful algorithms and a social rating system. The SnapEDA community, composed of electronics designers from around the world, allows users to ask questions of their peers, lend their own expertise, and collaborate on designs.
Imagine that you're building a Lego spaceship, but instead of dumping the pieces out of a cardboard box and onto the table, you have to mold each interlocking block from scratch.
According to Natasha Baker, CEO and Founder of SnapEDA, that's the scenario engineers face every time they're designing electronics. Natasha, an electrical engineer, discovered this setback firsthand while building circuit boards — which are at the heart of any electronic device, from smartwatches and smartphones to Nest thermostats.
"When you're creating a circuit board, there are all kinds of building blocks you need to bring it to life — every single engineer who is building a circuit board needs these electronic components," she said. "Yet engineers all over the world are wasting days creating them from scratch, over and over again."
Confident that there was a better approach, Natasha set off to build a free database of downloadable building blocks, including schematic symbols, PCB footprints, and reference designs.
"Today we have 1 million engineers who use the platform every year, from small shops to household names like Amazon, Google, and Netflix," she said. "Every company is designing electronics, and time to market is more important than ever."
By providing the building blocks engineers need to improve productivity, SnapEDA has helped professionals introduce more than 192,000 products — including drones, medical devices, and satellites — to market quickly and efficiently. In addition to removing barriers to design, the company is focused on building trust with a commitment to a transparent vetting process reinforced by powerful algorithms and a social rating system. Users also receive the support of a community of electronics designers from around the world, with whom they can address questions, lend their expertise, and collaborate on designs.
Remove Barriers to Design and Reduce Time to Market
When Natasha founded SnapEDA in 2013, she encountered initial resistance from engineers who were wary of third-party libraries.
"At the time, some engineers didn't trust technology that wasn't homegrown, similar to how tech companies used to have server racks primarily on-prem," she said. "A big piece of feedback I received from engineers was, "No one will ever use that because making those libraries is part of an engineer's job.'"
SnapEDA quickly proved them wrong, and the library's popularity has continued to soar since then. In fact, during the last five years, Natasha has observed a massive mindset shift that she attributes to a changing of the guard in the electronics world.
"A whole new wave of younger engineers have replaced retirees, and they're from a generation that grew up with Google, with everything being available at their fingertips," she said. "They want to bring their ideas to life. They want to innovate. They don't want to do grunt work."
Advances in manufacturing techniques have also reduced the need for customization, removing even more barriers to electronic design. Natasha said the field used to be limited to massive companies that staffed hundreds of engineers. Today, it's much more accessible.
"Now, because the barriers have come down, everyone is making electronics," she said. "There are electronic design groups within companies like Hallmark, Nike, Adidas, Netflix, and Facebook with smaller pockets of engineers."
These shrinking hardware teams no longer include what used to be known as a dedicated librarian, making tools like SnapEDA invaluable.
Vet Quality Using Powerful Algorithms and a Social Rating System
While software engineers can fix bugs they inherit through open-source libraries on GitHub relatively easily, Natasha said manufactured hardware isn't nearly as forgiving.
"If we have a bug in one of our hardware libraries, that engineer has wasted thousands of dollars building bad circuit boards," she said. "To mitigate that risk, we've created algorithms that validate the quality of the library before engineers build the board."
The patent-pending automated system, known as Verification Checker, provides a groundbreaking and programmatic way for engineers to gain transparency into the quality of CAD data. The tool relies on algorithms to detect potential manufacturing problems, which are then presented in a report card with all of the information engineers need to decide whether the file meets their standards or needs adjustments.
The Verification Checker is currently in beta stage, but SnapEDA is always open to feedback on additional checks users would like to see included. "This all goes back to engineers not trusting libraries five years ago," Natasha said. "By giving the engineers transparency into the quality, we can build trust."
In addition to Verification Checker's objective vetting process, SnapEDA also includes a social rating and commenting system engineers can use to report inaccuracies or confirm the quality of a file. "The community is also an integral part of ensuring transparency," she said. "Using the feedback system, if an engineer ever finds an issue with something, they can alert our team, and we will respond right away to address the issue."
Collaborate with a Worldwide Community of Electronics Designers
SnapEDA's massive library of reusable circuit board building blocks includes schematic symbols, PCB footprints, and reference designs, among other resources. They are available for instant download, which allows engineers to spend more time on innovation.
If users need a part that's not included in the library, they can make a request, and the SnapEDA engineers will deliver it to them within 24 hours for a small fee. "It all comes down to providing all the tools engineers need to innovate and bring their ideas to life while saving time," Natasha said.
To ensure accessibility, the library is also compatible with a number of electronic design applications, including Cadence, OrCAD, and Altium. Natasha said SnapEDA takes customer feedback seriously and is constantly asking users what new features would help streamline their development processes. "We take a very iterative approach to development in the sense that, if we hear input from the user about how we can improve the product, we will prioritize getting that to the community so that we can validate the demand."
In fact, the company is so tapped into its user base that electronics students sometimes ask for help on homework questions via the support channel. "We do our best to respond to them with ideas because we really do care about our users," she said. "We want to help them be successful in using our libraries but also successful with using the component itself."
Thanks to its close partnerships with component vendors, SnapEDA continues to offer its services to engineers at no cost. These partnerships also allow the company to provide better customer service. "Because we work so closely with partners that sell the components, we can add value by making it easy to use various products."
Future Development from a Passionate Team of Seasoned Engineers
Natasha believes her team cares so deeply because they're all engineers themselves — so they know what it's like to stand in the shoes of their users.
"We're passionate because we've all experienced the same pain points," she said. "That's why our biggest focus is helping engineers remove barriers to design and streamline the process."
Although SnapEDA started with libraries, Natasha said there are other ways the company could be of service to engineers.
"There are a bunch of other areas in the design process where engineers can get stuck, and ultimately, we view ourselves as a company that's helping engineers bring products to life," she said. "So we're looking to expand beyond libraries to help achieve that mission."