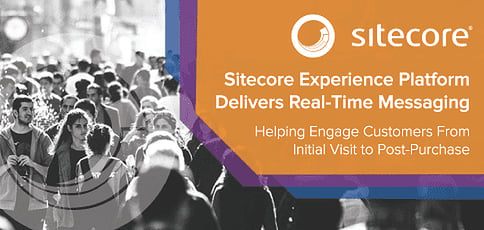 TL; DR: Contextual marketing is all about broadcasting messages to the right customers at the right times, and the Sitecore® Experience Platform™ empowers businesses to do just that. Built with a mission to help optimize customer engagement, Sitecore provides businesses an intuitive web content management system that pumps out insightful customer intelligence and allows for seamless cross-channel message delivery. This creates personalized end-user interactions with brands, reaching customers with content appropriate to where they are in their journey toward conversion. Since 2001, Sitecore has been helping its partners develop and implement strategies to build loyal consumer bases and positively impact bottom lines.
Odds are good you've heard of Dow Chemical. From the memory foam you sleep on every night to the texture-enhancement technology that goes into your morning toast, the manufacturing giant's products impact almost every aspect of our daily lives.
Dow's Digital Marketing Group is responsible for keeping product information current and consistent internally as well as across Dow's many web properties. With a vast and ever-growing product portfolio to maintain, the group was overwhelmed with the sheer amount of content updates required. They needed to simplify product information management internally, while making Dow products infinitely more discoverable to web visitors. That's when they turned to Sitecore.
Sitecore's Experience Platform provided an intuitive content management tool where all product information could be centralized. The platform enabled Dow's team to shelf their old method of siloing content and provided a single repository that allowed them to easily index product categories and deliver the latest product data to their customers.
"One of the biggest wins and benefits from the project was the simplification of product information served to our web visitors," said Sarah Young, Dow's Strategic Business Lead for Digital Marketing and Communications. "As a very large, global manufacturing company, this is extremely important."
With secure content management, analytics, and omnichannel content delivery, Sitecore is empowering businesses of all types to simplify approaches to content management and enhance customer interactions.
"We help our customers use Sitecore to manage an end-to-end holistic experience with their brands," said Charlotte Ziems, Sitecore's Vice President of Content Marketing. "We help businesses be more customer-centric rather than channel-centric."
3 Pillars of Contextual Marketing for Optimal Customer Engagement
The Sitecore Experience Platform has three essential components. Web content management that's integrated with commerce functionality, customer intelligence, and cross-channel delivery means a more thorough approach to customer engagement.
"We love customers who care about their customers," Charlotte said. "We help them see the digital experiences customers are having with their brands throughout the buying cycle — before, during, and after any transaction."
For the most optimal customer engagement, Sitecore provides scalable content management solutions, analysis of customer interactions, and support across multiple platforms. These methods allow vast personalization in relation to the end user. Companies can optimize their sites for mobile platforms, measure page performance, and implement or improve email and social media marketing.
1. Scalable Web Content Management to Customize and Secure Sites
Sitecore's Web Experience Manager supports multilingual content and has multisite capabilities. The web content management system was built with scalability in mind and empowers businesses to deliver targeted content to the right individuals at the right time.
Sitecore's Experience Platform works with its Experience Database (xDB) to reveal the most visited pages and the actual value of those views. According to Charlotte, it's all about prioritizing experiences that deliver the highest business value.
"This lets you spend your time on optimizing pages that are really valuable to your bottom line," she said.
WCM allows a write-once-and-distribute approach that simplifies the process for content creators. It also integrates translation services for global access to content while writers may only speak one language. Marketers can further personalize the customer experience in-session with social media widgets, promotions, recommendations, and rich media that actively engages end users at every level.
Sitecore's Experience Platform also natively integrates with the Sitecore Commerce product to allow brands to manage web content and product merchandising from one interface. They can quickly respond to abandoned shopping carts and successful purchases and deliver a more seamless end-to-end shopping experience for the end-user. This integrated system is designed to guide shoppers through their experience, from initial search through post-purchase engagement.
Clients can also integrate existing commerce products through Sitecore Commerce Connect.
2. Gain Visibility Into the Customer Interactions That Matter to Your Business
With Sitecore, businesses can gain insight into the customer interactions that matter most. At the heart of Sitecore's toolkit is customer intelligence. Getting to know one's audience is the most important aspect of marketing, as these customers are needed for the continued life of a business.
"Our approach ensures customers are marketed to without feeling like they're being marketed to," Charlotte said. "Our tool called xDB, or Experience Database, collects and connects all customer interaction data across channels."
According to Charlotte, Sitecore's xDB allows a business to "become customer-centric and market in context of the last interaction." The tool analyzes visitor paths to reveal journeys across a business's site, while traffic, in general, can be gauged in terms of actual engagement value.
The Experience Database enables optimization in the form of A/B and multivariate testing and goal tracking. As xDB gathers information, it builds Experience Profiles for each individual's interaction, storing and tracking things like buyer history, implicit and explicit intents, and demographic information. Sitecore xDB employs MongoDB, a fast NoSQL database system suited for high data volumes and flexibility, allowing for easy scaling.
3. Deliver Cohesive Messages Seamlessly Across Multiple Channels
Sitecore's cross-channel marketing tool allows a connected experience across different platforms. A seamless flow between one channel to the next is possible with the Experience Platform. The many platforms available to businesses, such as email, mobile apps, social media, and dynamic print, allow for diverse ways to reach out to the user base.
"We have full platform capability," Charlotte said, "but Sitecore can be connected to a lot of different technologies, including CRM and ERP systems. Our solution is robust but also plays well with others."
With Sitecore's omnichannel approach, contextual intelligence is used in selecting the right email offers for the most likely leads. Mobile apps allow customer engagement from virtually any location, and the experience may even be personalized based on the locations a customer visits.
Sitecore's Mobile SDK lets companies build their own apps from scratch, or implement ideas into existing apps. Sitecore Social Connect works with sites, like Facebook, LinkedIn, and Google+, to import consented user data from profiles to better personalize paid campaigns.
Strategically Mapping Digital Maturity for Long-Term Growth
Sitecore's Business Optimization Strategies (SBOS) team also helps brands improve customer engagement. Sitecore measures marketing maturity to develop future contextual marketing strategies and campaigns. SBOS works with businesses to organize and plan processes, define goals, and assign Engagement Values using multiple tools.
"SBOS has developed an assessment and maturity model that features seven different phases," Charlotte said. "Our helps customers get clear on how to connect business strategies with marketing goals and digital tactics."
A Culture Centered on Advocating for Optimal Customer Experiences
Sitecore's mission centers on customer advocacy and by helping businesses provide what Charlotte called a holistic customer experience. The company's Experience Platform delivers relevant information to customers wherever they are in their journey through a brand's touchpoints.
With this type of pertinent messaging, customers are more likely to respond to offers that engage their interests. When context is taken into account, regular customers won't be re-targeted with products they've already bought nor will newcomers be left completely unengaged — or worse — targeted with irrelevant messages that annoy rather than excite. Charlotte has witnessed firsthand how Sitecore's solution has improved customer experiences, which ultimately led to higher ROI for the businesses employing it.
"We believe in the power of a better customer experience," Charlotte said. "When you know why you're doing something, it gives you more motivation for doing it. We have a mantra of being advocates for the end user."
Sitecore's holistic approach gives a 360-degree view of customer engagement and allows businesses, like Dow Chemical and so many others, to efficiently manage content and make the most informed marketing decisions, which results in better products, happier customers, and, ultimately, increased revenue.