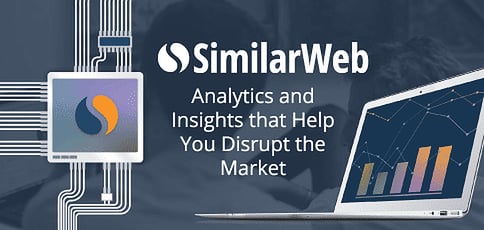 TL; DR: Founded less than 10 years ago in a garage in Israel, SimilarWeb is gaining momentum toward their goal of becoming the world standard for understanding the digital world. With a team of more than 350 people in offices spread over four continents, SimilarWeb analyzes 80 million websites and three million mobile apps to support thousands of paying clients. Passionate about finding and sifting through immense amounts of data, SimilarWeb shares a remarkable amount of information for free — but their paid platform is even better.
Are you a head of digital analytics looking for a way to understand your team's performance? Maybe your acquisition team is looking for market intelligence to help grow organic search traffic, find top performing keywords, or expand your content marketing reach?
Or perhaps you're an investor. Maybe you want to run a digital due diligence and uncover untapped opportunities?
We could go all day. Surely you need a platform for discovering quality traffic sources and ad networks — or a system to find, qualify, and track affiliates.
Whether you're in the travel industry or insurance, eCommerce or publishing, SimilarWeb has you covered. Using multiple channels to gather data, SimilarWeb provides a complete picture of web and mobile traffic critical to all aspects of business.
Ayala Michelson has filled several roles at tech companies over the past few years and found the value of SimilarWeb's data fascinating — so captivating, in fact, that she joined the company a little over a year ago as the Senior Director of Product Management.
"I think it's a fascinating product in terms of the market it's operating in and how disruptive it is," she said. "I've had some market intelligence platforms in the past, but SimilarWeb really managed to give us indispensable data."
New Cross-Platform Tools Detect Unique Visitors and Analyze Keywords
Using multiple channels to collect data, SimilarWeb's data processing centers turn billions of data points into useful market and business intelligence insights each day.
Where the company distinguishes themselves, according to Ayala, is the ability to report traffic across desktop, mobile, and app platforms.
"The user journey is really shifting, and we see the trends in various verticals," Ayala said. "We are able to connect the dots and show you the insights across these platforms. We are a 1-stop shop."
Here are some of SimilarWeb's newest features:
Unique Visitors: Instead of touting an overall growth in page views or impressions on a campaign, SimilarWeb can now tell you exactly how many pairs of eyes you reached.
Keyword Analysis: The new module examines revenue potential and the competitive market for any keyword, whether organic or paid.
Industry Analysis: Benchmark your competitors with a comprehensive index of the traffic, referral sources, and top keywords for the largest 100 sites in your industry.
With desktop, mobile, and mobile app solutions, SimilarWeb prides themselves on providing a holistic approach to a company's online metrics, according to Jonathan Marciano, Head of Public Relations and Partnerships.
"You can easily look across your digital business and understand your users and where they're coming from," he said. "We have data from nearly every country, so if a business wants to launch in a new market, they can see exactly how they would go about doing that and how their competitors are doing that, as well."
Keeping the Energy and Passion of a Startup as the Team Grows Past 350
The employee ranks have more than doubled since Ayala joined the team, she said. When she started, SimilarWeb was a 150-person startup still feeling out the right strategies and processes.
"We really believe in agile technology," she said. "When we do something, how do we fail fast and figure out how to improve? We believe in delivering value to the customer and always staying connected to them."
SimilarWeb now employs north of 100 engineers to collect and process the massive amounts of data streaming in every day, Jonathan said.
"We can recruit the best talent because there's nothing more exciting than this level of rich data to dig into," he said. "That's one of the things that keeps us ahead of the competition, how excited we are about the data."
Even though the current team comes in at 350 or more, Ayala and Jonathan agree that SimilarWeb is still rife with the same energy and passion of their startup days.
"It's great being agile, but that means we're always adjusting to the newest and best feature," Jonathan said. "It doesn't get boring here because you're constantly changing what you're selling, what you're marketing, or what you're developing."
SimilarWeb Helps Others Grow by Sharing Digital Resources
Recently, Jonathan saw a job opening that required applicants to know how to use SimilarWeb.
"I thought it was the most amazing thing," he said. "It's a great step for us to become an industry standard. The validation that we're helping other companies succeed is tremendous."
Valuing transparency, SimilarWeb makes much of their data available for free. In 2016 alone, the company has announced partnerships with analytics platform comScore and business information portal Crunchbase to make SimilarWeb insights and analytics even more accessible.
"Just like we've disrupted our market, we want every other company in every other sector to use our data to disrupt their market," Jonathan said. "That makes us all very proud to come to work."