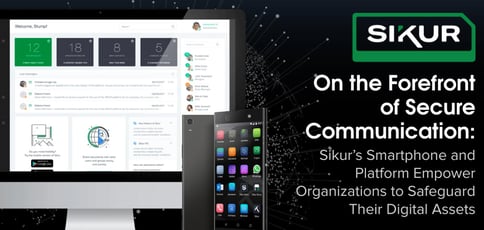 TL; DR: Sikur, a communication-based hardware and software company, uses its security expertise to protect telcos, businesses, and governments worldwide from today's persistent online threats. The Brazilian company's security suite includes a smartphone, communications platform, and trading station for data transactions. Keep an eye out for the company's latest innovations each year at MWC Barcelona, where Sikur presents its annual updates.
We're still in the Wild West when it comes to the Bring Your Own Device (BYOD) movement, a trend in which employees are increasingly using their personal technology in the workplace. Research shows that a majority (67%) of today's workers do so, but it's a lawless practice, as few companies have the policies in place to properly manage risk.
Simply put, when employees log on to previously contained networks with an external device, they risk exposing the system to malicious software. In addition to the threats employees bring in, there's concern about what they may take out in terms of data exfiltration, the unauthorized transfer of information from inside an organization.
Sikur, a communications-focused software and hardware company, is committed to providing a secure alternative to BYOD for telcos, businesses, and government entities. The company's SIKURPhone, for instance, can be leveraged as a corporate-provisioned device, providing the enterprise direct control over endpoints and their configurations.
The company also facilitates secure communication networkwide with SIKURPlatform, a reliable cloud solution compatible with Android, iOS, and Windows desktop that features encrypted voice and video capabilities. Finally, the SIKUR Trading Station provides a forum for facilitating sensitive data transactions.
Based in Brazil with offices in the United States and Europe, Sikur hopes to define the future of secure communications worldwide. "The Sikur team is engaged and committed to fostering a new security mindset," said Alexandre Vasconcelos, COO of Sikur. "Our team may be spread across the globe, but we are constantly connected, moving our dreams forward while supporting businesses and governments in keeping their data safe."
A Brazil-Based Tech Provider with a Security-First Mindset
Sikur was founded in 2012 in Brazil, where cybersecurity is a top concern. A 2013 study found that cybercrime costs reach approximately $8 billion per year in Brazil, with internet crime ranking as the top offense in the country. But the problem isn't limited to Brazil: According to Cybersecurity Ventures, global cybercrime costs are predicted to reach $6 trillion annually by 2021.
Sikur's roots in this environment have equipped the company with the skills necessary to mitigate risk proactively. "We are a very innovative company — we always do our best to prepare for the unexpected, overcoming complex problems through a simplistic approach," Alexandre said. "This is what we refer to as our 'security mindset.'"
When Sikur entered the security market, Alexandre said it was still relatively immature, providing the company with a significant differentiation opportunity. "At the time, there was little end-to-end encryption," he said. "While serving financial institutions that wanted to transfer data on the Internet, we saw that gap as a wonderful opportunity to improve our offering and provide extra features to differentiate ourselves, like secure chat and messaging."
In 2015, the company introduced the GranitePhone, a precursor to the SIKURPhone that featured built-in encryption for emails, calls, text, and group chats sent between GranitePhone users as well as those running Sikur software on their iOS or Android devices.
Today's model runs on a modified version of Android and includes a built-in cryptocurrency wallet. Soon, it will be open to third-party apps through the Sikur App Store, which is currently under development. The rapidly growing company also plans to release a software development kit (SDK), empowering customers to create their own app stores, curated with security in mind.
A Secure Smartphone, Cloud Platform, and Trading Station
Alexandre said SIKURPhone is on a fast-paced development track focused on uncovering new possibilities. In addition to other innovative features, SIKURPhone includes the SIKUR Trading Station, a secure, all-in-one solution for managing payments, sending invoices, checking balances, storing cryptocurrency, managing your business, and verifying your assets.
"The trading station concept, when summarized, is the perfect fit for transaction apps, whether they fall within finance, healthcare or any other mission-critical market," Alexandre said. "It's a safe place to store anything, whether locally or in the cloud."
SIKURPhone is powered by SikurOS, an innovative system designed to protect the device from the ground up. Over-the-air updates to the system ensure the software will always run smoothly. SikurOS also features built-in remote wipe functionality, an important security feature to have in case your device is lost or stolen.
In addition to its smartphone, the company offers SIKURPlatform, a public and hybrid cloud solution designed to reduce both capital expenditures and operating expenses. The intuitive solution is compatible with Android, iOS, and Windows desktop. The software automatically encrypts chats, messages, documents, voice calls, and video calls. An intuitive control panel makes it a breeze to securely manage users and Sikur devices by setting permissions and creating and revoking client keys, among other variables.
In 2016, Gartner Research included Sikur as part of is Market Guide for Secure Mobile Communications, which analyzed a variety of secure communication solutions via iOS and Android. "Gartner told us that we were miles ahead in delivering a secure smartphone integrated with a secure communications suite for Android, iOS, and Windows Desktop," Alexandre said.
New Releases at the MWC Barcelona
Sikur has several new products and features planned for the coming year and beyond, such as its upcoming app store and SDK.
In February, the company announced that it is developing SIKUR Bank in partnership with the Brazilian fintech company Creditas. The ultra-secure digital banking platform will protect users from the security flaws inherent in many payment applications without sacrificing usability. The service, which will be fully compliant with Brazilian regulations, will also be available as a white-label solution.
Sikur frequently makes announcements like this at MWC Barcelona, formerly known as the Barcelona Mobile World Congress. The event is one of the largest of its kind worldwide, featuring the newest innovations and technology from more than 2,400 companies, along with an educational conference program.
"Providing secure communications is a must, and that's one of the things our clients love about us," Alexandre said. "At the same time, what drives us is the way we innovate and push new concepts to market. Every year we launch something interesting at MWC Barcelona, the biggest mobility event worldwide. Finding new ways to keep people safe is an uplifting process."
Events like MWC Barcelona, in combination with customer input, help the company determine its path forward.
"We take into account most of our customer's feedback — the current state of our product is a reflection of their suggestions and considerations," Alexandre said. "But, as previously mentioned, we focus a lot on innovation, so we are always looking for partnerships and ideas to make our products unique while solving problems and keeping user data safe. At the end of the day, the most valuable characteristic we can have is trustworthiness."